DRWC names Hargreaves to design Penn's Landing re-do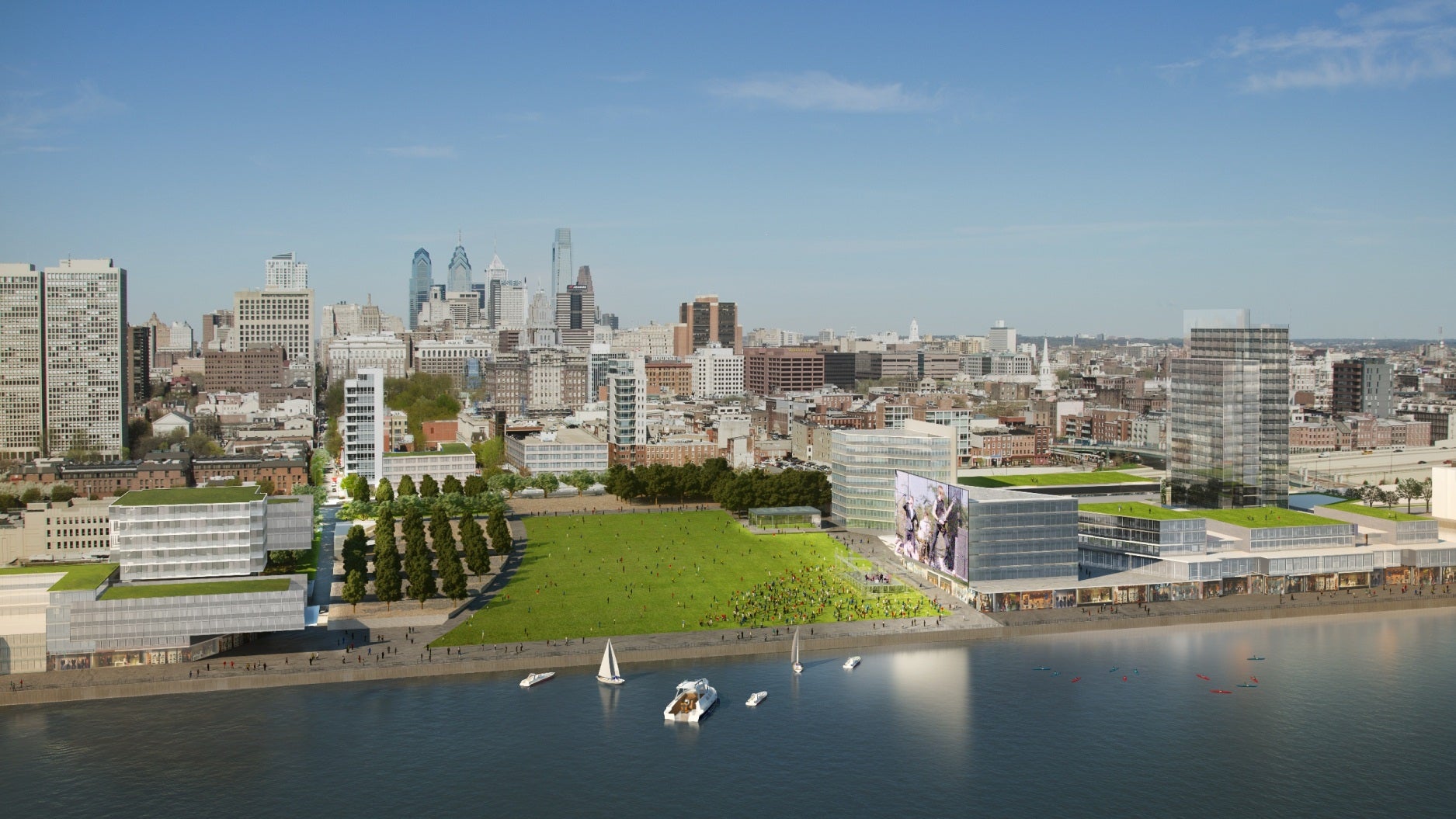 The firm that designed Queen Elizabeth Olympic Park in London and Louisville's Waterfront Park, which links that city with the Ohio River, will soon begin design and engineering work on a new Penn's Landing Park – one that would reach over I-95 with a green slope and link the waterfront to Old City.
The Delaware River Waterfront Corporation Thursday hired Hargreaves Associates, which has offices in San Francisco, Cambridge, New York and London, to create a redevelopment plan for Penn's Landing. The $425,000 contract – paid for with grant money from the William Penn Foundation – covers work in engineering, feasibility and design.
Hargreaves was chosen from 15 applicants from around the country and The Netherlands. In recommending the team to the DRWC executive committee, Planning Committee Chairwoman Marilyn Jordan Taylor said the work Hargreaves has done on other urban waterfronts made them the best choice.
She showed images of – and praised – several previous projects, including Louisville Waterfront Park, where the design linked a city to a waterfront it had been separated from by a major highway, brought green space to former industrial lands, and stimulated development in areas surrounding the park. Chattanooga was also reconnected to its river with the 21st Century Waterfront Park, Taylor said. This project involved changes in infrastructure, parks, an aquarium and art galleries and has attracted more than $1 billion in private investment in the six years since it has opened, according to DRWC.
Deputy Mayor Alan Greenberger, a member of the DRWC planning committee, said: "The Hargreaves-led team has a proven track-record in creating high-quality public spaces that will attract private development. This is another step in a very deliberate process to make connections from the city to the Delaware River, ultimately leading to the redevelopment of Penn's Landing and a significant return-on-investment for the city."
Learn more about this and other Hargreaves projects at the website, here.
The study, which is expected to take six to eight months, will look at the land between Market and South streets. and Front St. and the Delaware River. In addition to the highway cap over I-95, the Hargreaves-led team will examine:
Development of a six-acre site at Market Street

Redevelopment of the four-acre western and southern edges of the Marina Basin site with mid-rise residential, commercial and other uses.

Extending the South Street pedestrian bridge – which now ends in a parking lot on the west side of Delaware Avenue – to Penn's Landing
The first study phase will include preliminary design and engineering work and a cost element for each element of the project, as well as a breakdown of which elements will be built with public dollars and which will be possible through private development. With the approval of DRWC's planning committee, the consultants will start the second phase – refining the first phase and preparing the details for presentation to the public and to philanthropic organizations that might provide funding. Phase II will also include a detailed phasing plan for both infrastructure improvements and project elements.
"We don't see this as a mega-project. We see this as a group of projects coming together," said Taylor, who is dean of Penn's school of design.
In a conversation after the meeting, she said the Penn's Landing project is vitally important to the city's efforts to revitalize the Central Delaware Waterfront, and it is also among the most interesting and challenging.
Beyond the engineering challenges of bridging a highway (which PennDOT has said shouldn't be too bad, although funding it may be. see story here) and removing scissor ramps at Market Street, the capping of I-95 with a connecting park represents a real change in the way the city has thought of Penn's Landing, she said.
Both its current reality and previous plans have treated it as "a big mall, isolated from the rest of the city," she said.
While a huge project goal is to create an easy and scenic way to walk to the river, Taylor noted that there will be space to park cars – hidden beneath the large, green, park.
The team will be led by Hargreaves Senior Principal Mary Margaret Jones. "It is such an amazing opportunity to connect the downtown of a city like Philadelphia to its riverfront," Jones said in a phone interview from California.
Jones, who expects to be in Philadelphia sometime in May to get started, said the problem of reuniting Old City with the Delaware via a park and a new neighborhood of development, all while reaching across a highway and negotiating a 20-foot grade change, is not something that can be understood by looking at plans on paper. "It's a three-dimensional problem," she said. "You have many layers of things happening in sections."
It's clear Jones likes this particular challenge. She's already wondering whether that grade change will be negotiated in several gradual steps, creating "episodic rooms," or "do we gather it all up and make it dramatic?" And if there is a sudden change – where would it be?
When asked where her team's work will start, Jones said the first step is to understand the engineering side of the problem – what is feasible and how is it feasible? The next step will be determining what people want to do when they are in the park space. The design will come from those requirements and desires, she said.
Some elements of this project certainly echo her firm's previous work, Jones said.
"So many cities have built infrastructure at the river's edge. Whether rail or roads, elevated or depressed, it has severed that relationship and separated the city from its riverfront," she said. But Philadelphia has an unusual topography, she said. "It cascades in an almost amphitheater way" down to the river.
Jones also noted the good fortune that Philadelphia has a significant amount of land available for this project between highway and river. In Louisville, she said, land had to be constructed on pilings.
Other team members:
FXFOWLE: An award winning urban design firm with extensive mixed-use waterfront development experience including master plans for Hudson Yards, Hunters Point South and the Greenpoint/Williamsburg Waterfront Plan.
Guy Nordenson and Associates: A design firm which brings extensive pedestrian bridge design experience.
KS Engineers: An engineering firm providing structural, civil and transportation engineering as well as parking concepts; were previously involved in developing the Central Delaware Master Plan
HR&A: Economic consultants who will provide programming support and identify funding and revenue opportunities; also previously involved in Central Delaware Master Plan
RBA Group: Local liaison for urban design
Becker & Frondorf: Local cost estimating firm
This contract won't produce drawings detailed enough for construction to start, but it will nail down concepts, determine how best to execute those concepts, and determine a breakdown in costs, he said.
"We expect to have a well-tested conceptual plan for the entire project, as well as a detailed phasing strategy that will compare the cost of each new infrastructure investment with the amount of private investment, new jobs and taxes that will be generated."
Hargreaves' Louisville waterfront park

Hargreaves' 21st Century Waterfront Park in Chattanooga

Hargreaves' 21st Century Waterfront Park in Chattanooga 2