Driver flees Castor Gardens crash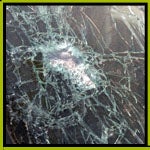 When a van and a school bus were involved in an accident yesterday afternoon, the driver of the van fled.
Police say the driver took off after the two vehicles collided just before 1 p.m. at Castor and Longshore avenues.The bus sustained minor damage, and the 19 Philadelphia Academy Charter students were uninjured. The van sustained heavy damage to its front end.