Double hit-and-run victim identified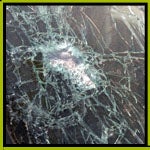 Police have identified the victim of a double-hit-and run as 23-year-old Anthony Breslin. Breslin was struck by two vehicles early Monday morning in Upper Holmesburg.A report from the Inquirer says as two Good Samaritans tried to help Breslin after he was hit by the first car, they were forced back onto the sidewalk when another car sped down Frankford Avenue and hit Breslin as he lay near Benson Street. He died just before 5 a.m. Monday.
Neither driver stopped at the scene. Police have confirmed the second vehicle was a silver Nissan.