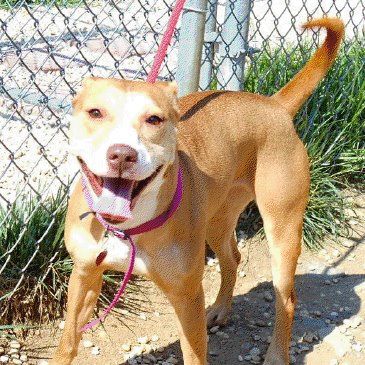 Meet this darling girl who is all wiggles!
Three-year-old Lexus is a female terrier/pit mix who was found in a backyard in Philadelphia. Once at the shelter, she began to dazzle staff and volunteers with her smile. Lexus walks well on a leash and once outside, enjoys exploring and romping around.
This happy frill wagged at all the people and dogs who passed by. Lexus loves affection and attention. She's not 100 percent comfortable around other dogs yet, so slow introductions would be great for her. if you have other dogs or children under 8 in your home, please bring them to the shelter to make sure Lexus is a perfect match for your family.
This loving girl is waiting!
These animals are located at Philadelphia's animal control shelter, ACCT. They need immediate adoption or foster care. ACCT is located at 111 W Hunting Park Ave. and is open 365 days a year. Adoption hours are Monday-Friday; 1pm-8pm; Saturday and Sunday; 10am-5pm. To check the status of an animal, call 267-385-3800. Check in every week with NEast Philly to see the cat and dog of the week.