Dog of the Week: Bella [with video]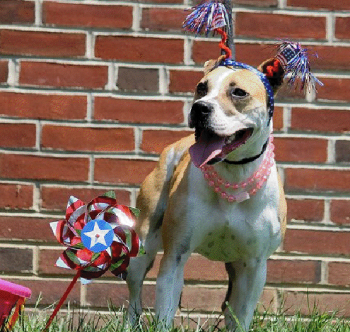 Meet Bella, a young pitbull-terrier mix who has been waiting for her forever home for more than a year now at the Pennsylvania SPCA.
This gorgeous girl has been struggling in the kennels. With so much pent up energy and her mind not being utilized to its fullest capacity, she spins in her kennel at a rate and with stamina that is mind-boggling, as you can see in the video below.
Bella is ready for the July 4th holiday! She wants to celebrate in her new home, with you.
Once outside, Bella is a different girl. She walks nicely on the leash. She is focused on her human and is great with basic obedience and commands. She sits on command, knows touch, and because she is so smart, she'll be able to learn so much more with a dedicated human working with her. She wants to please her human friends and is incredibly treat-motivated. Hold up a treat and she'll do whatever you want!
Bella is also super dog friendly! She gets so excited when she sees other dogs and all she wants to do is play. And she plays hard! So if you have a canine companion at home and have been thinking about adding another canine companion to your pack, Bella might be the perfect addition to your family.
Bella is an agile, outdoorsy type of girl, so if you are the active type, she'll be the perfect companion for you. She could be your running partner, hiking partner or biking partner. She also loves the water and swims! So if you want to head over to the park or drive out to the shore with a furry friend, Bella could be your girl!
Bella is deteriorating mentally in the kennel and desperately needs a committed foster or adopter to help her decompress and unwind, so that she can be the best dog she can be. She has so much potential. She just needs the right human to help her reach that potential. So if you have the experience, time, and energy please consider making Bella a part of your family. She will show you her appreciation every day by showering you with unconditional love and affection. This girl deserves a second chance at life, she deserves the happily ever after. Are you the person to give that to her?
Please message 5v8zj-3082868915 [AT] comm.craigslist.org with any questions about Bella, or if you want to set up a meet. She is currently located at the PSPCA, 350 E. Erie Ave.
Adoptions: Monday through Friday from 1 p.m. to 8 p.m. or weekends 10 a.m. to p.m.
Fostering:Daily from 9 a.m. to 6 p.m.
PSPCA Phone number: (215) 426-6300 Adoptions: ext. 251, 234
Check in every week with NEast Philly to see the cat and dog of the week.