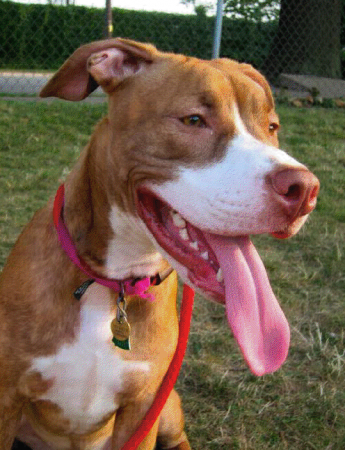 My name is Belinda! I am a young terrier mix found as a stray and brought to ACCT. I am super sweet, super fun, happy as they come and looking for a place to call home! I love to swim, play in the baby pool, play tag, chase a ball — I'm pretty easy going I just want to have fun!
I LOVE people. I LOVE playing with people! I LOVE to play! I LOVE other dogs – but remember I also LOVE to play, so I need a dog that likes to play too.
I don't show much interest in cats but if you have cats let the people know, and they can test me again. I am still a puppy and have lots of puppy energy to burn, so I would love an active home where I get regular walks. I would be a great hiking partner 'cause I love to walk, run, climb – whatever you want to do, I'll be right by your side.
What are you waiting for? More info? OK– included in my adoption fee (which is very reasonable) are: all of my necessary shots, getting spayed and a microchip, so if we ever get separated you can find me. ACCT has great volunteers and adoption staff – they ask that you bring any dogs or young kids to meet me just to make sure we ALL love each other!
These animals are located at Philadelphia's animal control shelter, ACCT. They need immediate adoption or foster care. ACCT is located at 111 W Hunting Park Ave and is open 365 days a year. Adoption hours are Monday-Friday; 1pm-8pm; Saturday and Sunday; 10am-5pm. To check the status of an animal, call 267-385-3800. Please visit www.pspca.org for more information.
Don't forget to check out the weekly Animal Care & Control event at the Petsmart in Haldeman Plaza, where you can learn more about adoption and foster care, and meet some animals who need a good home.
Check in every week with NEast Philly to see the cat and dog of the week.