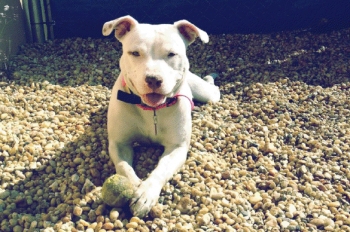 My name is Aspen and I am silly. I am temporarily living at ACCT, and while I am there, I try to make people laugh.
I love to play with balls – especially squeaky ones. I throw them in to the air, run after them, roll over on my back and chew on the ball while upside down. It's funny! Let me tell you a little about myself:
I am a young terrier mix. Someone who did not think I was funny tied me to a vacant house. I hung out there for two days until some nice person took me to the shelter.
I know a few commands like 'sit' and 'down' and I am working on some other cool tricks.
I am easy to walk on a leash. Right now the only time I pull is when I first go outside, but once I am living in a nice comfy home getting out more than a couple times a week, I don't think that will be a problem.
I love people! I love to make them laugh. I love to learn new things. I love getting tasty treats for listening really well. I love BALL TOYS!
I am already spayed and microchipped so I can go home today.
I am very cute. I am very soft. I am very funny.
I am learning about crate-training. If you give me a Kong toy with peanut butter (no jelly) the time just flies by!
I like other dogs. I am kind of bossy, though, so not everyone likes me. And I kind of play rough and not everyone likes that, either.
I LOVE CATS! I love to chase them. Actually I LOVE LOVE LOVE to chase them. So I can't really live them.
I would really like to go home now.
These animals are located at Philadelphia's animal control shelter, ACCT. They need immediate adoption or foster care. ACCT is located at 111 W Hunting Park Ave and is open 365 days a year. Adoption hours are Monday-Friday; 1pm-8pm; Saturday and Sunday; 10am-5pm. To check the status of an animal, call 267-385-3800. Check in every week with NEast Philly to see the cat and dog of the week.