Does watching `13 Reasons Why' help some viewers? Yes, Penn study says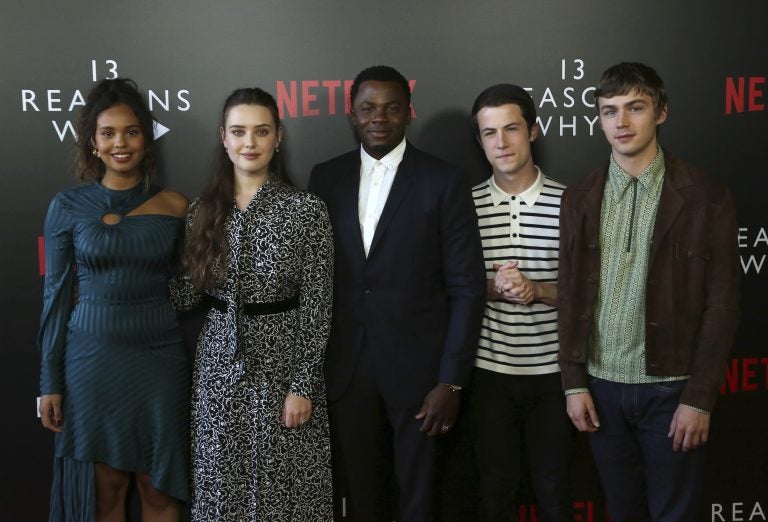 The Netflix series "13 Reasons Why" showed, in graphic detail, a high school student killing herself. It became so controversial that season two started with a warning that viewers struggling with suicide or substance abuse might not want to watch the show.
A new study from the University of Pennsylvania tried to determine whether watching the show really is harmful. That cannot be done with an experiment, said Anna Mueller, a sociologist at the University of Chicago who specializes in youth suicide and suicide clusters.
"It would be unethical because we do have sufficient evidence to suggest that exposure for some people at least could be harmful … we're not allowed to do those experiments," she said.
Given those constraints, the Penn researchers did what Mueller considers the gold standard when it comes to teasing apart the causal effects of watching the show: They surveyed a group of 18- to 29-year-olds with Netflix before season two of "13 Reasons Why" came out. Some members of the group were students, some were not.
The researchers asked questions that measure suicide risk. Then, a month after season two, they went back to the group, asked its members how much of the show they watched, and measured their suicide risk again.
Dan Romer, research director at Penn's Annenberg Public Policy Center, said the results were surprising.
"We thought there might be no effect if they watched the whole thing, but we didn't expect to see a beneficial effect," Romer said.
Suicide risk went up for people who watched part of season two, then went down for people who watched all of it, ending up more or less where they started. But the measure of predicted self-harm among the students went down, lower than before they watched the season.
Romer speculated that was because season two ends on a more life-affirming note, so viewers who make it all the way through end up feeling more optimistic.
Mueller, at the University of Chicago, who was not associated with the research, added that the result tells whether the show is harmful to just people who are already at risk of suicide or viewers more broadly.
"This is one of the only studies that can show us that, indeed, even when we hold constant those pre-existing risk factors for suicide, we do see for some, but not all, a harmful effect of watching some of `13 Reasons Why,'" she said.
That said, there are clear limitations. For one, the show adapts a young adult novel, but the sample includes only people 18 or older. The study also does not say how long the effects of watching the show last. Both Mueller and Romer say they look forward to further research to see if the results hold up.
Neither endorse the show. Both said they found it so difficult to watch that they could not finish all the episodes.
"I did watch season one and part of season two, and then I hoped that no one would ask me about `13 Reasons Why' ever again, so I thought, 'Oh, maybe I can stop watching this,'" Mueller said. "I do daily work in schools on suicide and school shootings and suicide clusters, so at some point, in my spare time, I would rather watch something a little more enjoyable."