Dire warnings from Sugarhouse if license granted for second Philly casino
Listen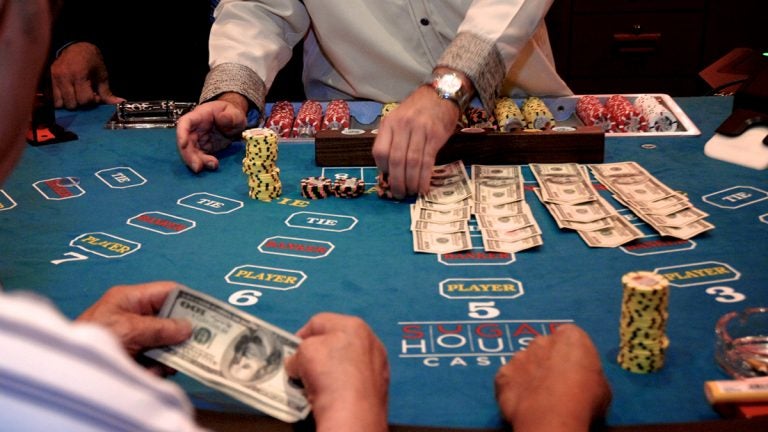 The Pennsylvania Gaming Control Board has spent the week listening to the pitches from five groups competing to open Philadelphia's next casino. Today the board heard a very different voice — from operators of Fishtown's Sugarhouse casino.
How could a second casino affect the one Philadelphia already has?
Sugarhouse representatives painted a bleak picture for the Board.
"Pie in the sky revenues."
"Absolutely, downright offensive."
"Living in Crazy Town."
Those are just a few of the words Sugarhouse General Manager Wendy Hamilton used to describe the presentations of the groups bidding for the casino license, and their projected revenues. Hamilton said if a second casino opens and cannibalizes the existing gaming hall's business, the results could be dire for Sugarhouse.
"We cannot survive this," she said. "The year $36 million in revenue goes 'poof' we lay people off, raise healthcare premiums, suspend charitable giving, take a hard look at the 401(k) and stop reimbursing tuition. We start charging employees for their uniforms and maybe their parking."
She said it would get worse as years go by.
"The year $50 million goes 'poof' we significantly reduce our workforce, offer health insurance only to our employees — not their families, we probably stop landscaping, raise ATM fees and cut advertising. At $114 million, the impact is catastrophic."
Hamilton said if there really were the potential revenue that the aspiring casino operators claim exists in Philadelphia, existing casinos — both in and nearby Philadelphia — would have attracted it already. She issued a chilling warning to the gaming board as well.
"The second Philadelphia license should be issued to no one. Because this action right now will decimate the southeastern PA casino industry. Everything the gaming board and the Commonwealth have worked for and every great decision you've made, could be superseded by the one you got wrong."
Sugarhouse Chairman Neil Bluhm agreed and said while he knew there was a plan to build a second casino in Philadelphia,
"The world and the economy has totally changed as you know. And the regional casino business is nothing like it was when we appeared before you in 2005," he said.
Bluhm said the economy has left the middle class with less discretionary income to spend at a casino. He called on the board to consider whether issuing a new license makes economic sense.
The Gaming Control Board hopes to be in a position to consider an award of the license within 60 days after completing the suitability hearings.