Environmental artist rediscovers Jewish roots of activism
Listen
2:06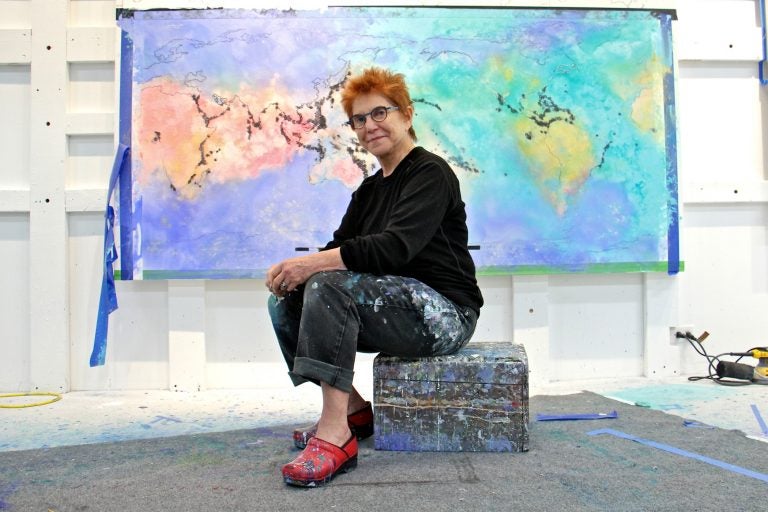 Outside the worship space of the Rodeph Shalom synagogue on North Broad Street in Philadelphia is a large hallway – about 10 feet wide, about 50 feet long – where the congregation holds rotating art exhibitions. They call it the Philadelphia Museum of Jewish Art.
Diane Burko is a successful local artist whose work hangs in galleries and museums across the country. Right now she has a large solo show at the National Academy of Sciences in Washington.
When she was approached to show in the Rodeph Shalom hallway, she hesitated.
"But I was convinced, and I'm glad I did it," she said, sitting in her Center City home and studio. "Part of my practice for the last 15 years is public engagement, all about climate change."
Burko uses her art practice to explore and then proclaim the dangers of greenhouse gas emissions. She has hiked glaciers to watch as they melt. Lately, she has been painting coral reefs to show what they look like as they die.
She was a landscape painter for decades before she focused her energies on environmental issues. Her earlier works about glaciers were almost diagrams of climate change timelines, based on historical geological survey photographs. She has been doing this long enough that now her own photographs, often taken from the vantage of a chartered plane, track the quickening glacial recession.
Burko's later work is more expressive, still rooted in climate change science and her own experience in the field. Her canvases of dying coral reefs are made by layering poured paint.
She includes photographs in her exhibitions, but the showstoppers are the enormous canvases.
"The photograph is 8 by 10. We've got paintings that are 50 by 88, or even 200 by 88 inches. There's an emotional response to painting that you don't get from looking at a photograph, and you certainly don't get from looking at a chart," said Burko. "You can see the hand in most of my work. There's the tactile quality, the materiality. Hopefully, that engages the viewer for more than a second or two."
Born Jewish in Brooklyn, Burko is not religious. She was not familiar with the Jewish concept of tikkun olam, Hebrew for "repair the world."
Rodeph Shalom is Reform Judaism, for which tikkun olam is a major tenet. The concept can be interpreted as charity or social justice, but most often it's taught in terms of environmentalism.
For Burko, it was perfect. And it was what helped her decide to show at the synagogue where "Repairing the Earth (Tikkun Olam): Diane Burko, Artist & Environmental Activist" continues through April 30.
"I'm very proud to be a Jew. There's a lot I don't like, but the tradition of public engagement, social causes, all that stuff – is really aligned with everything I believe," she said. "I'm a feminist, a political animal. So there's a lot that aligns with my heritage."
Ever the ambitious artist, Burko pushed the congregation into allowing her to expand the exhibition to the high-ceilinged main lobby, where she could hang her larger canvases.
Nowadays, Burko agrees to show her work only if the gallery or museum will create programming about climate change. Her work, after all, has a message that she insists must be articulated. At Rodeph Shalom, she is booked to deliver talks on environmentalism – and tikkun olam – to both adults and children.