Demolition permits issued for former Fishtown church converted to lofts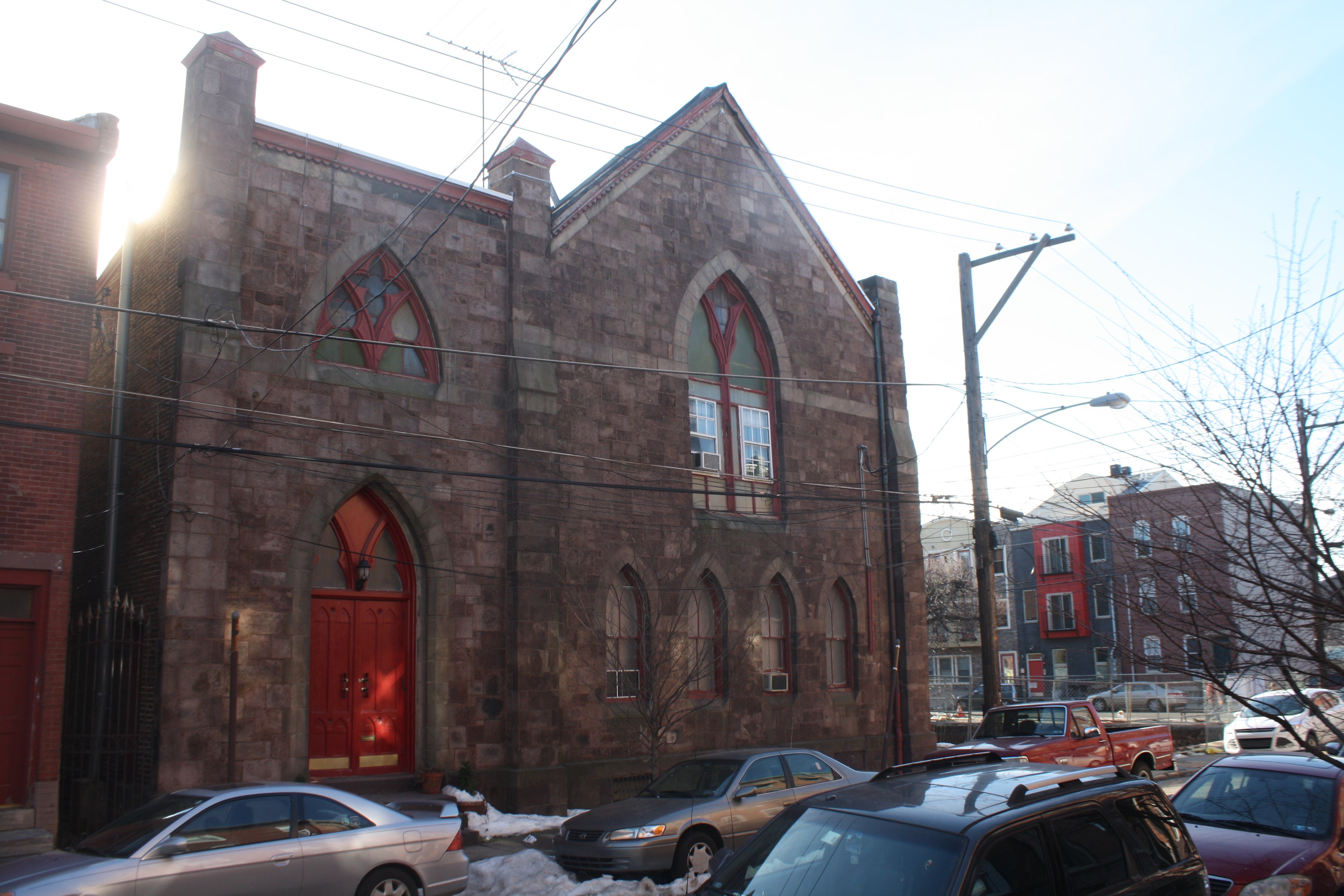 UPDATE: Feb. 11, 2016
The owners of 1775 Frankford Avenue are offering to subdivide the property and sell the converted church portion to a new owner, according to reports in Hidden City and Curbed. They are hoping to sell the developed portion of the property for $795,000 and proceed with plans to build duplexes on the vacant portion of the site. After PlanPhilly reported that demolition permits had been issued for the church, neighbors circulated a petition to save the building from demolition. It was signed 576 times.
ORIGINAL REPORT: Feb. 1, 2016
Last week, the Department of Licenses and Inspections posted a demolition permit for a former church at 1775 Frankford Avenue in Fishtown. The permit came as something of a surprise to neighbors, because, even though the church is no longer in use as a church, it's been occupied as an apartment building for a number of years.
The property, at the southeast corner of Frankford and East Montgomery avenues, is abnormally long for a typical rowhouse block, with a large vacant lot next to the church. The owners, who purchased the property for $1 million in October, are planning to build four duplexes on the vacant portion of the property, according to a permit. According to city records, it was bought by Frankford Street Properties, LLC, of Bridgewater, New Jersey.
Who's that?
"I'd rather not say," said Ori Feibush, whose company, OCF Realty, is the broker for the project. "They're not public people."
Feibush said that the converted church is still occupied and in good shape. The demolition permit was pulled because the owners are hoping to replace the church with more for-sale houses. Feibush said that he's meeting with neighbors to discuss the project later this week. The church is likely to be demolished starting this summer, he said, though it's not a sure thing.
"I can guarantee it's not getting demolished in the next few months, if it gets demolished," Feibush said.
Though Feibush isn't the owner of record on the property, he did say that OCF had identified the site for development and made the connection with the group that bought it.
"Frankford Avenue and the entire Fishtown neighborhood is incredibly strong," he said. "The numbers made sense."
Lately, Feibush has been expanding his development empire beyond Point Breeze, where he's made his biggest mark. In addition to some properties he's developed in Fairmount, he recently demolished a vacant, former church in Port Richmond. That church was found to be eligible for historic protection by a committee of the Historical Commission, but the full Commission rejected the nomination because L&I had declared the site imminently dangerous.
The converted Fishtown church, formerly the East Montgomery Avenue Methodist Episcopal Church, is not listed on the city's historic register. It dates from the 1890s.
1775 Frankford Avenue

1775 Frankford Avenue