Delaware patients use virtual reality to get through chemotherapy
Listen
4:20
"Well, this is pretty cool. I've never been to a rainforest but this is definitely a rainforest,'' Christine Jacono exclaimed.
"I see a lot of rocks. I see the waterfall coming down. This is really pretty cool. Very green."
Jacono is definitely not in a rainforest. Nor is she near a waterfall. She's actually hooked up to an intravenous line in the chemotherapy unit at Christiana Care Health System's cancer center.
But she is wearing an Oculus Rift headset. And she is immersed in a virtual reality experience.
Jacono is one of more than 200 cancer patients who have tried VR at the Helen F. Graham Cancer Center and Research Institute since Delaware's largest hospital system began offering it during chemotherapy. Spurred by one doctor's idea to relieve a friend's burden, the initiative recently won a national award from a nursing group.
Jacono, a financial analyst with Bank of America, was diagnosed in August with stage 2 breast cancer. Doctors are trying to shrink the tumor before surgery, she told WHYY this month during her fifth chemotherapy session — and her first augmented by VR.
Chemotherapy can arrest cancer and prolong a patient's life, but the process is often debilitating. Patients can lose their hair and often are beset by nausea, fatigue and muscle aches. They can become more susceptible to other illnesses.
The act of receiving chemotherapy itself can also be draining. Patients often endure long, tense hours filled with worry as the drug cocktail is pumped into their bloodstream.
"I'm usually very anxious before chemo,'' Jacono said from her chair in the so-called infusion suite. "I usually can't sleep. I usually take something to relax myself. Usually when I get here my blood pressure is up."
So Jacono accepted her nurse's invitation to escape into another world during treatment.
'Leave that for a little while and just be happy'
Offering a virtual reality experience to cancer patients was the brainchild of Dr. Susan Coffey Zern, a pediatrician by training who leads the unit at Christiana that uses virtual reality to train employees such as surgeons.
So when a friend with breast cancer needed chemo, Zern suggested that VR might benefit the woman.
"I just had an idea of doing this and making it something that patients could experience instead of just like sitting in a room and feeling like you are all about your cancer,'' Zern said. "It allows you to leave that for a little while and just be happy."
Hospital leaders embraced the concept and fast-tracked a pilot program.
Catherine Burch, director of Christiana's Health and Technology Innovation Center, said her unit built a web application and even shot some low-resolution videos using a 360 degree camera to test it. Christiana ultimately decided to offer six commercial VR scenes: Bavarian Alps, Ireland landscape, Australian beach preserve, winter forest, autumn forest and lush meadow.
Burch said some local scenes, such as Rehoboth Beach, are also being filmed for possible use by patients.
Zern said her friend used it before her treatment ended. She is now in remission, Zern said.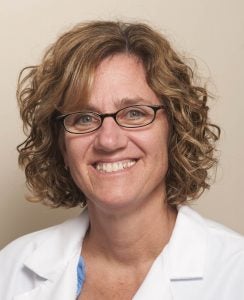 "She loved it. It was like heartwarming for me,'' Zern said, choking up. "You work here but everybody around me made that happen for her."
Advanced oncology nurse Cindy Waddington, the cancer center's clinical director, said patients report that VR helps them relax, reduces anxiety and boredom, and is entertaining.
"After patients viewed the virtual reality they would talk,'' Waddington said. "Like one gentleman, for example, he said 'this reminds me of when I cleared a forest with my dad when I was a young man.' It brought up good memories. It's a great conversation starter for patients, nurses, and staff to help kind of break the ice as well."
Infusion center nurse Gladys Ndege said she recommends VR to her patients – in part because she tried it herself.
"Before they brought it to patients they asked the nurses to kind of check it out. I think we all liked it," Ndege said. "I thought it was the greatest thing ever."
'You are at the beach and tide is way out'
The nurse-led program also brought national recognition to Christiana. It recently won the annual Magnet award from the American Nurses Credentialing Association.
Christiana's award came with a $50,000 prize – money being used create a virtual reality program for patients that focuses on what to expect during chemotherapy.
Burch said other uses for VR are being considered, such as the dialysis program, some inpatient settings and even at home to help educate patients about their conditions.
Jeff Doucette, a vice president of the nursing group, lauded Christiana for providing VR to chemotherapy recipients.
"This is something that could easily be replicated in every organization across the country," Doucette said. "They are really leading the way, putting this technology in the hands of patients."
And that happens in the infusion room, where Jacono is having a ball.
She's twisting and turning so much she almost knocked a strawberry smoothie off her side table.
But it doesn't matter. She's on the Irish coast.
"Well, this is not what I would expect," she said. "It kind of reminds me [of when] you are at the beach and the tide is way out. And you can see everything that's in the water without the water being there. Look at the coast.
"There we go. It's really far out. But there's not really any waves but you can hear as the water comes in. Ooh, that's relaxing."