Delaware General Assembly holds first cannabis task force meeting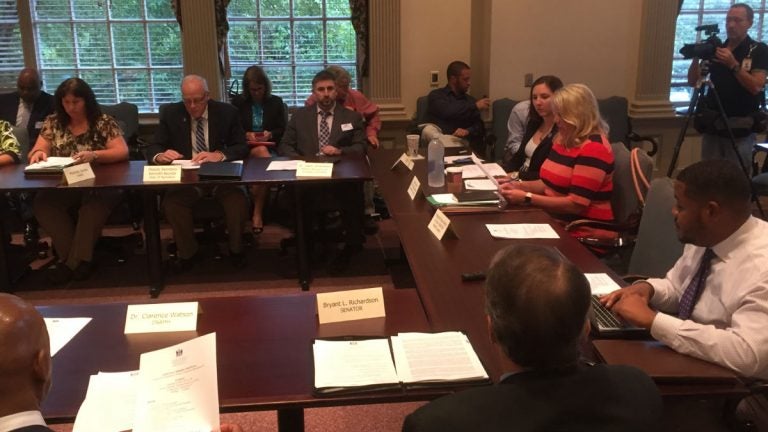 The first meeting of a task force studying issues around legalizing recreational marijuana in Delaware did little to bring polarizing opinions closer.
However, state Rep. Helene Keeley, D-Wilmington, who created the task force, told members the work they do over the next couple months will allow the General Assembly to make an educated decision when it comes to time to vote on her legalization legislation, co-sponsored by state Sen. Margaret Rose Henry, D-Wilmington.
"I know a lot of you are representing organizations not in favor of the bill, but our job is to put the best regulations in place and allow legislators to vote it up or vote it down," Keeley said.
"A lot of the [negative] things we're hearing about Colorado and Washington is because they didn't do this beforehand—they did it after the fact."
Earlier this year, a legislative committee advanced the measure to legalize recreational cannabis for those over 21, but it never went to the floor for a vote.
The law as written would regulate and tax cannabis much like alcohol. Individuals would be prohibited from operating a vehicle under the influence, carrying it across state borders and growing or creating products on their own, and companies would still be allowed to drug test employees.
Proponents say cannabis is significantly safer than alcohol and tobacco, has medical benefits, creates jobs and boosts the economy. Legalization in Delaware would bring in an estimated $22 million in taxable revenue, advocates say. Keeley's current legislation would tax marijuana at $50 and it would cost buyers about $200.
Those in favor of legalization argue criminalizing marijuana is just as ineffective as alcohol prohibition was, creates a dangerous illicit market and causes unnecessary arrests of non-violent offenders, often with a racial bias.
While the bill has several supporters, many stakeholders say too many safety and regulatory issues surround legalization.
Throughout his campaign, Gov. John Carney, D-Delaware, also said he wasn't on board with legalization. However, he's since met with advocates to hear their point of view. Carney has not stated if he will support the bill if it lands on his desk.
To address concerns, on the last day of session this year, Keeley introduced a resolution creating the 26-member task force, which consists of lawmakers, health experts, law enforcement, AAA and other state officials.
The panel must report to the General Assembly by the end of January. Keeley said following the recommendations there may be amendments to the current bill or even a substitute bill.
At their initial session, task force members advised state officials to study taxes, banking issues, health risks and public safety concerns.
They say one major issue is that Delaware's law enforcement has no technology to measure the degree of a pot user's impairment. In part for that reason, law enforcement and agencies like AAA Mid-Atlantic have been an adamant opponents of the bill.
"Generally, people think we're talking about marijuana of the 70s, which is absolutely wrong," said Cathy Rossi, vice president of public and government affairs for AAA Mid-Atlantic. "The marijuana of today has high concentrations of THC, which affects the brain and thus affects driving."
Keeley said not only would she like to put requirements on THC levels, she also would like the state to set aside funds to ensure there are enough officers on the road, and there is training available in the area of marijuana impairment.
"As somebody who has sponsored pretty much every DUI legislation in the past 10 years, it's a concern of mine and I think anybody who wants to go in and purchase cannabis and use it should use it the exact same way they use alcohol," she said.
Other issues brought up during the meeting included health concerns. Medical professionals said while there are many benefits of medical marijuana, they're still not in support of recreational use.  Some expressed concern there's not enough research that defines the risk of long-term exposure.
Other members of the task force said the state needs to be careful when deciding how recreational marijuana would be taxed—worried that if taxes were too high, people would turn to the black market.
Legalization advocate Cynthia Ferguson said she hopes legalization won't discriminate when it comes to who gets access.
"We would like to see cannabis treated like alcohol. It's being used recreationally for the same reason alcohol is—to relax, to socialize," she said. "Most people will tell you cannabis does not create as bad side effects as alcohol does. Twelve percent of Delawareans are cannabis users. They should be able to use safely, it should be affordable and it should be convenient."
Secretary of Finance Rick Geisenberger said cannabis use is a naturally volatile revenue source because Delaware would be the first state in the region to legalize it. The state would generate a lot of revenue early on, but it might decrease once other states legalize, he said. There's also the issue of collecting money, as the business of recreational and medical marijuana usually is dealt with cash rather than credit cards because marijuana isn't legal federally.
Following the meeting, Rossi said she's not sure if all these issues can be addressed by the end of January.
"There a lot of implications, and that's a concern. When you sit here and listen to the various aspects that legalizing this drug will bring about to the state of Delaware you realize the depth and breadth of what we're talking about here. In three or four short months in which this report is due to the governor and legislature, I'm not sure we can come up with all the answers we need to provide solid recommendations," she said.
"Having said that, those of us appointed to be on the task force are going to make every effort to make sure we ring out the facts, perspectives and learnings from other states to say, 'These are some of the unexpected challenges that states that have legalized encountered, these are some of the unintended consequences, how could we get I front of it so if a choice is made to move forward with legalization we've made some parameters around it?'"
While some legislators on the task force, including State Sen. Bryant Richardson, R-Laurel, and state Rep. Steve Smyk, R-Milton, stated their adamant opposition to the bill, Keeley said she's confident the task force will provide educated recommendations that will put minds at ease, and pass a bill.
"I want people to understand and feel secure the regulations put in place here will put us farther ahead than any other state that has allowed legalization of cannabis prior to one store even opening the first day," she said.
WHYY is your source for fact-based, in-depth journalism and information. As a nonprofit organization, we rely on financial support from readers like you. Please give today.