Delaware Democrats' choice in primary could steer party's future direction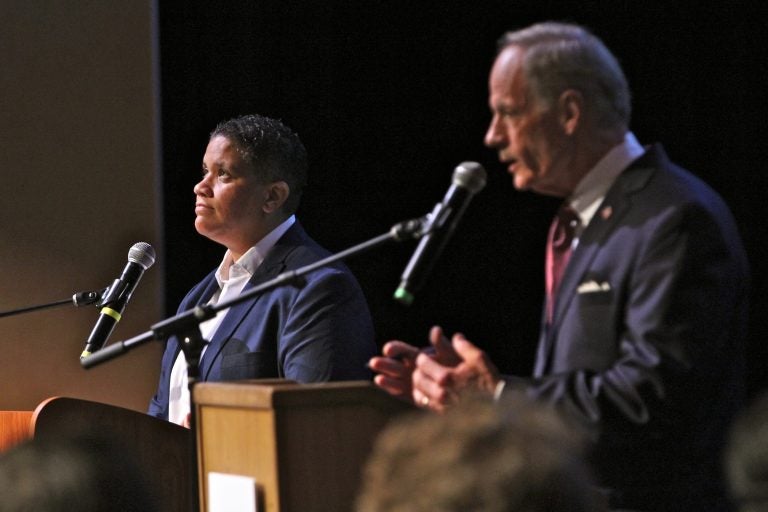 Delaware voters have traditionally chosen more Democrats than Republicans at the polls, but often picking more moderate Democrats.
But Thursday's Democratic primary election results may indicate whether the First State is ready for a more progressive and liberal direction, some in the party say.
In the race for the U.S. Senate nomination, political newcomer Kerri Evelyn Harris, a veteran and community organizer, is facing incumbent U.S. Sen. Tom Carper, who has held his seat for nearly 18 years.
The pair agree on a number of key issues, but Harris is seen as the more progressive choice — she has called for cancelling student loan debt and wants Medicare for all, for example. Carper, on the other hand, has said debt cancellation would be too costly. He also supports improving the Affordable Care Act to expand health care access.
The grassroots group Progressive Democrats for Delaware has endorsed several candidates they believe have a progressive stance, including Harris.
Still, said group member Gary Steelman, Carper is the likely front-runner.
"I think a lot of [voters] are not really paying attention, and it's like, 'OK, [Carper's] been good enough all these years.' Unfortunately, I don't agree," he said. "It's typically older people who come out to vote, especially in primaries, and older people tend to be more conservative than progressive.
"But I'm hoping young people will get excited by ideas like canceling student debt that are being touted."
Delaware's Democratic Party has endorsed Carper.
Executive director Jesse Chadderdon said the party's strength is in its diversity and wide range of views.
"That collective focus on progress, even when we might have different views on how best to achieve it, is a unifying theme when other more sinister forces continue to divide us," he said.
"I think we get into a dangerous game when we try to pigeonhole candidates as being of a certain wing of the party. When we look at the debates on our side of the aisle, we're talking about the types of solutions, types of issues, that affect American lives and Delawareans, whether that's fair wages, whether that's guaranteeing access to health care or improving our education system.
"This is an important part of the political process, and it's a great way for us to suss through the ideas people in our party have and form some sort of consensus or direction around how we want to solve problems."
Steelman contended, however, that party leadership in Delaware is too conservative. Democrats may be more liberal on certain social issues such as LGBTQ rights, but more conservative than other blue states on "big money issues," he said.
"I think the mainstream, run-of-the-mill voter doesn't like the way economy is going, doesn't like tax breaks to the rich, and cutting programs to help the middle class and poor that the Democratic leadership seems to go along with," Steelman said.
Chadderdon said, ultimately, the voters will determine the direction of the party.
"I think we have seen our party grow and become stronger, and I think the fact we've got a number of primaries and a number of folks seeking public office with different ideas on how to solve our problems, and voters and volunteers rallying behind them, is a sign we are energized, we are committed to turning around the trajectory of this country and the way it's being led at the national level," he said.