'It is not who we are': Mass shooting near Bridgeton leaves community shaken, but resolved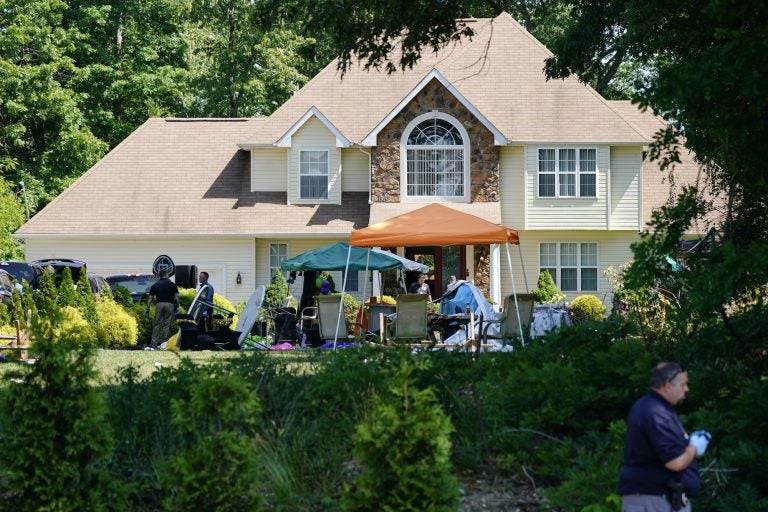 A mass shooting in Cumberland County where at least two people were killed and another 12 were injured just before midnight Saturday has left a tight-knit, working-class community shaken — and determined that the incident does not define their historic town.
"Our community is great," said one resident of 40 years. WHYY News agreed to withhold her name because of her public-facing job. "We love and we love hard, and although the events of last night were very tragic, it is not who we are. We are a community steeped in rich history and culture and community."
The shooting took place at a large birthday party at a home on East Commerce Street in what is technically the Gouldtown section of Fairfield Township, New Jersey.
State police said a 30-year-old man and a 25-year-old woman were killed. Police have not yet released their names, nor made any arrests.
One attendee said more than 100 people gathered at the home for the 90s-themed birthday party. WHYY News has also agreed to withhold his last name because he fears retaliation.
The young man said he saw gunfire break out by the DJ booth located in front of the house. He said people were dancing when shots rang out, forcing them to head toward the road where they were met by other people with guns, though the young man said the scene was too hectic to know just how many shooters there were in all. Police have not said how many shooters were involved.
"This was shooting like it was like a movie, like shooting and get down and stay down because they still shooting, they still shooting, they still shooting, they still shooting," said the man, who estimates bullets rained down on people for several minutes.
On Sunday, the block in Gouldtown where the shooting took place was cut off to traffic as police continued their investigation.
Gouldtown was established in the early 1700s and prides itself on a claim it is the country's first multiracial community. The name of the town comes from the founder, Benjamin Gould, the son of a Black man who married the white granddaughter of the English colonist who had owned the land.
Today, according to the Fairfield Township website, more than 47% of residents are Black and about 38% are white.
Nearby residents told WHYY News Gouldtown is still a community anchored by events hosted at the Trinity AME Church, around the corner from where the shooting took place, and basketball games that take residents to neighboring Bridgeton.
Rev. Michael Keene, who has been pastor of the church for 16 years, said residents are the type to extend a friendly "hello" to anyone new walking around the neighborhood.
"They're very protective of their neighbors. They do watch out for each other here," said Keene.
"Gouldtown is where people move to," said the young man who survived the shooting. He lives in Bridgeton, and said many city residents frequently cross the border to visit the town, as many party-goers did last night.
The man said the shooting was likely sparked by a beef among people from Bridgeton.
He said young people from the city have long picked up guns over petty squabbles, like stepping on someone's sneakers or talking to someone's girlfriend.
"It's pointless s**t," said the man, "but when you live so close to a motherf***er and all you got going for you is your respect, you know, you want to see who got the juice."
As attendees consoled each other in person and through social media, local leaders were planning community events. Keene said he will bring grief counselors to the church later this week. A vigil is being planned for Memorial Day weekend.
John Fuqua is president of Life Worth Living Inc., a nonprofit that focuses on gang prevention and intervention. He said he won't speculate on the motives of the shooters, though he said there is no doubt that the incident will deeply affect many residents.
Still, there are good things happening in Bridgeton, said Fuqua, including his summer basketball league, which kicked off its preseason on Sunday afternoon with more than 50 children and teens on the courts at Bridgeton City Park. Volunteers of America Delaware Valley had staff offering mental health resources at the game.
"We're going to continue with our normally scheduled activities," he said. "None of these guys had anything to do with that shooting, none of these guys or girls pulled the trigger of a gun … So, we gonna continue to play."
Get more Pennsylvania stories that matter
WHYY is your source for fact-based, in-depth journalism and information. As a nonprofit organization, we rely on financial support from readers like you. Please give today.