Days before transfer, firefighter perishes in North Philly blaze
Saturday was supposed to be Lt. Matthew LeTourneau's last shift at North Philadelphia's Engine 45 before he moved to a new station as part of a routine reassignment.
But he was pinned by collapsing debris while battling a fire in a row house on North Colorado Street in North Philly.
So less than three hours after he jumped onto the firetruck en route to the blaze, Fire Commissioner Adam Thiel and Mayor Jim Kenney stood outside Temple University Hospital to announce his death.
"We are without words," Thiel said.
Kenney agreed: "Every one of our firefighters and paramedics — every day on every shift — put themselves in harm's way for us, and we will be there for his family forever. We are just saddened, and our hearts are broken."
Gov. Tom Wolf announced that all commonwealth flags would be flown at half-staff to remember LeTeourneau.
Monday  would have been LeTourneau's 11th anniversary with the Philadelphia Fire Department. The Springfield, Delaware County, resident was 42.
A funeral Mass will be celebrated Friday at noon the Cathedral Basilica of Sts. Peter and Paul in Philadelphia. Viewings are set for Thursday evening and Friday morning at the basilica, and interment will be at Sts. Peter and Paul Cemetery in Springfield, Delaware County.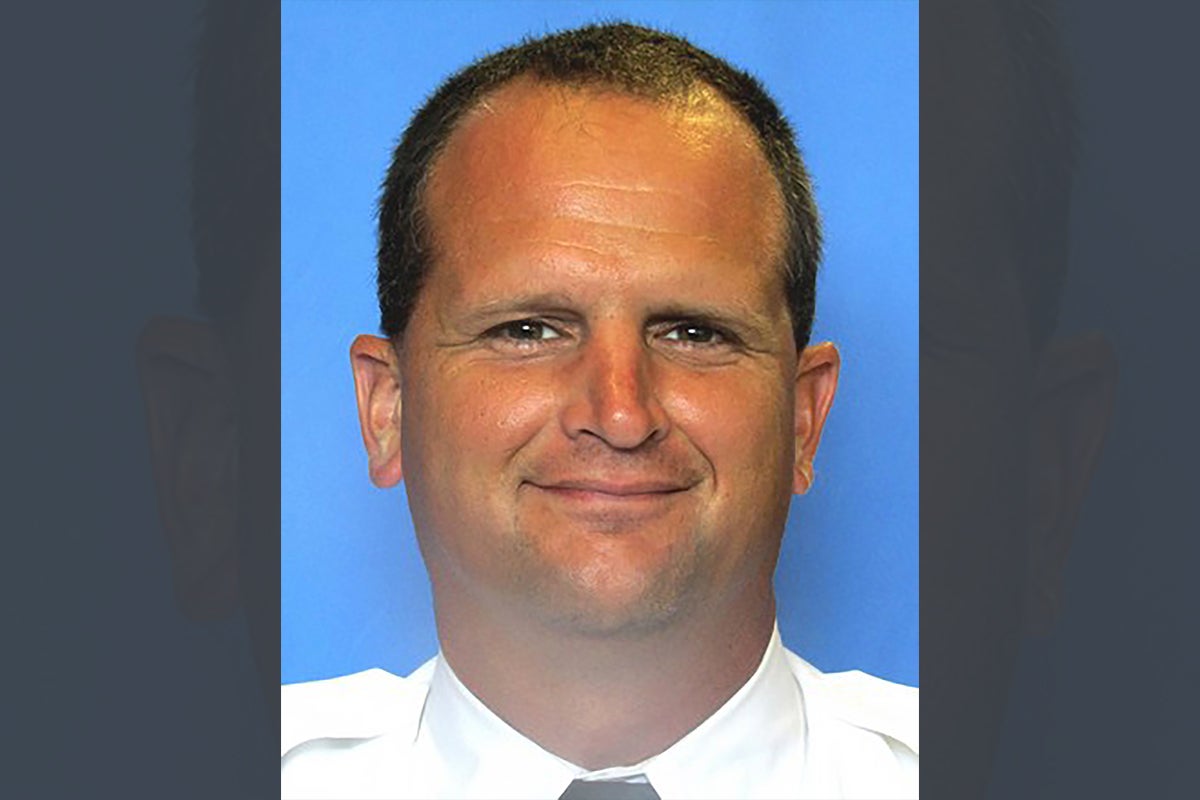 Investigators haven't yet determined what caused the fire — or released details on what exactly killed LeTourneau. He was so intractably pinned that it took firefighters a half hour to rescue him, Thiel said.
A civilian died in the fire too, and two other firefighters were injured.
LeTourneau was the first Philly firefighter to die in a fire since Lt. Joyce Craig was trapped while fighting a West Oak Lane house fire in December 2014.
The National Institute for Occupational Safety and Health, or NIOSH, investigates all firefighter fatalities to see if they hold any lessons for improving firefighter safety.
Along with Philly authorities and the Bureau of Alcohol, Tobacco, Firearms and Explosives, NIOSH will investigate LeTourneau's death too.
The ATF's National Response Team will help digitally map the fire-ravaged home, which should help investigators pinpoint the blaze's origin and cause. An electrical engineer and investigators from the ATF's Fire Research Lab in Beltsville, Maryland, also will investigate.
Structural instability and inclement weather have hampered investigation efforts.
In the spring, NIOSH investigators issued a report recommending ways Philly could fix several fire-ground errors that contributed to Craig's death.
One of those recommended reforms — fire-ground survival training — just launched this month. More than 2,000 Philly firefighters, paramedics and EMTs will go through that three-day training over the next year. It covers everything from how to get out of confined spaces or disentangle from wires, to how to bail out of windows, to how to follow a hose line to escape if a firefighter becomes lost in a burning building.
A spokesperson for the fire department was not able to say Monday how many other of the recommendations have been implemented.
LeTourneau was a 1993 graduate of Cardinal O'Hara High School and an animal lover. He first discovered firefighting as a teenager in Springfield and also taught fire safety at the Delaware County Emergency Services Training Center. He held an associate's degree in fire science from Delaware County Community College.
He is survived by his mother, other relatives and friends.
Monday, the ATF's local leader added his voice to the chorus mourning his death.
"Our thoughts and prayers go out to the family of Lt. LeTourneau, who made the ultimate sacrifice while fighting this fire. We also extend our condolences to the Philadelphia Fire Department which has suffered a great loss," said Special Agent in Charge Donald Robinson of the ATF Philadelphia Field Division.
WHYY is your source for fact-based, in-depth journalism and information. As a nonprofit organization, we rely on financial support from readers like you. Please give today.