Councilman Kenyatta Johnson to introduce bill for a hearing on racial disparities in the Philadelphia home loan market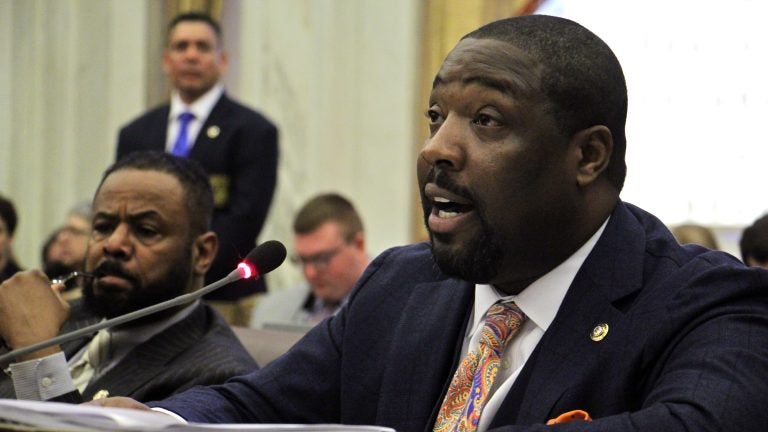 This story originally appeared on PlanPhilly.
—
Councilman Kenyatta Johnson plans to introduce legislation next Thursday calling for a hearing on racial disparities in the Philadelphia home loan market, according to a statement released by the councilman's office Friday morning.
Johnson made his announcement following the Center for Investigative Reporting's Reveal's report on nationwide racial disparities in home loans copublished by WHYY on Thursday with additional reporting by PlanPhilly.
"Yesterday, I was disturbed to learn that Philadelphia's home loan market has some of the worst racial disparities in the nation, reminiscent of old redlining practices," he said.
"These disparities hurt all Philadelphians and likely impact my constituents disproportionately," the Point Breeze councilman said.
According to Reveal reporters Aaron Glantz and Emmanuel Martinez, financial institutions collectively "put $154 million worth of home loans into the hands of white borrowers in Point Breeze between 2012 and 2016, even as they denied nearly twice as many home loans to African-Americans as they made in the neighborhood."
"This was true whether a black applicant wanted to buy a house, refinance an existing loan or take out a home equity line of credit," Glantz and Martinez reported.
Johnson already has allies in his quest to address this issue. Soneyet Muhammed, director of community engagement at Clarifi, a Philadelphia nonprofit that teaches financial literacy, is one of them. In an interview with PlanPhilly reporter Jen Kinney, Muhammed described how borrowers of color are routinely pushed into more expensive FHA-backed loans, or targeted by predatory lenders.
Clarifi has run a financial education boot camp for the past five years, aimed at giving consumers the tools to navigate lending landmines. Last year, when Clarifi launched a boot camp focused on the racial wealth gap, it attracted over 80 participants.
"I think we really tapped a nerve in terms of underserved African-Americans and Latinx people," Muhammed told Kinney. The boot camp teaches prospective borrowers how to shop around for the best mortgage deals, recognize scams, and advocate for themselves with lenders.
Johnson said that several of his peers on the council have already expressed interest in pursuing the issue and he "will work closely with them and stakeholders to define the problem and identify solutions."