Councilman Jim Kenney's new resolution could bring the #cityhallparkinglot party to an end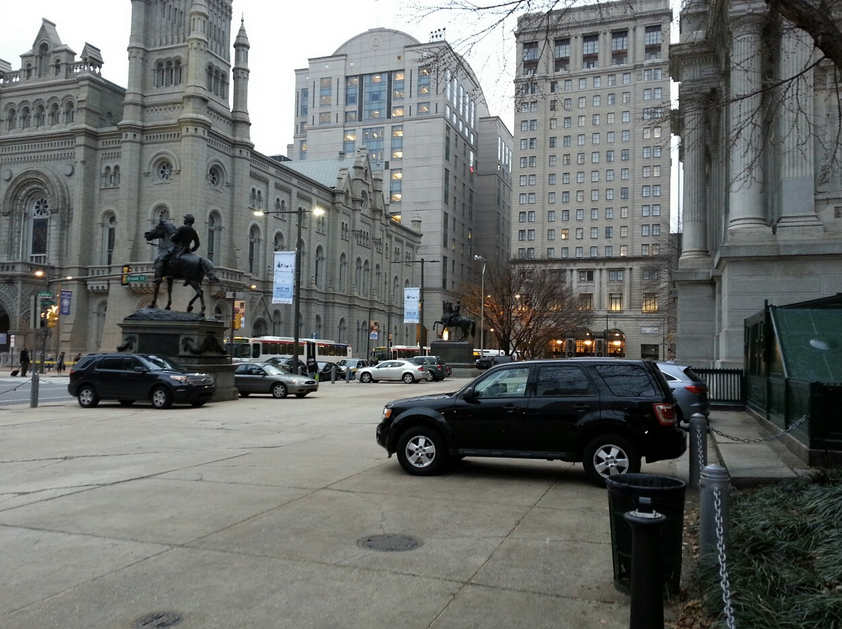 Update: The resolution passed, but more interestingly, Kenney went at the City Hall parking lot more directly by introducing a bill to ban the practice outright. Read it here. Center City District vehicles doing maintenance on Dilworth Plaza or contractors doing work on City Hall can still temporarily park on the apron, with approval from the Commissioner of Public Property, and there's a narrow exception for other special uses. But the bill would explicitly ban politicians from parking there. The bill will get a committee hearing next year.
Over the past few weeks, local AP editor Jon Poet's City Hall Parking Lot Tumblr has been highly successful in rallying Philly's online planning community to its cause of ending the practice whereby Nutter administration officials and some City Council members park their cars on the City Hall apron right next to our nice new public space in Dilworth Park.
But so far, the steady stream of mockery welling up daily under the #cityhallparkinglot Twitter hashtag has failed to persuade the Mayor to end the practice.
Responding to questions from Patrick Kerkstra at Philadelphia Magazine, Nutter press secretary Mark McDonald, said the number of cars parked on the apron will decline once the street reconfiguration is completed, but he signaled no intention on the part of the administration to actually halt the practice.
Enter Jim Kenney.
On the last day of Council's session today, Councilman Kenney's office has introduced a resolution that could (eventually) clear the City Hall Parking Lot, calling for hearings on other uses for the apron, as well as other dreary public spaces in the vicinity that they feel could better complement Philadelphia's "crowning architectural achievement":
"The courtyard, apron, and ground floor of City Hall and the adjacent Thomas Paine Plaza not only detract from the beauty of City Hall's exterior, they remain woefully underutilized public spaces that provide little value despite being some of the city's most economically valuable publicly-owned property."
The resolution would authorize Council's Committee on Public Property and Public Works to hold public hearings on "the current status, existing plans, and timeline for the redesign of underutilized public spaces in Center City Philadelphia" mentioned above.
Recognizing that taxpayers may find big spending on public beautification projects distasteful following the expensive renovations to Dilworth Plaza, and the ongoing school funding crisis, Kenney proposes that Council convene a group to brainstorm "solutions to dramatically improve and redesign these spaces at little cost to the taxpayer," likely in the vein of the parklets and pedestrian plazas that some BIDs, neighborhood groups, and businesses have been building recently.
We'll update this post later today with the vote results, but in the meantime, you can read the resolution
here
.