Council considers how to encourage electric vehicle ownership after suspending previous program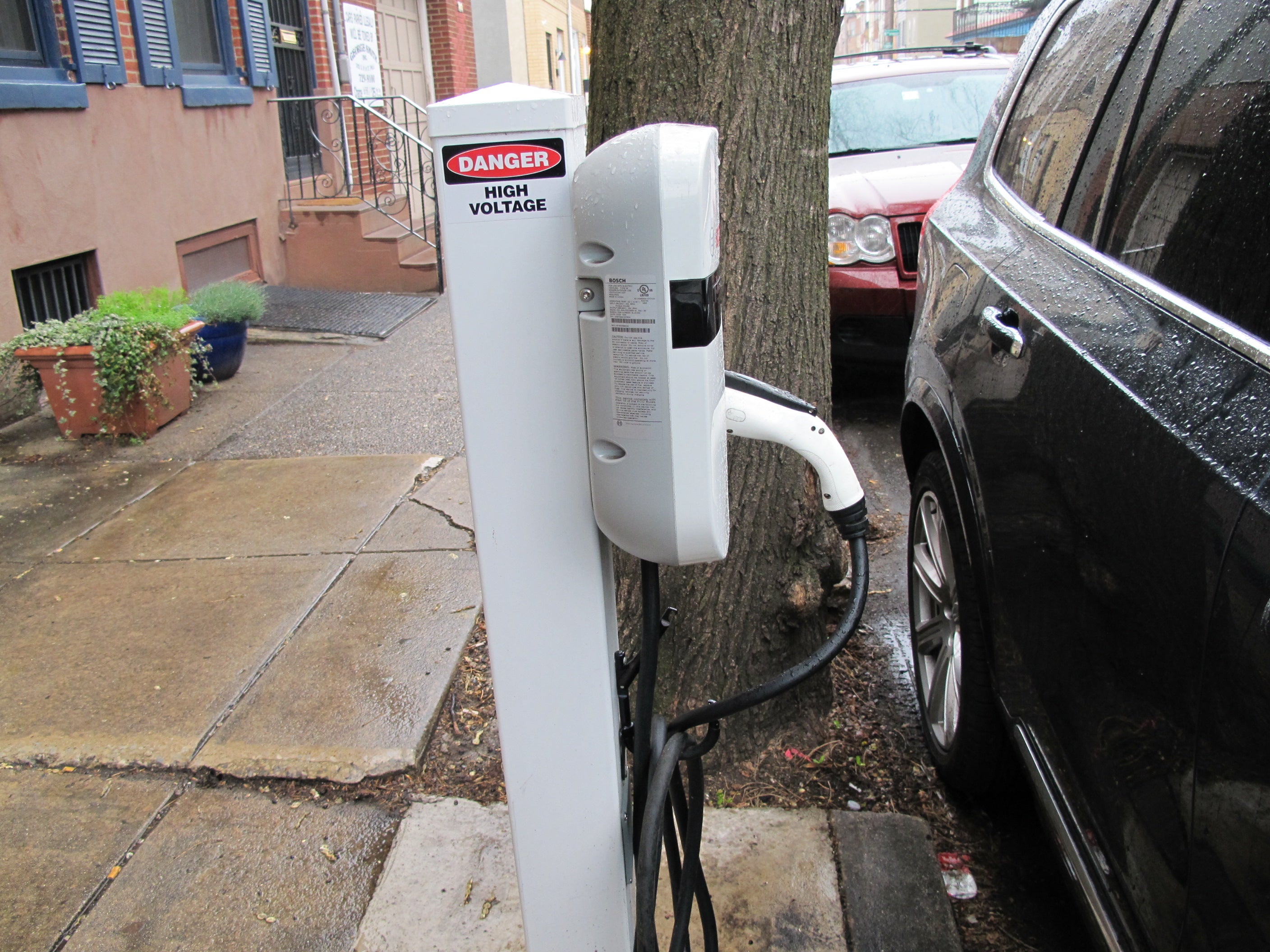 City Council held hearings Monday to solicit ideas for encouraging electric vehicle (EV) ownership in Philadelphia. The hearings came a month after Council pulled the plug on the city's previous program to induce EV ownership, a parking policy that critics alleged allowed EV owners to essentially privatize an on-street parking spot.
Compared to gas-powered automobiles, electric vehicles have broader social benefits. They're emission-free, making the air cleaner for everyone. They're also less noisy. (You know how still the city seems when it snows? That's because no one's driving.) That's seen as reason enough to want more people locally to switch to electric, even before considering the impact of carbon emissions on climate change.
For years, the knock against EVs was their price tag. But the price has dropped in recent years, making them affordable even before considering long-term fuel savings. Meenal Raval, a Mt. Airy resident, testified Monday that she leases a Smart electric couple for $150 per month, and that her car's electric bill was about half what she spent on gas for a Honda Fit.
For now, the biggest roadblock to EV ownership in Philadelphia is the city's layout. Finding viable, convenient charging options in Philadelphia "can be a challenge because most EV owners charge their vehicles at home," said Tom Bonner, energy policy manager for PECO. "Where owners have their own garage, that's cost effective and convenient. However, where they don't, we need to think more creatively about how we provide charging access."
Usually, when the public benefits are greater than the mere private benefits, governments like to step in with subsidies to encourage the activity in question. That's the theory behind low interest federal loans for college. Educated citizens are generally better citizens: they tend to earn more money, paying more taxes, while using fewer social services and staying out of jail.
The federal and state governments already offer direct subsidies for owning an electric vehicle: $7,500 in federal tax credits and Pennsylvania offers a small number of $1,750 rebates on an annual first-come, first-serve basis. Until last month, Philadelphia arguably offered a subsidy in the form of essentially guaranteeing EV owners that applied for a curbside charger their own on-street parking space.
Other cities have offered more. In the Netherlands, Amsterdam began building public charging stations itself in 2009, rather than wait for the private market to come along, and allowed residents to petition for others to be built nearby or apply for subsidies to build private chargers. Today they have more than 2,000 public chargers across the city (the public chargers run on wind power, too).
Berkeley, California is in the middle of a pilot program that similarly allows on-street chargers but also covers up to $2,000 per charger for the first 25 installations. Berkeley didn't limit parking to EVs, though, and over the last two years just five residents took advantage of the system, out of a city of 120,000 residents with 1,100 registered plug-in electric vehicles as of 2015. For comparison, out of Philadelphia's 1.5 million residents, 188 had plug-in electric cars in 2015, 71 of which were all-electric, and 58 EV owners took advantage of the parking permit program before the moratorium bill.
PECO has drafted legislation, introduced by State Rep. Marguerite Quinn (R-Montgomery), that would require electric utilities to assess regional needs for charging infrastructure and submit plans to the Pennsylvania Utilities Commission for meeting those needs.
Bonner also noted that Pennsylvania is set to receive $118 million from the Volkswagen Clean Air Act settlement, which includes funds set aside specifically for zero emission vehicle infrastructure and other projects that reduce emissions. Bonner encouraged Philadelphia to coordinate with the Commonwealth on how to best use some of these funds, and encouraged experimentation.
"Let's pilot some things — see what can work," said Bonner. "Look at things like neighborhood charging pods or charging access along public buildings, parks, schools, etc."
Bonner then addressed Philadelphia's particular problem with EV's head on: Try some experiments "where [EV charging] may not have the same gut reaction as 'my neighbor has one of these in front of his house, why can't I get my own space?'"
A representative from ChargePoint, operator of the world's largest EV charging station network, urged Council to amend the city's building codes to mandate the kind of conduits necessary for beefier chargers. Most building outlets are 120 volts, which can take around 10 hours to fully charge an EV battery with a 50-mile range. Heavier 240 volt outlets—the kind often used for clothes dryers—charge EVs three times faster. ChargePoint's representative didn't say the company necessarily wanted rules requiring new buildings to provide EV chargers in their parking garages; only that if there was a garage, retrofitting the electrical wiring for EV stations after construction is costlier. San Francisco is considering an ordinance requiring all new parking in both residential and commercial buildings to be equipped with the kind of electrical conduits required for effective EV charging.
A Tesla representative echoed ChargePoint and PECO, saying the city should streamline charger construction permits, update the building code, and work with PECO to promote EV adoption more widely.
First District Councilman Mark Squilla, who co-sponsored the parking program suspension legislation along with Councilman-at-large David Oh, said the city's next step would be to put together a task force to develop a new EV policy. Squilla said the task force would include representatives from the city's departments of Licenses and Inspections, Streets, Police, the Office of Transportation and Infrastructure Systems, the Office of Fleet Management, plus EV owners and representatives from the EV industry.
The task force will have about a year to come up with something. That's when moratorium on the old policy sunsets.
WHYY is your source for fact-based, in-depth journalism and information. As a nonprofit organization, we rely on financial support from readers like you. Please give today.