Coronavirus update: Despite blowback, N.J. parks to stay closed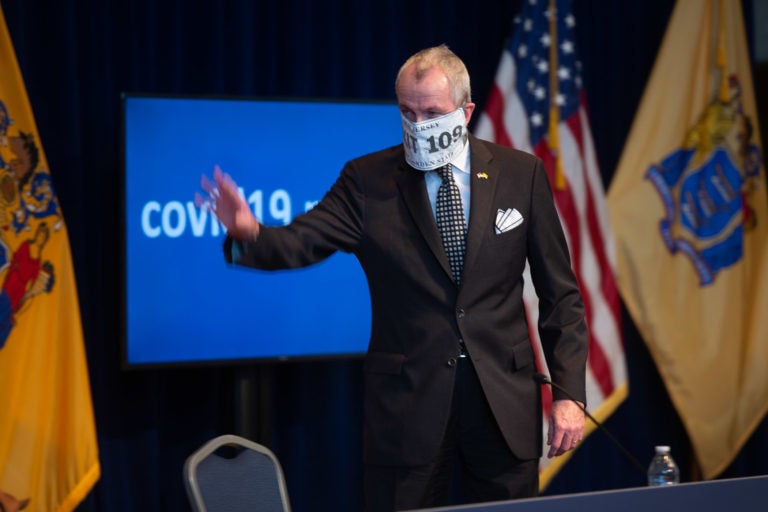 Are you on the front lines of the coronavirus? Help us report on the pandemic.
New Jersey officials reported another 3,748 cases of coronavirus cases on Thursday, with the state's total now at 51,027.
Gov. Phil Murphy also said another 198 people have died, bringing the state's total number of fatalities to 1,700.
"This is well north now of two times the blessed fatalities that we suffered in New Jersey on 9/11," he said.
Stores can deny entry to shoppers without face coverings
After Murphy said Wednesday that customers and employees alike must wear face coverings at all retail stores, his administration clarified that those stores do have the right to deny entrance to anyone who does not comply.
The only exception is for those who have a medical reason why they can't cover their face, according to the text of the executive order. Those customers can still enter the store, although staff can limit their proximity to other customers, Murphy's deputy chief counsel said Wednesday.
Staff cannot, however, require people to show documentation proving they have a medical condition.
For everyone else, the general rule is no face covering, no entry. For customers who refuse to comply at stores that provide medication, medical supplies or food, the business must provide an alternative method for pickup or delivery.
Grace period for insurance payments
A separate order Murphy signed Thursday creates a grace period for residents unable to pay insurance premiums due to a loss of income or other repercussions of the coronavirus pandemic.
The governor said residents would have an extra 60 days to make payments on health and dental insurance policies, and 90 days for home, auto, renters and life insurance policies.
He said the order makes it clear that all claims covered by an insurance policy must still be paid out during the grace period, and that insurers must spread out repayments for customers instead of demanding a lump sum at the end of the grace period.
"Not only should no New Jerseyan lose their insurance during this emergency, but we cannot leave them in a weaker position once it ends," Murphy said.
New Jersey previously granted a 90-day grace period for mortgage payments.
More than half a million residents seek unemployment benefits
The number of New Jerseyans who sought unemployment benefits last week broke the state record for the third week straight, the state reported Thursday.
Nearly 215,000 residents made claims in the week ending April 4 after having lost their jobs or been furloughed amid a coronavirus-induced economic crisis.
That means more than 575,000 residents have sought benefits since mid-March. Nationwide, nearly 17 million Americans have sought benefits during that period, and analysts expect the number to keep rising.
Many more New Jerseyans have been unable to submit claims due to backlogs in the system, although Murphy said Thursday that claims will be backdated to the start of unemployment and "no one will be denied one penny."
The state Labor Department said the residents already collecting unemployment will begin to see their $600 supplemental weekly payments arrive on April 14, covering the week of March 30. Those enhanced benefits were approved as part of a $2 trillion federal stimulus package.
As the state tries to process the extraordinary number of claims, Murphy said it has also set up a jobs portal currently listing nearly 50,000 active openings from more than 630 employers.
Despite blowback, Murphy stands by park closures
Murphy said he's heard the criticism from residents and lawmakers over his decision to close state and county parks, but the policy will remain in place.
"This is not a life sentence. This is not going to last forever," Murphy said. "The more social distancing we exercise, when we are at home or when we are outside of our home — and hopefully you're only going outside when you have to — the faster we'll get through this."
Murphy closed the parks on Tuesday after getting reports that residents and visitors from out of state were congregating there and flouting the six-foot distance rule meant to slow the spread of COVID-19.
The decision drew immediate pushback.
"In this time of uncertainty, we should encourage folks to go outside and explore their local park while practicing safe social distancing," said state Sen. Kip Bateman, R-Somerset County. "With fresh air and exercise being so important to our physical health, mental health, and overall well-being, I am calling for our parks to be reopened as soon as possible."
The New Jersey Outdoor Alliance called the move "ridiculous" and an "overreach," while some residents worried the closures meant they would just be crammed into more crowded streets and sidewalks, especially in urban areas.
Murphy said the decision came after law enforcement agencies reported ongoing gatherings in parks and an "uncomfortably high number of out-of-state license plates." He added that first responders are at risk when they have to break up groups not abiding by social distancing mandates.
"We didn't just wake up on a whim to close state and county parks," Murphy said. "We did this based on the facts, and we will continue to keep this posture until we are through this."
Localities can still decide for themselves whether to keep municipal parks open.