Coronavirus update: Montco finds widespread, silent spread in prisons
"We've been checking temperatures in the correctional facility twice a day now for weeks," said commission chair Val Arkoosh. "These are not people with symptoms."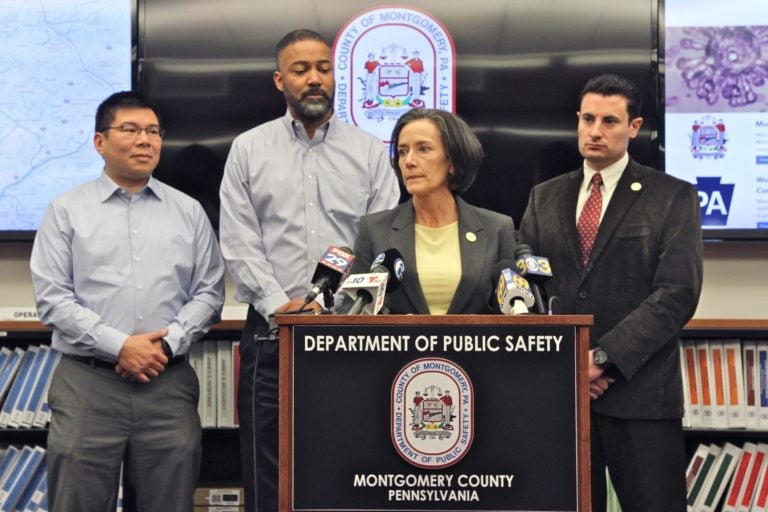 Updated at 4:55 p.m.
–
Are you on the front lines of the coronavirus? Help us report on the pandemic.
To date, the Pennsylvania Department of Health has reported 43,557 total COVID-19 cases (including confirmed and probable cases). There are 111,188 cases in New Jersey and 4,162 cases in Delaware. Philadelphia has 12,868 cases.
Pennsylvania's death toll stands at 1,807, New Jersey's is at 6,044, and Delaware's is at 125. Philadelphia's death toll is 484.
Note: The Pa. number of total deaths has gone down because the state is no longer including probable deaths in its count, only deaths that are confirmed to be coronavirus-related.
Montco finds widespread, silent spread in prisons
Case totals for the county are now 3,683 in 61 municipalities. In total, 220 deaths are confirmed to be COVID-related, and 69 more deaths are suspected to be related to the pandemic. 89 people in the county have died.
Montgomery County officials say despite positive signs, instances where thorough testing takes place shows widespread, symptomless spread which complicates visions of reopening.
Over the course of 48 hours, ending last Friday afternoon, the county tested all incarcerated people and employees at the Montgomery County Correctional Facility.
Of the 939 people held in the facility, results are in for 740. So far 169 people tested positive. 24 staff members and contractors with PrimeCare Medical also tested positive.
The widespread, silent transmission shows that more testing is needed in prisons, nursing homes, and other congregate settings, said county commission chair Val Arkoosh.
"We've been checking temperatures in the correctional facility twice a day now for weeks," said commission chair Val Arkoosh. "These are not people with symptoms."
Countywide, 400 people remain in hospital care for COVID-19, with 100 of those patients needing ventilators. Around 15% of all people getting tested at public testing sites are coming back positive.
In some cases, patients who could be discharged to a care facility are staying in hospital beds, because there are not enough spots in step-down facilities due to a lack of staff.
Blue Angels flyover: don't get carried away
The 12 military jets performing precision maneuvers over Philadelphia tomorrow will doubtlessly bring people out to watch. The elite flying teams of the U.S Navy and Air Force – the Blue Angels and Thunderbirds, respectively – flying over New York, Trenton, and Philadelphia on Tuesday are encouraging viewers to use the social media hashtag #AmericaStrong.
Philadelphia Mayor Jim Kenney, however, does not want residents to forget they are still under quarantine.
"We ask residents to refrain from traveling to landmarks, hospitals, and gathering in large groups to view the flyover," he said.
Kenney seemed to be less than thrilled about the high-profile aviation show.
"We probably could use the money on something else, rather than on the personnel and equipment utilized," he said, adding, "But I'm not going to turn something that should be a positive into a negative. People enjoy the flyover. I love looking at those planes, myself."
State campgrounds to reopen May 14
This weekend Pennsylvanians will be allowed to go outside and play, albeit under certain restrictions.
Governor Wolf is allowing the reopening of recreation sites like golf courses, marinas, and private campgrounds, provided masks and social distancing measures are used. State campgrounds will open two weeks later, May 14.
"As the weather warms and daylight lengthens, enjoying time outdoors is an important way to manage stress," Wolf said. "As we start to take measured, limited steps to reopen our commonwealth, reopening these industries will help to rebuild our economy and strengthen our mental health."
While Wolf encourages Pennsylvanians to use outdoor recreation to mitigate stress that has built up for seven weeks during the pandemic shutdown, he also asks them to show restraint as they venture outdoors: people should not travel far, using recreation sites close to home; they should wears masks and keep distance from others; they should abandon their plans if the site is crowded; and not go out at all if they are sick.
Philadelphia mayor Jim Kenney today also spoke about cabin fever and his concerns about alleviating stress during the pandemic. However the Philadelphia region is considered Pennsylvania's coronavirus hot spot, and while the infection rate is flattening residents should still act with caution.
"Springtime is a great time to be in Philadelphia," said Kenney. "But the epidemic could surge back at any point. The only way to prevent it is staying at home unless it's absolutely necessary."
Pa. hospitals to resume elective procedures
Hospitals in Pennsylvania will be able to resume elective medical procedures which had been postponed due to the coronavirus pandemic.
In her daily briefing, Pennsylvania Health Secretary Dr. Rachel Levine said some restrictions on what kind of procedures hospitals are allowed to perform have been lifted, with the caveat that the hospital or health system is still able to respond to a sudden COVID-19 outbreak in its region.
Hospitals must comply with certain standards to resume elective procedures, including having enough staff and resources to treat elective patients without resorting to "crisis standards" that would prioritize certain patients over others.
"We've been working very closely with our hospital partners to safely ensure that Pennsylvanians who need treatment not related to COVID-19 can get it," said Levine. "This guidance puts forth ways for hospital and ambulatory surgical services [i.e. outpatient clinics] to do that, while making sure we stay prepared for any resurgence of COVID-19 in those areas."
Levine also addressed questions related to the re-opening of the state economy, scheduled to begin piecemeal on May 8, based on the presence of the virus in particular areas.
The state has created a three-phase, color-coded plan to gradually bring the economy back online, moving individual regions from red to yellow to green. The advancing through that process will be based on several factors, including the average number of new cases in those particular areas.
But the number of new infections is not the only criteria.
"We're not going to be held to any particular schema. We're going to be looking at many other things," said Levine. "We're going to be looking at the ability to do testing. Looking at the ability to do case investigations and contact tracing. We want to make sure hospitals and health systems can take care of any outbreak of COVID-19. Many things will be under investigation this week as we determine which area can go from red to yellow."
70% of unemployment claimants getting paid; Aid for gig workers should be available in early May
Pennsylvania's unemployment compensation system has been overwhelmed by demand as more than 1.65 million residents seek financial help from the state. 
The state department of Labor and Industry gave a snapshot of what the surge looks like at a press briefing Monday.
Call centers have been taking around 21,500 calls a week, with Mondays and Tuesdays being the busiest days. Officials recommended calling on Thursdays and Fridays for a better shot at getting through. Email inboxes taking questions are running 25 days behind.
"We will eventually get to it," said Susan Dickinson, Director of the Office of Unemployment Compensation Benefits Policy.
Despite this load, around 70% of the 1.65 million claims have received benefits so far. That leaves nearly 500,000 people who were either ineligible who or have an issue with their application. 
"They are impressive statistics for our agency, but I know that if you're not on the right side of those statistics, that doesn't help," said Department of Labor and Industry Secretary Jerry Oleksiak. He blamed the federal government for some of the delays, and the state's 40-year-old payment infrastructure. 
"We went from having record low unemployment, to numbers that we had never, ever seen before," he said.
Department officials said they are caught up in issuing PINs, a crucial step in filing a claims process. Anyone who hasn't received one within three weeks of opening a claim should request a new one, said Dickinson.
After rolling out the preliminary steps for applying to a new kind of unemployment, called Pandemic Unemployment Assistance, aimed at freelancers and other non-traditional workers, the department has processed 107,000 applications.
"We hope to have the rest of that in place and benefits being distributed by early May," said Oleksiak.
The state has paid out $3.5 billion in aid so far, $2.6 billion from the traditional unemployment compensation coffers, and $900,000 in federal stimulus doled out in $600 weekly installments.
Philly passes peak
Philadelphia Health Commissioner Thomas Farley said the city is past the peak of the coronavirus pandemic, but emphasized the need to continue social distancing practices as the disease is still very much present in the region.
There are 302 new coronavirus cases recorded in Philadelphia since yesterday, bringing the total to 12,868 cases. However, the rate at which new people are being infected is slowing.
Farley explained the reproduction rate is now less than one, based on long-term trends. That means, on average, the disease is spreading to fewer people than currently have it. Farley said that reduction in infections is not related to an increase in testing, but rather the result of social distancing measures.
"We are now on the downslope," said Farley. "But – this is really important – we have to keep the R0 below 1.0 for the epidemic to end. The good news we have today is no reason to go back to the old way of living. Just the opposite, it's reason for us to continue to do what we're doing now."
According to standards established by Governor Wolf, Philadelphia can reopen once the number of new cases per day hits about 55. Today it is 302. Farley could not say when the city will be ready to reopen, but posited that it might be at least a few more weeks.
Flyover map released
U.S. Air Force and Navy fighter jets will fly over Philadelphia and Trenton on Tuesday, starting at Joint Base McGuire-Dix-Lakehurst and looping over the two cities before ending in Wilmington.
Tomorrow's #AmericaStrong flyover serves as a salute to frontline #COVID responders.#InThisTogether pic.twitter.com/iyiZEd9Y1X

— Thunderbirds (@AFThunderbirds) April 27, 2020
The demonstration will include 12 planes from the Blue Angels and Thunderbirds. They'll be flying to honor frontline medical providers working through the coronavirus pandemic.
"We are incredibly honored to have the opportunity to salute those working on the frontline of the COVID-19 response, we are in awe of your strength and resilience," said Blue Angels flight leader, Commander Brian Kesselring in a statement.
The program should be visible in Trenton at 1:45 p.m. and in Philadelphia at 2 p.m.
City officials asked residents to observe social distancing guidelines during the flights and avoid congregating at landmarks or hospitals. The Air Force and the Navy said people should be able to see the flyovers from their homes.
Good news, more booze
A week after launching curbside pick-up at 176 of its stores, the Pennsylvania Liquor Control Board is expanding the number of locations offering this service to 565, starting Monday.
The procedure for placing an order remains the same: Call ahead to your local Wine & Spirits store, and queue up at the appointed time to receive your order of up to six bottles. Orders will be taken on a first call, first served basis, with phones opening at 9 a.m. Monday through Saturday.
Each location can handle between 50-100 orders a day.
"We hope that adding hundreds more locations for curbside pickup will help us get through this surge of demand for wine and spirits," said PLCB Chairman Tim Holden, asking customers to "be patient."
WHYY's Peter Crimmins contributed reporting.
WHYY is your source for fact-based, in-depth journalism and information. As a nonprofit organization, we rely on financial support from readers like you. Please give today.