'Completeness' or not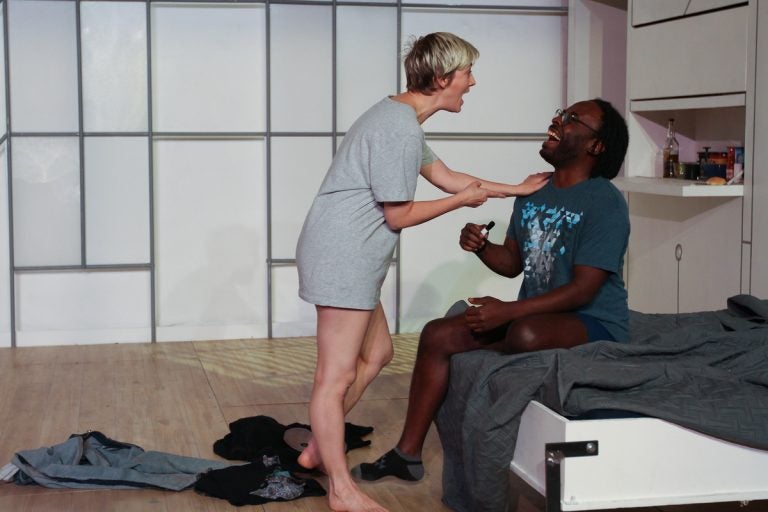 She's a grad student, a budding molecular biologist who studies yeast to see how proteins interact. He's a grad student who builds problem-solving algorithms and he's writing one to help her predict those interactions.
She's unsure of the computerized process. He tells her: "It only looks like nothing's happening but if you could see the underlying code, it's going nuts." You could say the same about these two characters in the play "Completeness." Whenever they finish their excited and lengthy interchanges about their work and begin talking about themselves and the relationship they've dived into, words fail them. If we could see the underlying code in their minds, it's going nuts.
The problem is, we can't. And so Itamar Moses' verbose "Completeness," in a facile and thoughtful production directed by Matt Pfeiffer for Theatre Exile, seems like two plays that never meld. One is the story of a romance between awkward lovers who cannot or will not move the relationship forward. The other is an often arcane running conversation about such things as computational intractability, tissue growth, derivative error and a classic mathematical stumper called the Traveling Salesman Problem.
I was intrigued for the first half hour of the 95-minute one-act — Moses writes spot-on and complex dialogue, sometimes sparkling with thoughts you can't possibly see coming and, in this production, delivered genuinely by two of the city's most versatile theater artists, Mary Tuomanen and Jame Ijames.
But I began to be saturated with the rapid-fire work-related talk, which inches close to tedious gobbledegook after a while — we're supposed to understand that it makes sense without enough information to really make sense of it.
Moses won this year's Tony Award for his beautifully understated book of the hit Broadway musical "The Band's Visit." His "Completeness" was first performed in 2011, and Theatre Exile is staging Moses' newly rewritten version. The production honors the play with Pfeiffer's smooth direction, the sterling performances by Tuomanen, Ijames, and as two lovers jilted by the others, Justin Rose and Claire Inie-Richards.
Furniture drops nicely from the walls of Colin McIlvaine's white-colored set. The lighting and sound (Alyssandra Docherty and Michael Kiley, respectively) add to an intensity broken only by the playwright himself, when the action of the story takes a temporary turn because of what the actors call a technical problem.
Is it the playwright's way of telling us that everything in life is subject to glitches, whether it's an algorithm, a love affair, a play or a night in the theater? I don't know but I'd like to think so, because with little else to tie "Completeness" together, it feels puzzlingly incomplete.
—
"Completeness," produced by Theatre Exile, runs through Dec. 23 at the Louis Bluver Theater at the Drake, on South Hicks Street. Hicks runs to the side of the Drake Apartments, on Spruce Street between 15th and 16th Streets. 215-218-4022 or theatreexile.org.