Community building in the future may be without heavy government investment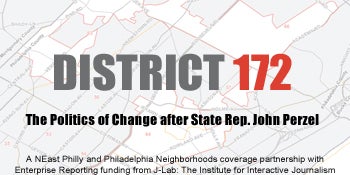 This is part of ongoing coverage in "District 172: The Politics of Change after State Rep. John Perzel," a collaborative effort with Philadelphia Neighborhoods funded by J-Lab.
Joe DeFelice has put a lot of effort into that little playground. And a few hundred residents and supporters have all helped in small ways.
In fall 2009, DeFelice, the Mayfair Civic Association president and now a new Mayfair CDC board member, kicked off a $50,000 fundraising campaign to renovate and reopen the Mayfair Memorial Playground at Rowland Avenue and Vista Street. More than a year and a half later, the Mayfair Civic Association has $20,000 and is seeking the opening on a smaller scale.
That fundraising was done dollar by dollar and almost exclusively by volunteers, like himself.
If fundraising for the playground, which closed in April 2008 after a young girl was injured on out-of-date equipment, was kicked off while powerful state Rep. John Perzel was still at the height of his influence, in the middle of this decade, DeFelice says the process would have been quite different.
Instead, in October 2009, Perzel was a month away from an 82-count indictment of corruption and a year away from losing his three-decade grip on a statehouse seat to a freshman Democrat who had never held public office before.
"When Perzel was in power, the CDC was buying houses, [a] movie theater, building [a] rec center, etc., so I'm sure that a little playground wouldn't have been that difficult to come by," DeFelice said. "So in the old days, a check may have been written, but now you have a large amount of neighbors who didn't previously know each other coming together for a common good and coming up with new, innovative ways to raise funds."
So what's the biggest impact from Perzel's indictment, the historic state budget deficit and a shake up of community leaders in a tight knit neighborhood like Mayfair? Perhaps nothing short of a change in how residents improve their blocks forever.
REPLACE STATE FUNDING WITH CIVIC GOOD
With stripped state and city budgets across the country and an economic outlook that suggests governments won't be flush for some time to come, we just might be entering an entirely new era of community action. Call it grassroots by necessity. Even just a few years ago, members from established neighborhood groups could reasonably expect to win occasional grants or awards or other development funding for capital investment or infrastructure projects.
"Today, well, that just isn't going to happen. It'd be almost laughable to expect that kind of support anymore," DeFelice said.
So, DeFelice, a lawyer by day, has organized Easter egg hunts with bake sales, fundraisers with neighborhood bars and restaurants, sidewalk thrift sales and other incremental fundraising moves. And the very point is that DeFelice is hardly acting alone.
Active membership in the Mayfair Civic Association has had to grow, the new Mayfair CDC board is double the size of what it was just a few years ago and the active Mayfair Business Association has expanded to get into education, like pushing membership into greater community action and awareness.
"Business and property owners had less to clean up outside of their businesses and homes in recent years because the 'green machines' would just do it for you," DeFelice said, speaking about a CDC program that bought and staffed machines that were something of a cross between ride-on lawnmowers and vacuum cleaners. "They are gone now [because of budget cuts], so if the owners don't come out and do it, it's not going to get done. Is the neighborhood cleaner? Probably not, but there is a certain amount of pride in people cleaning their own property."
This is clearly not only a Mayfair story, but it has seemed to happen here in a bigger way than elsewhere.
Not only has the heart of the Northeast faced the great recession that has plagued the entire country and much of the world, but also the people of Mayfair and beyond have watched the rise and fall of one of the most powerful politicians in Northeast history. At his height, Perzel, a former Speaker of the House, was credited for bringing back serious money for his district, particularly his political base of Mayfair.
So Mayfair presents itself as an interesting backdrop to explore the shift toward citizen action in public service, but there are no shortage of local examples of that very movement elsewhere.
The 2012 West Oak Lane Jazz Festival will receive no state funding after years of heavy support thanks to its own powerful state supporter: Democrat Dwight Evans, who lost his house Appropriations chairmanship when Republicans took control of Harrisubrg. Now the festival is scrambling to re-imagine itself as more a community celebration than a destination event.
The new Philly Rising program from the City's Managing Director's Office has been celebrated for focusing attention on struggling neighborhoods, including Frankford. It's fuel isn't big checks or even newly funded action programs, but rather bringing together existing community groups, increasing awareness and focusing on small, actionable steps toward attainable successes.
Michael DiBerardinis, the City's Parks and Recreation Department chief, has been celebrated for private fundraising to support the opening of public pools with corporate partners.
In April during Philly Tech Week, OpenDataPhilly.org, a website that catalogs city and civic-orientated data, was unveiled. Perhaps most notable about the project was that, while much of the data is from the City of Philadelphia, the website was built, promoted and launched independent of city government funding or direction.
A NEW GENERATION OF NEIGHBORHOOD POLITICIAN
In Philadelphia, bringing home money to the district has long been aligned with machine politics.
Powerful city and state leaders who were rooted in local ways and understood how to massage their respective government budgets enough to loosen funding — in Perzel's case, most often through popular grants from the state's Department of Community and Economic Development — characterized how neighborhoods were improved on a large scale.
When new, often younger politicians, with less clout and less understanding of the ways of the past, have replaced these more entrenched powers — like young Democrat Kevin Boyle following Perzel — we've seen the new generation operate differently.
Surely fueled by far less institutional power than his predecessor, Boyle's staff seems far more interested in collaboration and bottom-up volunteer support than Perzel's team, says a handful of community activists, both on the record and off.
"We didn't see him then, and we don't see him now," said Fred Moore, the 10-year Holmesburg Civic Association president, of John Perzel and his staff, noting that Perzel focused on his Mayfair base. It wasn't a partnership in working together, Moore said.
Boyle staff have attended Holmesburg and other district neighborhood meetings since being elected.
In the past, particularly in Mayfair, the ask of Perzel's staff would have most likely been money. Now, with a financial crunch, political gridlock and a freshman state legislator, the role that Boyle would play is seen as quite a bit different.
It's a new age. And that divide can be seen elsewhere.
Think South Philly: once the stomping grounds of the currently imprisoned state Senator of lore, Vince Fumo. By all regards, he was a man who exerted great authority in the higher state legislative body.
In 2004, Geoff Di Masi, who founded web design firm P'unk Ave, helped launch the Passyunk Square Civic Association, in Fumo's district. For a newspaper article then about the new civic group, Di Masi told a reporter that the point of the association was "to not just talk, but to actually do stuff in the neighborhood." For that, Di Masi got a strange call from one of Fumo's aides, as he explained during a panel discussion in February.
"[The staffer] called me and said, 'What do you mean, you're going to do things? That's not how it works. You tell us what you need, and we do things." Di Masi said. "He couldn't understand that maybe the community could organize on its own to act on its own."
As backroom political powerhouses fade from power — like Fumo and Perzel and, under different circumstances, Dwight Evans in the Northwest — and the kind of government money once available for community development drains, most communities have no choice but to do just that.
So DeFelice is still trying to get this playground up and running. Lobbying for the School District of Philadelphia to agree to take on liability again if the equipment was updated was a big success. But there's more work, by more people, to be done.
LONG-TERM MEANING: BENEFIT OR OBSTACLE?
It's easy to see this as a surprising benefit: greater civic engagement growing once the fire hydrant of government funding gets shut off completely.
Of course there are also real concerns.
"It's wonderful to see so much more civic engagement, something I have seen in a lot of places over the past couple years," said Tom Forkin, an early full-time staff member of the Mayfair CDC and former Denny O'Brien chief of staff. "As we climb out of this recession, I do think things will be done differently in civic groups, but you need to get back to some level of community development funding because, really, even with more people, when there's less money, less gets done."
Some point out that while many more people might donate a few dollars or come out to the occasional cleanup, which is good, the loss of dedicated funding, in Mayfair's case particularly, has meant more organizing work falls on fewer people.
"What happens when Joe DeFelice drops dead from running around so much?" says Brian Patrick King, who leads fundraising for Father Judge High School after leaving his role as executive director at the Mayfair CDC. "Not every neighborhood has someone as committed as Joey or someone who understands how to lead everyone to get something done. It should be a lesson in bringing more volunteers on, but it helps that if whoever leads the work can get some kind of paycheck."
Of course, Mayfair has proven itself a strange example.
Perzel so heavily funded the Mayfair CDC — with at least $10.5 million in DCED grants from 2000 to 2010, almost 10 times as much as any other civic group in his district, according to one count — that the change is looking particularly drastic there.
Still, the lessons are elsewhere.
In the same period, Tacony's civic group received roughly $500,000 in similar funding and Holmesburg $24,000. Not enough to have full-time staff like the Mayfair CDC, but serious enough money to present options for those groups that no longer exist.
IS THIS A SEA CHANGE OR JUST LOW TIDE?
The bigger question has become if this is just the result of a down turned economy, something our country has surely seen before, or if something larger is happening.
"In this recession, everything is unprecedented," Forkin said. "The losses of funding at the state and federal level, which trickles to the city, the backlash, everything. So, yes, let's go back to civic engagement and grassroots volunteerism and stop taking that for granted. It's too early to say what the long-term impact will be, but I think you can say that something big is happening here, which is going to change how business gets done."
King, the former Mayfair CDC executive director, for one, says there's no question that big state grants will be back, though it could take years and have to involve more people.
"The days of one guy writing one big check is done. There's no political cover for it anymore. You're going to find a lot more hands on deck, and, so it'll take some years for the recession to turn, but there will be more money flowing, it'll just come from more players," King said. "What we can do is try to learn how to better welcome in more people now and make our communities better in different ways for the future."