College students who explore Philly are more likely to stay. Could free* transit help?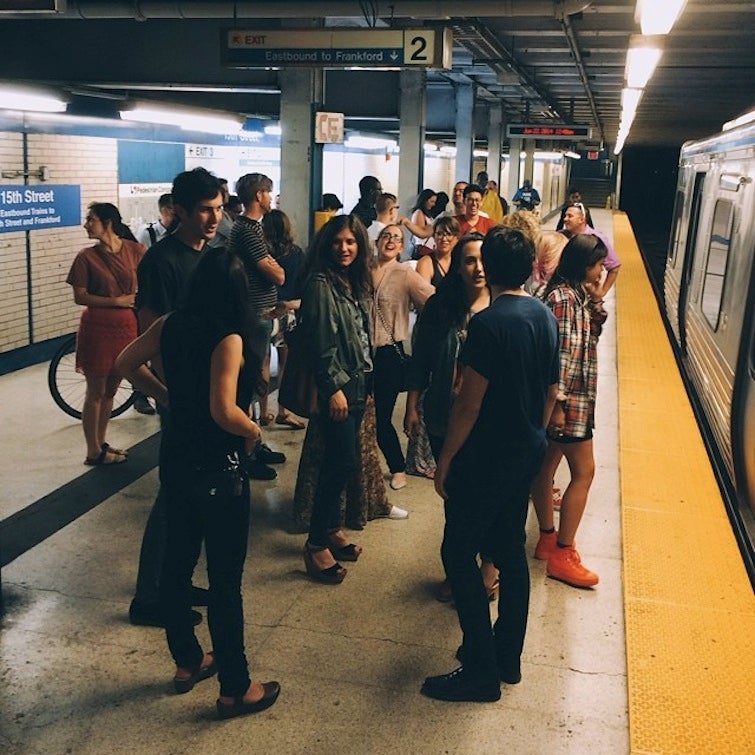 Would better public transit connectivity and nightlife choices keep more college students in Philadelphia after graduation?
The latest report from Campus Philly suggests they would, and contains some other interesting takeaways about the role of city land use and transportation policy in retaining college grads.
Campus Philly is a non-profit that encourages college students to explore the Philadelphia region and stick around to live and work after school, and they've been studying student activity and lifestyle preferences for about a decade. The Choosing Philadelphia report is their latest since 2010.
The top line finding was that about 64% of college students choose to stay in the Philadelphia region after graduation, and the rate is higher for students who are from the region (76%) than for students who came from somewhere else (51%). About 73% of students say they have an interest in living in Philly, so future retention efforts have about a 9-point gap to close.
And one of the best things going for Philadelphia is Philadelphia. For 41% of students, proximity to Philly was an important factor in their choice of school, and students who attained a high degree of familiarity with the city during school were 19 percentage points more likely to stay in the area after graduation than those who didn't, by 73% to 54%.
The report found that today's students are "less tethered to their college campuses" than the students of even a few years ago, and are "acting more like a 'connected community,' seeking and sharing experiences across and between student populations."
Here is a chart of the most popular off-campus activities:
Restaurants and bars, shopping, and visiting friends, are the overwhelming favorites. How are they getting to those activities?
Walking is the favorite by far, but SEPTA is the second favorite, and the students of 2014 are using public transportation more than the students of 2010. About 50% of students say they use SEPTA "very often" – up 11 percentage points from 2010 – and 30% say they use it occasionally. The number who use a car very often is also up 11 points. Only 9% bike very often – a distant fourth choice – but that's still a much higher rate of cycling than for the city overall (2.3%).
The same information is reflected in what students say is most important to them about their choice of city. Jobs are the most important factor, but after that, it's restaurants and nightlife, public transportation, and the cost of living.
Here is how much students say they care about these different factors, and the black line shows how well they think Philly is performing on them: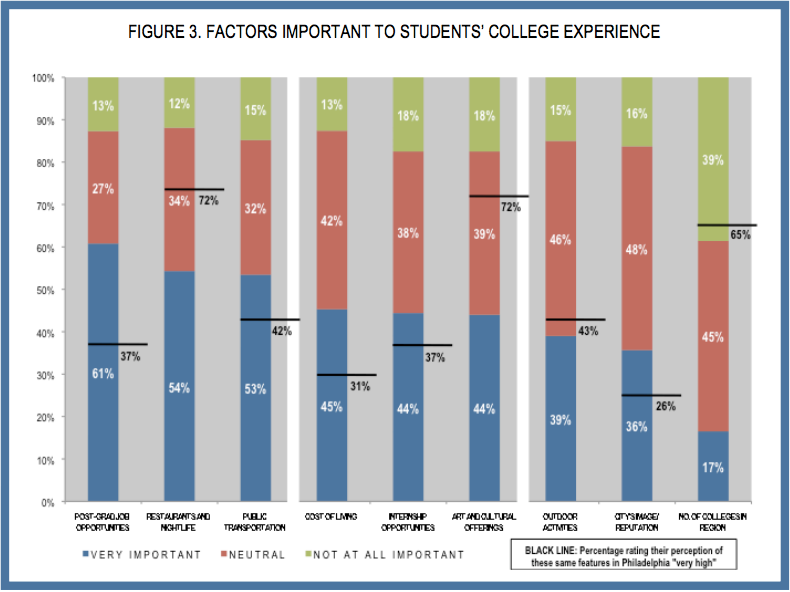 SEPTA isn't faring too poorly in the court of student opinion, but its reputation is still upside down. Only 42% rated their perception of SEPTA as "very high," but 53% rated public transportation quality as a very important factor – the third most important factor behind post-graduation job opportunities, and restaurants and nightlife.
So to recap: college students really like Philly, they're impressed with its cultural offerings, and those who spend more time off campus exploring the city are more likely to stay here after school than those who spend less time immersed in city life. What could the universities do to leverage this advantage?
One thing they might try is offering "free" transit.
Ok, not exactly free – but bundled into tuition automatically, whether students request it or not, at a deep discount. That's the deal that the University of Pittsburgh, Carnegie Mellon University, and Chatham University have worked out with the Port Authority of Allegheny County.
The students, staff, and faculty of all three universities can ride any Port Authority vehicle (mostly buses, but Pittsburgh does have a small subway) within any zone, at any time of the day, by tapping their university-issued ID card on the farebox.
The University of Pittsburgh initiated this program with the Port Authority in 1997 as part of a play to get students off campus more. The way it works is that students are charged non-elective safety, security, and transportation fees in their tuition, amounting to $180 a year.
The proceeds from these fees, combined with outlays from the University of Pittsburgh's Parking, Transportation, and Services budget, contribute about $6 million to the Port Authority each year for about 5.5 million rides.
Annual fee increases are built into the multi-year agreements, but overall it's still a good deal for students and faculty, especially if it means they can forego car ownership. PAT charges the universities $1.25 a trip – half the regular fare price.
It's also a good deal for the transit authority because it provides a steady stream of local revenue they can count on, shielded from the often hostile headwinds from Harrisburg.
In total, they collected about $9.5 million in contract services last year which includes the contributions from all three of the major universities, as well as discounted fare deals with four other universities.
Riders from the three big universities make about 600,000 trips per month, or about 11 percent of the Port Authority's total ridership. Ritchie said the rides from all university agreements have totaled more than 7 million per year for several years now. To put that in context, they had 63.7 million riders in 2013.
When the program started, the universities would negotiate a bulk payment to the Port Authority, but the adoption of a contactless fare system has allowed for greater precision in billing. Now PAT can simply bill the universities for the trips taken by staff and students, and bus drivers don't have to keep track of who's who.
"Now we can get more accurate counts," Ritchie said, "The way it works for Pitt is that the technology is built right into the student ID. It's not a Port Authority card, it's the Pitt Panther ID. The students tap their university ID on our fare box, and it identifies that ride as a Pitt ride."
SEPTA does offer a university pass through eight local colleges, including the three big Philadelphia universities (Temple, Drexel, and Penn,)
at a 10% discount
.
But the program is voluntary, so the uptake is unsurprisingly low relative to the size of the student populations, and appears to be used almost exclusively by actual commuter students – not students who live on campus.
The combined enrollment at the big three universities was 87,749 in 2013, but SEPTA sold only 3,339 university passes. That's about 3% of the student population.
If the big three universities made enrollment in the university pass program non-elective, bundled into tuition at the same 10% discount, SEPTA would get over $31.5 million in new local revenues. For context, that's about as much as the increase in the FY 2015 operating budget for the City Transit Division.
And that's toward the lower end of the range of possible contributors. As of the 2010 Census, there were another 149,405 college students in the city of Philadelphia (including full and part-time) and approximately 300,000 students in the 11-county metro region Campus Philly is looking at.
The further out from Philly's urban core one gets, the weaker the case becomes for non-elective bundling of a Trailpass or Transpass into tuition. But with sufficient participation within the city, an infusion of $40-60 million into the City Transit Division's budget is not unthinkable, depending on the discount applied.
Even at the half-price fares the Port Authority of Allegheny County offers, SEPTA would be in for almost an additional $19 million, which in turn could be used to fund improvements like 24/7 subways, free transfers between buses, trolleys, and subways, and other modern features that Philly's college graduates are looking for in a home city.
WHYY is your source for fact-based, in-depth journalism and information. As a nonprofit organization, we rely on financial support from readers like you. Please give today.