City says "OK, corral" for bikes at Bob and Barbara's after two year wait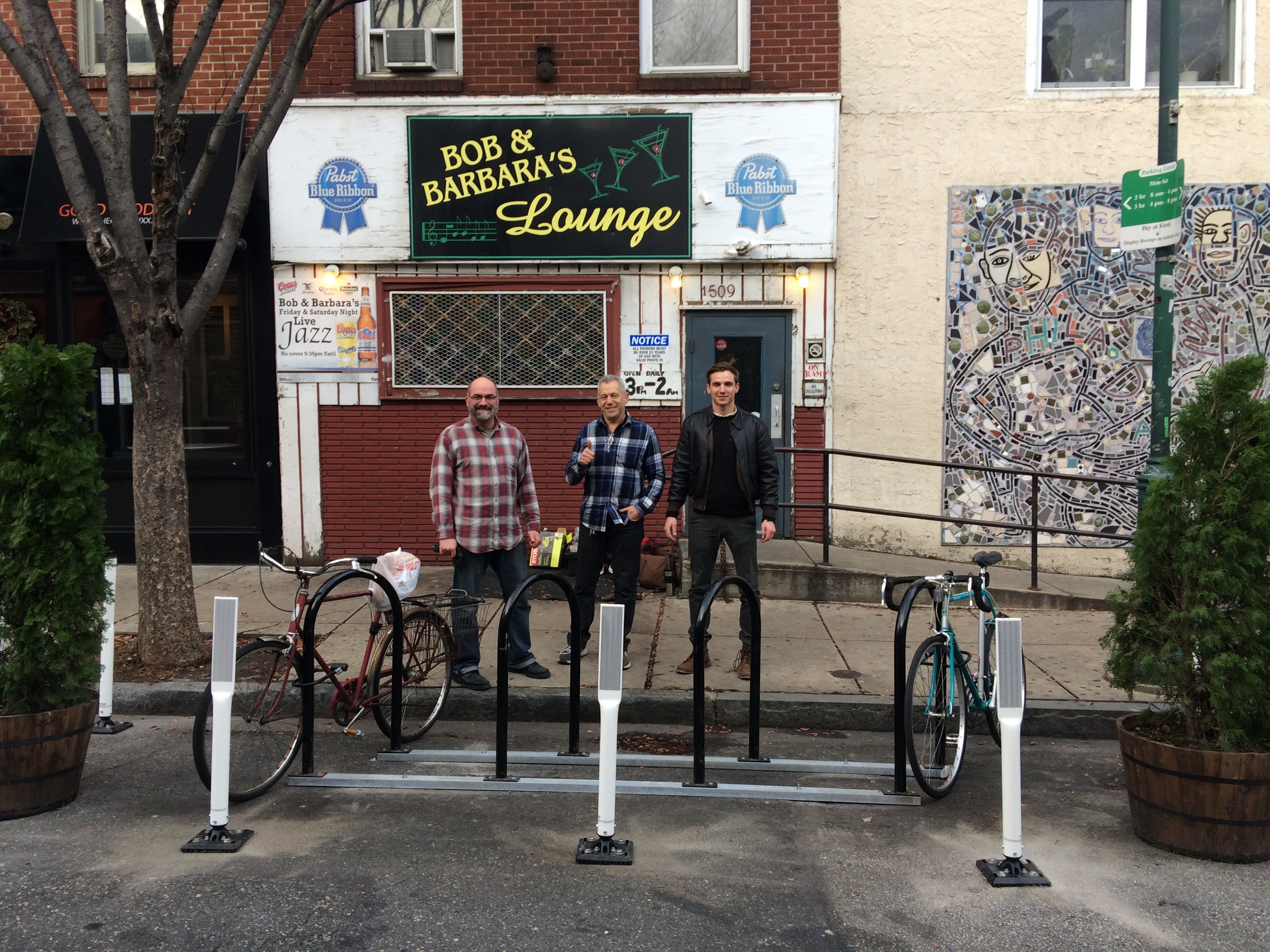 Stepping into Bob and Barbara's Lounge on South Street can feel like taking a step back in time. On Friday and Saturday nights, you'll hear the Crowd Pleasers rockin' the joint with some classic R&B hits, most older than the Pabst Blue Ribbon memorabilia hanging on the walls. Bartenders use ancient tills to take cash for the seemingly inflation-proof Citywide Special.
But just outside its old, dingy door, Bob and Barbara's is on the cutting edge… of streetscape improvements.
After two years of bureaucracy, an entire day of labor, and a little bit of blood, sweat and (almost) tears, Bob and Barbara's installed a bike corral on South Street.
The corral will be joined in warmer months by a seasonal parklet in front of Quick Fixx, an eatery neighboring Bob and Barbara's to the west. Marcus Ferreira of the South Street West Business Association said there are hopes that the Mayor's Office of Transportation and Utilities (MOTU) will place an Indego bike share docking station just to the east, making 15th and South streets a hotbed for bicycle and pedestrian amenities.
Currently, the corral features four u-shaped bike racks, designed to fit a total of eight bicycles. Two more racks will be added to increase the number of "spots" to twelve.
Bob and Barbara's owner Jack Prince beamed as the final screws securing the corral to the pavement went in on New Year's Eve. A cyclist himself who has had his bike twice stolen (and recovered!), Prince explained his excitement: "By 7 p.m. our handrail is a mountain of bicycles," Prince said. "If things go right, it'll still be a mountain of bikes, plus twelve more here."
"How awesome would it be to have 20 or more customers come on bikes?"
Bob and Barbara's – and other nearby restaurants and bars – have waited a long time for those extra bike parking spots. Despite neighborhood support, the corral still took over two years to wind its way through the city's bureaucracy.
The delays weren't merely annoying; local studies have shown that bike parking facilities can boost spending at nearby establishments – even when it means removing parking spaces for cars – by increasing the total number of customers. If five or six bikes replace one car, local businesses win – especially small retail and food industry businesses.
Building the new corral was a collaborative effort among the bar, the South Street West Business Association, Councilman Kenyatta Johnson's office and MOTU. Ferreria handled the slow-moving paperwork. Councilman Johnson helped secure $2,500 in grants to cover the costs of decorative bike racks shaped like music notes, which will soon "cap" both ends of the corral.
The team pounded the pavement, securing sign-offs from neighbors for the permits and listening to the neighborhood association's concerns over reflective pylon aesthetics. The new corral features nine white pylons, rather than the standard traffic cone orange, which neighbors said would make the corral look like a permanent construction zone.
In other cities, the reflective pylon requirements are less stringent: San Francisco only requires two, and New York City requires four. The extra plastic bollards make the corral a bit unsightly, and can actually cause delays by forcing cyclists to navigate around them.
And when it came time to finally install the thing, a representative four man crew of amateur streetscape engineers spent the first half of their New Year's Eve literally pounding pavement: Ferreira, Prince, Bob and Barbara's manager Bob Dix, and Steve Cobb from Councilman Johnson's office.
(Jim Saksa/PlanPhilly)

(Jim Saksa/PlanPhilly)

(Jim Saksa/PlanPhilly)
All of the men poured a fair bit sweat into the install. Cobb literally bled for the project, cutting his knuckles at one point. Later, when a critical screw went temporarily missing, Ferreira admitted that he "was about to start crying."
The Bob and Barbara's is the 9th and final bike corral in Philadelphia paid for using funds from the Mayor's Office of Transportation and Utilities (MOTU). Shake Shack at 20th and Sansom paid for and built a 10th bike corral. Businesses interested in installing their own bike corrals will need to cover the construction costs (around $2,000 for the most simple designs), plus the $125 permit fee.
Prince's bike was the first secured to the new corral – but only for picture taking purposes. The owner moved his bike down the block to make room for patrons. Barely five minutes later, a male and female pair of customers rolled up on their bicycles to begin their New Year's Eve drinking at 3:35 p.m. Prince enthusiastically encouraged the two to take the corral, but they resolutely refused, locking up against the bar's trusty entrance ramp railing instead.
"It's New Year's," said one as he entered the bar, who declined to provide his name. "I don't want some drunk asshole crashing [a car] into it."
WHYY is your source for fact-based, in-depth journalism and information. As a nonprofit organization, we rely on financial support from readers like you. Please give today.