City failing to deliver on community garden promises
"We're on a crisis right now," said Lan Dihn, a member of Philadelphia's Food Policy Council's urban agriculture subcommittee and farm director at VietLead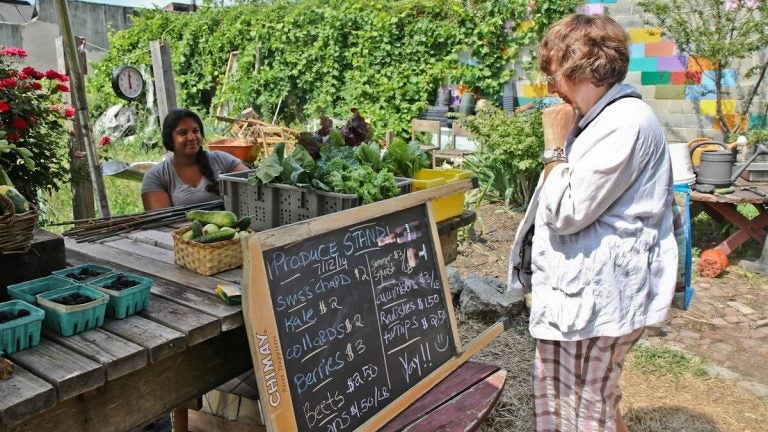 Community gardening is a labor of love and patience. On scraps of reclaimed vacant land scattered across Philadelphia, people of all incomes and hues work hard during the growing season knowing that at the end of the day there's always satisfaction — a new sprout, a new friend, a moment of peace or food for the table.
But for about 20 local gardeners who gathered around a table at a Kensington community organization on Tuesday night, the work represents a civic and moral pact with their neighbors, and with future generations, that is now under threat.
"We're on a crisis right now," said Lan Dihn, a member of Philadelphia's Food Policy Council's urban agriculture subcommittee and farm director at VietLead, a Vietnamese organization working with the Southeast Asian community in Philadelphia and South Jersey. "Many of us are receiving notices that our sites are going to be sold to developers."
Gathered by Soil Generation, a community gardening coalition, Dihn and the other farmers in the room were there to find out how they could secure their land, most of it owned by city agencies and tax delinquents,  in the face of rapidly encroaching development and other pressures.
The threat is not new. Land in the city has steadily become more valuable over the last decade and as more eager buyers seek out the city's abandoned and publicly owned lots, the gardeners who claimed them when no one wanted them have increasingly found themselves unable to compete.
"From two years ago to today, [the threat to community gardens] is discernibly more so — more demand, increased values in certain neighborhoods. The sense of risk has definitely become greater," said Jenny Greenberg, the executive director of Neighborhood Garden Trust, a land trust affiliated with the Pennsylvania Horticultural Society (PHS) that acquires and preserves community gardens in Philadelphia.
In 2016, the land trust joined other urban garden advocates at City Hall to ask City Council and other public agencies for citywide commitments to garden preservation and creation. Officials spoke fervently in support of the advocates, pointing out that the community-built spaces respond to public health obstacles like food deserts and a lack of green space that the city otherwise struggles to address.
"As Mayor Kenney seeks to build equity and investment across neighborhoods, urban agriculture requires minimal public investment, with high yields in community impact and benefits," said Kathryn Ott Lovell, commissioner of Philadelphia Parks and Recreation at the hearing. "We have the opportunity to create innovative urban agriculture projects that can feed communities, create jobs, empower our citizens, educate our youth and improve our urban ecosystem."
But two years later, it looks like that opportunity could be squandered as gardeners continue to see their communal plots sold by city agencies at public sales and through private transactions. And many in the urban agriculture community say the Philadelphia Land Bank, an agency created in part to ease this problem is becoming more of an obstacle than a solution. On Tuesday, advocates said that if it were to grade city agencies on their work to support urban agriculture, the four-year-old agency established to streamline the city's sale of vacant and tax-delinquent properties would earn an 'F.'
"What the land bank can do is to acquire privately-owned land through sheriff's sale and they can dispose of city-owned land to community members for gardens. But they haven't been doing that," said Ebony Griffin, an attorney with the Public Interest Law Center who is now actively working with seven threatened community gardens. "So you have all of these gardens that are in privately-owned tax delinquent land and they're like 'Hey land bank, can you help us? This is going to sheriff's sale, can you acquire it so we can keep it?' And the land bank is not really responsive."
Griffin said since she started helping threatened local communities gardens last June, she hasn't accomplished anything through the land bank.
The lawyer said that while working to get land for former La Finquita gardeners — a community farm in South Kensington that will be closing on May 1st after settling with a developer— she sent the same email to the land bank for three months trying to get an answer on how to move forward. All she got was silence, Griffin recalled.
"It almost feels like it's a facade," she said. "[The land bank says] 'we have this land, it's accessible, anybody can apply for it, you can get it, and it's fine, and great and wonderful, as long as you have your council person support— but we never respond to your emails or your phone calls.'"
Angel Rodríguez, the land bank's executive director, denies Griffin's accusations. He said in an interview that the young agency is doing its best with a limited staff and budget. The community development veteran became its first full-time director in September, after three years on its board. He said that while he doesn't agree with all the claims being made, he sympathizes with the gardeners' urgency and frustration. Not so long ago, he said, he was working with community growers at Asociación Puertorriqueños en Marcha (APM).
"I understand the sentiment of longtime gardeners that have been working and have a sense of community and ownership on a piece of land that they've been working for several years, and it's a key issue for the community, and then to feel like you've been blindsided by a legal process where somebody says 'Oh, I bought this property, and now you have to get off' — It's not a great feeling and it is not the intention of the land bank to exacerbate that feeling," Rodríguez said.
Rodriguez said that while his agency has to date fallen short of meeting the community garden goals included in the agency's strategic plan, it added four new employees to its existing staff of 11 and expects to make significant progress in the next year. The strategic plan committed the agency to acquiring 20 parcels explicitly for gardens in this fiscal year, which ends on June 30. In that same period, the land bank was supposed to sell 33 vacant parcels to community agriculture groups.
According to the latest land bank records, they have acquired two parcels for gardens so far this fiscal year, and plan to acquire 11 more before the end of the month. That will still leave them short of their goal of 20 green lots but Rodriguez said by the end of November they'll have 29.
In  April alone, the vacant land clearinghouse has four settlements for gardens coming up, he said.
On the sales side, the goal was to sell 33 parcels, and to date, nine have changed hands.
Rodriguez said those figures, while in need of improvement, contradict information recently published by The Philadelphia Inquirer stating that so far none of the properties sold by the Land Bank this fiscal year have gone for community gardens or open space. He also denied claims that the agency has been unresponsive with New Jerusalem community garden.
"Although it hasn't gotten off to hit the ground running start as I'm sure everyone would have hoped, there were a lot of policies and procedures that needed to be worked out, as well as technical issues like staffing and plans,"  said agency spokeswoman Jamila Davis. "But to for the notion to be that the land bank hasn't sold or acquired any properties is just clearly not accurate."
"All I can say is that we're doing our best to actually get the ball rolling and once it gets rolling will be hitting our goals," Rodriguez said.
The land bank relies on a 2016 study prepared by Neighborhood Garden Trust to determine which community gardens to protect from redevelopment. The nonprofit's report identified 28 gardens critical to preserve, and the land bank recommended the acquisition of 34 parcels within 15 gardens that were "preservation-ready", meaning they meet the agency's criteria.
Greenberg said they've had success in moving forward in the acquisition process with six to seven gardens since then, but that doesn't mean they hold the title yet. City Council has approved the transfer to NGT and now they're waiting for the properties to go to settlement.
"But we have not yet been able to acquire properties through land bank tax foreclosure, that's something we're still waiting to see happen," Greenberg said. "I think the original idea of the land bank is that it would streamline all of the vacant land through —  and that's not what's happening. We're still working with several different landholding agencies."
NGT's Greenberg said that although it has taken longer than expected for the land bank to be fully staffed and operational, her experience with the agency is that staff has been responsive and she's "cautiously optimistic" that things are going to start moving soon. Especially as more and more gardens are being lost to developers.
One of the complications preventing community groups from taking over ownership of delinquent or city-owned land is the fact that few meet the land bank's criteria for preservation. Of the 400 requests from community gardens that the agency has received, only a small number can meet the requirements. In hopes of solving that problem, NGT will partner with PHS this spring to help gardens get to the point where they can qualify for preservation.
Kirtrina Baxter is a community organizer with the Public Interest Law Center and leader of Soil Generation. She says that while the city and its partners must continue these efforts, and do more to support urban farmers,  she's excited to be part of a new urban agriculture master plan lead by the Office of Sustainability's Food Policy Advisory Council (FPAC). An RFP for the plan will be released this spring, but the city anticipates the result will be a new analysis of existing gardens created in collaboration with multiple community organizations.
"This master planning process will engage key city [government] and community stakeholders to establish goals and metrics, formalize commitments to urban agriculture, engage in a land suitability analysis, develop funding strategies, and create roadmaps for interagency coordination and public-private partnerships," Office of Sustainability Director Christine Knapp said on an email.
Meanwhile, community gardeners like Estelle Vaugh and Carolyn Booker will continue to wait. They've been growing food and working with various city agencies to acquire abandoned lots in the southwest corner of 20th and Tioga streets in North Philadelphia since 2012. The gardeners' vision for the empty lots that constitute the Tioga-Hope Garden includes new raised beds, a stage for community performances, walking trails for the elderly and even a hydroponic center that could be used by Temple students. They say they have the plans and the partners needed, but there's nothing they can do until they own the land.
"It's kind of frustrating," said Vaugh, who is a nurse and has lived in this neighborhood since she was born, 55 years ago. "It's frustration to the whole system. The frustration is how do you express to these people this is what we need. We kind of feel forgotten, if you want to talk politics."
Booker looks at the neighborhood she's been living for the last 37 years — a community with Victorian houses, a baseball field that brings people every weekend and a well-used playground — and sees a beauty she wants to preserve.
"If only they could come out here and see what we see," she said.
WHYY is your source for fact-based, in-depth journalism and information. As a nonprofit organization, we rely on financial support from readers like you. Please give today.