City Council advances bill to kill Philadelphia's electric vehicle parking program
Philadelphia City Council took another step towards eliminating a program that encouraged electric vehicle ownership on Monday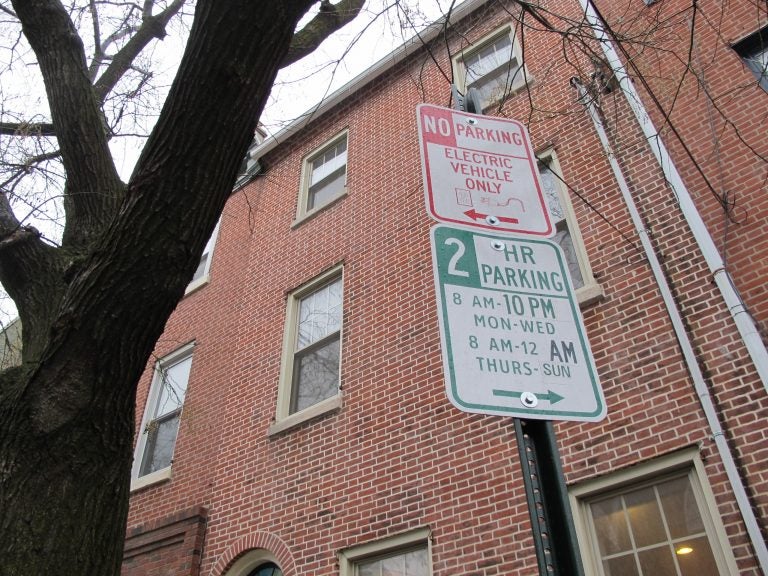 Philadelphia City Council took another step towards eliminating a program that encouraged electric vehicle ownership on Monday, advancing a bill to kill a little-used city program that allowed residents to create "EV-only" parking spaces in front of their homes. The Council has not introduced any proposals for replacement programs despite the fact that increasing the use of the eco-friendly vehicles is part of the city's strategy to reduce greenhouse gas emissions.
The moribund Electric Vehicle Parking Space (EVPS) program required that residents install curbside chargers for plug-in electric vehicles at their own expense in order to qualify for the EV-only parking privilege. It attracted just 68 users over a decade of its existence. Council suspended the program last year after neighbors complained that the program unfairly allowed plug-in owners to effectively get a private on-street parking space.
Last fall, some EVPS participants filed a class action lawsuit in federal court challenging the program's suspension, which recently survived a motion to dismiss from the city and remains pending.
At Monday's hearing, every one of the eight witnesses testifying agreed that the EVPS program wasn't that great and should be replaced with something better. Many echoed points recently made by a Council-appointed task force's report. But, like the report, none of them offered a concrete proposal for what that better program should be.
That infuriated John Andrew McGinty, an EVPS participant.
"I read the report, [it's] a very comprehensive report — well thought out, well researched," McGinty testified. "But it's absolutely ludicrous that strategy one would be to eliminate the current EV parking spaces."
McGinty said residents like him were "walking the walk," while city officials were merely "talking the talk," on pledges to reduce carbon emissions in the city. Mayor Jim Kenney was one of many local leaders who pledged that his city would continue to pursue the emission reduction goals in the Paris climate accords even as President Donald Trump's administration pulled the United States out of the agreement.
Councilman-at-Large David Oh, who co-sponsored the bill along with 1st District Councilman Mark Squilla, said that he introduced a bill last year to explore the idea of getting more privately operated public parking lots to install charging stations for electric vehicles. He has yet to hear back from lot-owners on the legislation, he said.
One bright spot from the hearing for some electric car owners: a Tesla representative said the company is currently negotiating with parking lot owners to install high-speed chargers across Center City. Tesla uses a proprietary recharging technology, though, meaning other plug-in cars wouldn't be able to utilize those stations.
WHYY is your source for fact-based, in-depth journalism and information. As a nonprofit organization, we rely on financial support from readers like you. Please give today.