Chesco man arrested at green card interview released after 9 months in detention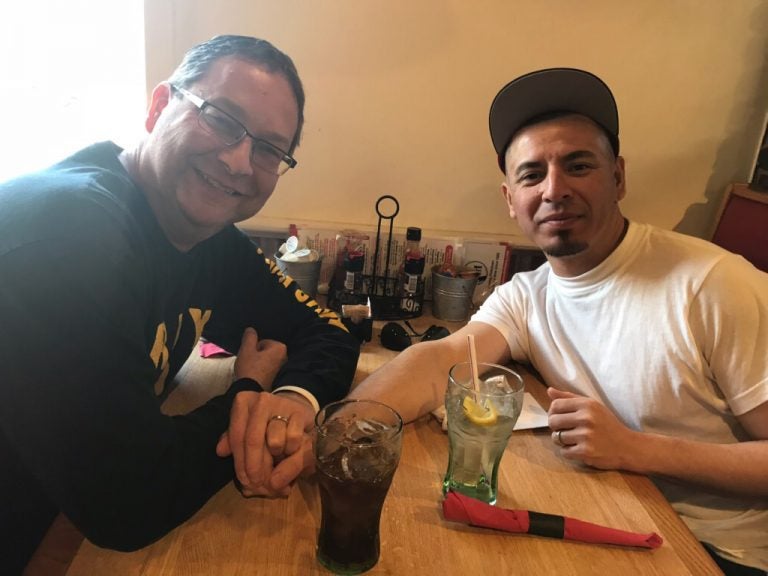 Nearly nine months after federal immigration enforcement agents arrested and detained Jose "Ivan" Nuñez Martinez in the middle of an interview about changing his immigration status, an immigration judge has ruled he can be free.
"This is the first time in nine months that we have had any kind of good news … any hope," said his husband, Paul Frame, who described being wracked with guilt after the arrest.
Nuñez Martinez has been in the country unlawfully for 18 years, and married to the Chester County native since 2016. He visited the U.S. Citizenship and Immigration Services office in January to try to adjust his status on the insistence of Frame, who is a U.S. citizen.
At that meeting, ICE officers took Nuñez Martinez into custody. He had previously entered the U.S. illegally twice and had been deported once before, all negative marks on his record. According to a statement from ICE at the time of his arrest, Nuñez Martinez was "unlawfully present" in the United States.
On Wednesday, Judge Kuyomars Golparvar ordered Nuñez Martinez released from a York County detention center on $10,000 bond.
That decision has no bearing on whether he can stay in the country lawfully long-term. Earlier this year, the same judge denied Nuñez Martinez's request for withholding of removal, which would have allowed him to stay in the U.S. based on the threat of persecution in Mexico over his sexual orientation. That request is currently on appeal before the Bureau of Immigration Appeals.
"At least now he can continue to fight his case at liberty, reunited with his husband, reunited with his community and the people he loves," said Golnaz Fakhimi, an attorney with ACLU PA who worked on his case.
After his arrest on Jan. 31, local LGBT and immigration rights groups latched onto Nuñez Martinez's case and possible deportation as an example of the Trump administration's crackdown on illegal immigration. Unauthorized immigrants on the path to gaining lawful status are not guaranteed protection from deportation during that process. However, under President Obama they were generally treated as a low priority for ICE. In a January 2017 executive order, Trump expanded enforcement priorities to include any immigrant in the country illegally putting green card seekers at greater chance of detention and deportation.
Frame said while the couple has no assurances about their long-term future, in the short-term they will be celebrating.
"I've got a bottle of champagne I've had in the fridge for nine months, and I'm going to break that open tonight," he said. Next week, they'll spend a couple of days in Atlantic City.
They'll also keep planning for every possible outcome. While his husband was detained, Frame said he started looking into lodgings in Mexico.
WHYY is your source for fact-based, in-depth journalism and information. As a nonprofit organization, we rely on financial support from readers like you. Please give today.