Empowering voices: Philadelphia artist bridging communities and culture through art in Wilmington
Cesar Viveros is transforming Wilmington through murals and workshops that celebrate Latino culture and foster unity and appreciation.
Listen
1:32
From Philly and the Pa. suburbs to South Jersey and Delaware, what would you like WHYY News to cover? Let us know!
From spring to summer, Philadelphia visual artist Cesar Viveros collaborated with Wilmington's Delaware Arts Museum in advancing the museum's vision — welcoming diverse communities and inviting them to experience the cultural richness within its walls.
In the museum's Estampas de La Raza exhibition, Viveros made a meaningful contribution by showcasing the rich variation of cultures, traditions, and identities within the Mexican American and Latino community.
With that he created a mural referencing "La Esquina" or "La Bodega," the corner store.
"Lo que tuvo más sentido fue crear la ilusión de que fuera una tienda digamos la tienda de la esquina o como dicen los dominicanos, puertorriqueños, la bodega", él dijo. "La esquina de pronto se convierte en un lugar donde la gente también pasa mucho tiempo, donde intercambian muchas ideas".
"What made the most sense was to create the illusion that it was a store, let's say the corner store or as the Dominicans, Puerto Ricans say, 'la bodega,'" he said. "The corner store suddenly becomes a place where people also spend a lot of time, where they exchange a lot of ideas."
In the Latino community, it's common to see living poster boards on walls or bulletin boards, said Viveros, and he wanted to integrate that into the mural.
"La idea era que yo me inspirara en todas esas historias en lo que ellos quisieran hablar, que ellos consideran importantes, que ellos consideran que los representara, que todo esa conversación se hubiera de inspiración para que yo pudiera hacer una interpretación y dar una tarea de producir una serie de pósters", dijo Viveros. 
"The idea was that I would be inspired by all those stories that they wanted to talk about, what they consider important, [and] what they consider that represents them, all those conversations would be inspirations to make interpretations and bring a task to produce a series of posters," said Viveros.
While hosting community workshops, he found a special interest in the experiences of elders, especially those in senior facilities. This led to a workshop with the Latin American Cultural Center's "Los Abuelos" program.
Viveros' permanent collection, "Mi Vida, Mi Voz, La Vida de Uno y el Lugar que Ocupamos," owned by DAM, features seven silkscreens, three of which are dedicated to share the experiences of Latino elders.
'Toda esa fuerza de su juventud volvió de golpe'
During the "Los Abuelitos" workshop, Viveros noticed the happiness among the elderly, who expressed a sense of being seen and heard for the first time.
"Yo pude ver cuando hicimos los talleres que todas estas personas de la tercera edad, los ancianos, gozaron infinitamente el taller," dijo. "Los empecé a escuchar a ellos y me empezaron a contar su historia … para mí ellos fueron como la inspiración de tocar ese tema."
"I saw, when we did the workshops, that all these seniors, the elderly, infinitely enjoyed the workshop," he said. "I began to listen to them and they began to tell me their story … for me they were like the inspiration to touch on that topic."
The theme of agism, he said, is powerful.
"Ósea, como que toda esa fuerza de su juventud volvió de golpe y todo el mundo levantaba la mano. Es un orgullo cuando empiezan a hablar de los suyos, de su vida, de ese gran legado de lo que son", dijo el artista.
"All that strength from their youth came back all at once and everyone was raising their hands. It is a sense of pride when they start talking about their loved ones, about their life, about that great legacy of who they are," said the artist.
As Viveros listened to each individual's story, he discovered a common thread among Latino elders. Their stories consistently touched on concerns about the natural environment, anxiety over the loss of green spaces, the challenges of living as undocumented individuals, and the fear of being forgotten.
"Verde que te quiero verde," named after a line from a famous Federico García Lorca poem, is a piece from Viveros' collection. The image symbolizes the appreciation and love that the brown woman holds for nature. The piece shows tattered hands, alluding to the hardworking Latina, while also showcasing the roots of a plant surrounding her body and a volcano.
"Esta comunidad habló mucho también sobre la preservación de los lugares que hay que proteger, la preocupación por los espacios verdes", dijo. "La mujer en sí representa la tierra y el amor que le tenemos a la tierra y los cuidados que deberíamos de tener. Preocuparnos por el cambio climático, los excesos que producen toneladas de basura cada año y que es tan difícil ya lidiar con ese problema —estamos acostumbrados al consumismo".
"This community also spoke a lot about the preservation of places that need to be protected, the concern for green spaces," he said. "The woman herself represents the earth and the love we have for the earth and the care we should have. Worrying about climate change, the excesses that produce tons of trash every year, and that is so difficult to deal with — we are so used to consumption."
While the collection is packed with meanings, for Viveros, it's about giving visibility to the Latino community and putting them on the map, instead of waiting for recognition.
"Una de las cosas que yo siempre les he repetido y las tengo que decir es que como una minoría nosotros no podemos esperar a que nos reconozca, no podemos esperar a que nos den el espacio," dijo.
"One of the things that I have always repeated and have to say is that as a minority we cannot wait to be recognized, we cannot wait to be given space," he said. 
While the mural has been disassembled at the museum, Viveros says members can still find his seven poster boards in different locations throughout Wilmington. He highly encourages everyone to do so, especially as Hispanic Heritage Month continues.
To locate Viveros' artwork, utilize the map provided through the link, guiding from the starting point to the end.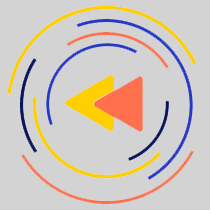 Saturdays just got more interesting.
WHYY is your source for fact-based, in-depth journalism and information. As a nonprofit organization, we rely on financial support from readers like you. Please give today.