Canal Street North developer meets with NLNA, hears concerns about noise, parking, traffic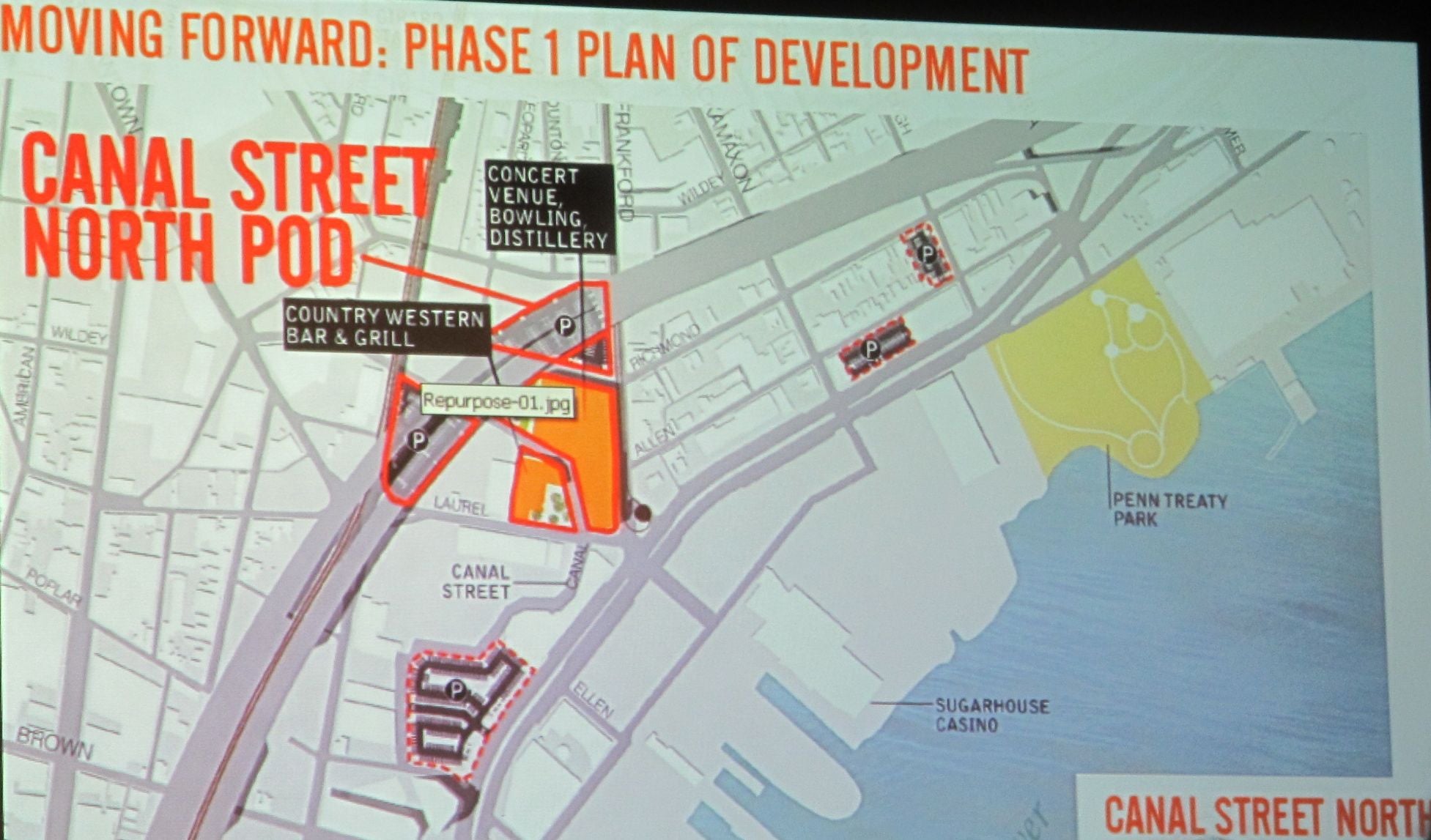 Developer Michael Samschick spoke with the Northern Liberties Neighbors Association's zoning committee Monday about Canal Street North, the development he plans to build around Canal Street at Delaware and Frankford avenues, which will include 3,000-seat concert space, a bowling alley and a country western bar and grill.
The feedback Samschick received will also be forwarded to the Philadelphia City Planning Commission, which earlier this month gave conditional approval to Samschick's Plan of Development. As PlanPhilly's Jared Brey reported last week, the PCPC vote means Samschick doesn't have to come back before the board for this project, but he must meet the conditions the commission outlined, which includes a letter from the registered community organizations in the project area, Northern Liberties and Fishtown.
NLNA's concerns included noise from the music venue, parking and traffic flow, said zoning committee chairman Larry Freedman.
"We talked about noise in terms of the venues themselves, and how important it was that we see and understand their sound-proofing system," Freedman said. "We've had a lot of those things where you hear the boom-bitty, boom-bitty, boom-bitty-boom of the low end woofer because the building wasn't done right," Freedman said. The group asked Samschick to have his plan assessed by an acoustic engineer and bring the information back to them.
Freedman said NLNA's goal "is to not have everybody from the country and western place get into their cars and come down Laurel Street" and into Northern Liberties neighborhoods because they weren't sure how to leave the area at the end of the night. So they asked Samschick to make the way out clear.
They also suggested Samschick consider building one large parking lot rather than have parking at several different smaller lots as he is planning.
Freedman said he is delighted that the planning commission already reviewed the plan and outline conditions – it's a step he's wanted the commission to take for about a decade, and one that would have helped NLNA tremendously when assessing the huge Piazza at Schmidt's development.
Freedman said he was hopeful the feedback would be reflected in the future development. Some concerns, such as hours of operation, would likely be tackled when liquor licenses are sought, as special conditions. Others could just be incorporated into the plans. Still others could be addressed when Samschick seeks zoning variances.
The letters from the community organizations must state that meetings were held, and outline any neighborhood concerns, said city planner David Fecteau. They do not necessarily have to be letters of support, he said. Samschick will be meeting with Fishtown Tuesday night. FNA Zoning Chair Matt Karp said in an email the discussion will center around two parking lots proposed for north of the site.
Most of this phase of the development is in Fishtown. More of Phase II, which would begin at Laurel Street, will be in Northern Liberties. Freedman said Samschick, who is known for not sharing much until he has secured tenants and nailed down a lot of details, didn't say much about the second phase. "But he talked about how Phase II is just around the corner."