Camden's 2021 crime numbers are flat, but still decreased
Camden, New Jersey continues to see low crime.
Numbers released by the department show a 1% drop in crime overall in 2021, when compared to the previous year.
Camden County Police Chief Gabriel Rodriguez credits partnerships forged with the community for maintaining low crime.
"The main takeaway would be that working with partners in your community, you are a stronger city, you are a stronger police agency," he said. "You're not policing people, you're working with people."
He also credits training officers receive, while leveraging technology like body-worn cameras.
"We still review their body cam footage and use it as training footage to make sure that they do even better next time they go out with de-escalation," he added.
Crime has continued its downward trend in that last decade. In 2011, there were 6,750 incidents reported. Two years later, when the county police took over as the primary law enforcement agency in Camden city, more than 5,000 incidents were reported.
Incidents reported continue to hit its lowest level since crime statistics were first kept in 1974. Crime peaked in the city in 1991 when 14,685 incidents were reported.
"It was bad back then," said Rodriguez, an East Camden native who grew up in McGuire Gardens. "At a very young age, I witnessed a lot of violence, and it's something that I really truly, hold close to my heart."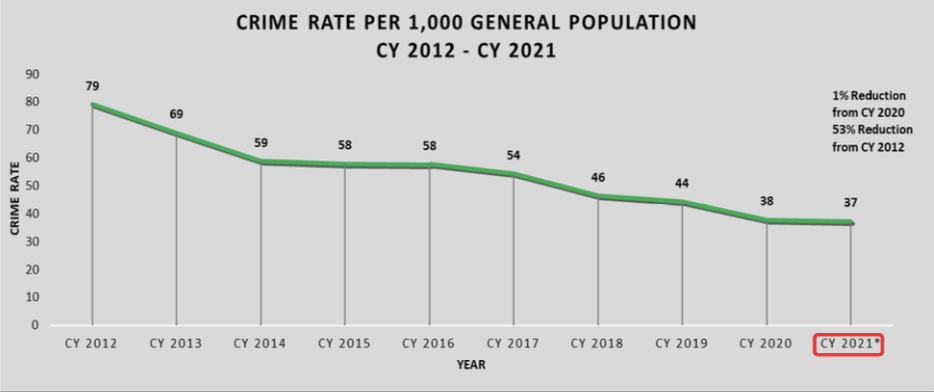 While there was a small decrease in crime overall, violent crime – like murder and assault – saw a small increase of 2% increase driven by an increase in rape cases. Rodriguez said that the increase is due to more people coming forward to report past attacks.
"A lot of cases we see come in recently are cases where someone is reporting that they were raped ten years ago," he said. "We're seeing more and more cases of people now becoming adults wanting to come forward and speak out."
Rodriguez adds that the department is investigating the cases as if they happened yesterday, "full steam ahead."