Bringing a little Hope into my life
When my cat went to her Great Reward 18 months ago, I told myself, "Never again!" And then, one day, out of the blue, I made the call. "Linda? I'm ready to adopt a cat."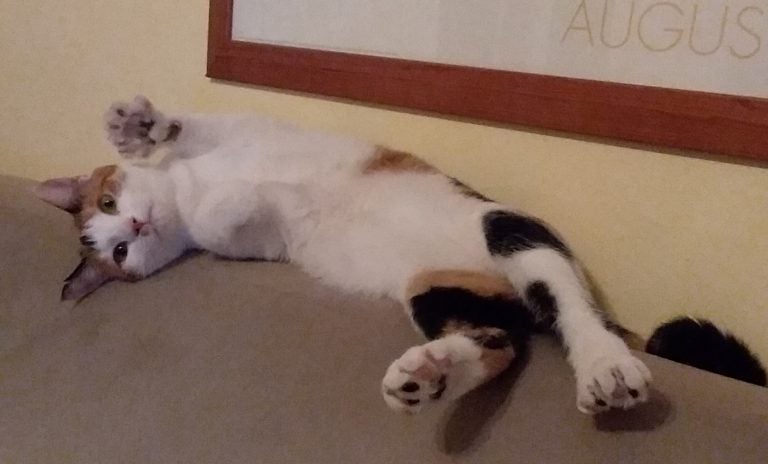 Life is divided into two stages. The acquisition stage in which one accumulates spouses, cars, children, pets, mortgages and crockpots. And the downsizing stage in which all of the above are placed on the curb with a sign: "Free to a Good Home."
When my last dependent, a geriatric Siamese cat went to her Great Reward 18 months ago, I disposed of all of her accoutrements — litter box, toy mice and fleece-lined baskets. I told myself, "Never again!" and I focused on the advantages of indulging no desires but my own. Oh, the joys of eating a tuna sandwich without little paws trying to snatch it out of my hands. Sleeping late without being poked in the eye repeatedly. Writing on my laptop without a furry beast running over it.
Like a new widow, I was subject to constant offers from friends to fix me up with a handsome tabby, a roguish tom, or a charming Persian. I was tempted but relieved when each match fell through. I was fine on my own. A pet would only encumber me. And then, one day, out of the blue, I made the call.
"Linda? This is Stacia. I'm ready to adopt a cat," I said.
"No problem," Linda said. "I'm sure we have a kitty for you. Just fill out our online application."
Linda is an active member of Stray Cat Blues, a local kitty rescue organization that fosters homeless cats and makes sure they go to caring homes. For the 20 years I've known her, Linda has shared her Ambler home with an ever-changing assortment of feline guests. When I discovered feral kittens behind my Chestnut Hill apartment, Linda rescued them, tamed them and placed them in loving homes.
Before filling out the Stray Cat Blues application, I looked at their gallery of available cats, not expecting to make any fast decisions. But OMG! There were two beautiful, 1-year-old, female calicos. One was a "Hemingway" polydactyl, a genetic mutation which causes cats to have six or more toes on each paw. According to legend, Ernest Hemingway had a polydactyl cat which he allowed to breed freely in Key West. As a result, the breed continues to be associated with the pugnacious author.
Like a love-struck teenager on Tinder, I couldn't resist following through. I not only filled out the application but I indicated my strong interest in the two calicos. I knew I would only adopt one, but who doesn't go a little crazy on dating sites? Just a few hours later, I received a call from the foster parent of the calicos.
"You can meet them both this weekend at PetSmart," she said.
Just to explain, Stray Cat Blues shows its adoptable cats at PetSmart, but the store is not involved in the transaction. It's an accommodation that makes sense and dollars. New adoptive parents tend to buy a lot of stuff!
I was nervous. It was all happening so fast. And how could I possibly choose between two gorgeous calicos? I made the mistake of posting images of both candidates on Facebook and asking friends to help make the decision. They all advised me to take both! My heart said, "Yes!" But my checkbook said, "Not so fast."
"Don't worry," a friend advised. "You'll know when you meet them."
Before I walked through PetSmart's doors, I was already leaning toward the Hemingway cat. I love the idea of extra-big paws and, being a professional writer, I couldn't resist the idea of having something — anything — in common with a literary legend.
The first cat I met was Ruby, a stunning, fluffy calico with the normal number of toes. I was smitten, but Ruby was so shy she wouldn't budge from her cage and wouldn't let me hold her. I envisioned spending decades with a cat who would never come out of hiding.
As soon as I saw Hope, with her huge white paws, the game was over. One look into her lime-green eyes and I was a goner. She sat on my lap and responded happily to my attention, rubbing her head against my hand the way cats do when they want to mark their turf.
"She's got a lot of personality," said her foster mom.
I found out what she meant when I got Hope home. Hope's favorite pastime is walking between my feet. Does she really want to see how quickly medics can respond to my broken tibia? She is full of comedic antics, but she turns a deaf ear to politics. While I listened to MSNBC's report on the Mueller investigation, Hope licked her paws languidly. (We could all benefit from that.)
After bringing Hope and all of her food, toys, and litter into my home, it occurred to me that I had voluntarily taken on a 24/7 responsibility for someone other than myself. More to the point, statistically, this agile, young feline could outlive me. Then again, it's been medically proven that having a pet is good for the heart. If nothing else, having Hope will keep me on my toes. All 10 of them.
WHYY is your source for fact-based, in-depth journalism and information. As a nonprofit organization, we rely on financial support from readers like you. Please give today.