'Brazen' scrappers taking more than just trash in some neighborhoods [video]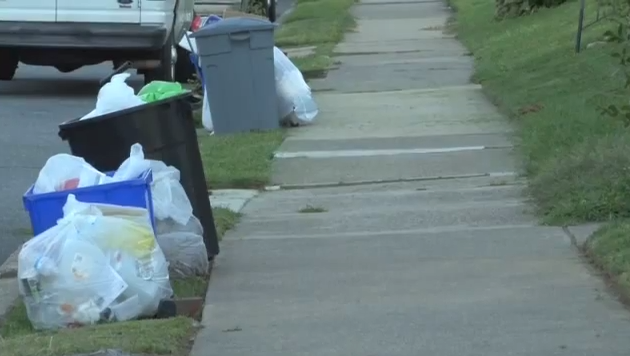 In Mayfair and Holme Circle, residents are battling "brazen" scrappers who are not only taking scrap metal from curbside garbage, but also right from people's yards.
"Scrappers" are defined as those who take scrap metal from curbside garbage and recycling and sell the metal to scrap yards for a few extra bucks. Pick-up trucks with make-shift walls that keep in as much scrap metal as possible are most often seen driving throughout city neighborhoods the night before trash day.
"We are certain that most [scrappers] are honest, hard-working people just trying to make a living," Holme Circle Civic Association President Elsie Stevens said. "The problem is that some are so brazen that they are walking up to the front of folks' homes and stealing."
The problem has increased over the last year in Holme Circle and Mayfair, and the items that most often go missing include grills, children's toys or bikes, and metal lawn furniture. An increase in stolen copper downspouts last summer prompted a police effort to catch the culprits. Now, both neighborhood civic associations are handing out awareness flyers to scrappers in a mild-mannered way.
"These flyers tell the scrappers they're being watched so they stop doing things they shouldn't be doing," Mayfair Town Watch member Milt Matelack said.
Mayfair Town Watch also started a closed Facebook group called "Mayfair Scrapper Database," billed as a 'non-accusatory' list of spotted scrappers in the area. The page specifies, "feel free to share information on the scrappers who you witnessed stealing as well."
Members of the group can post information such as license plates of a truck or pictures of scrappers. The Scrapper Database is mostly used to alert the community of known scrappers in the area, which allows more residents to be wary if they see an unfamiliar face. Since the flyers and database began, the problem has decreased, but residents are still looking for a better solution.
At the Mayfair Civic Association meeting on September 16, Pa. Representative John Taylor announced that he would look into possible legislation that would further deter scrappers from stealing. This would include new laws for scrap metal yards, a license to recycle scrap, or an ordinance only allowing scrappers to come around on trash nights.
Scrappers who were sought out to provide additional information on the situation in the community declined to comment for this article.
Kayla Devon is a student reporting for Philadelphia Neighborhoods, the publication of Temple University's Multimedia Urban Reporting Lab.
WHYY is your source for fact-based, in-depth journalism and information. As a nonprofit organization, we rely on financial support from readers like you. Please give today.