Brandywine Valley SPCA to host drive-thru pet food pantry for families in need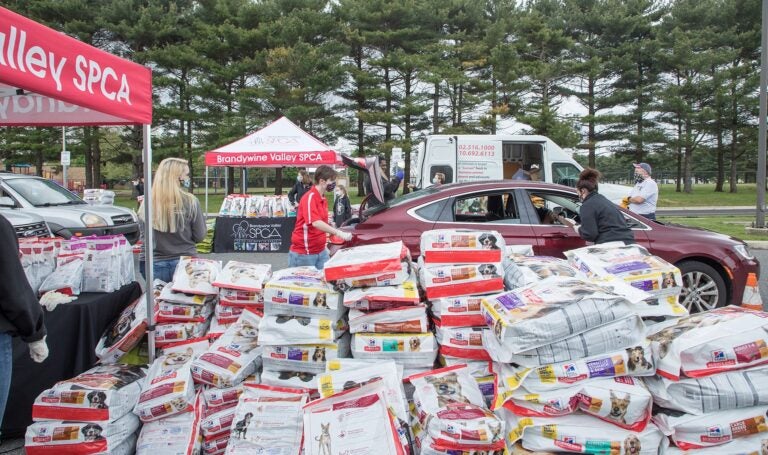 Are you on the front lines of the coronavirus? Help us report on the pandemic.
As the tri-state area grapples with the coronavirus pandemic, a local animal shelter continues to help pet families in need.
The Brandywine Valley SPCA, along with Wilmington Mayor Mike Purzycki, will be hosting a free drive-thru pet pantry event on Thursday, May 14, in the parking lot at Frawley Stadium.
The event will run from 10:30 a.m. to noon, with food available for cats and dogs while supplies last.
Participants must arrive in a vehicle, where they will remain as BVSPCA staff — while maintaining proper social distancing — gathers key information on the pets in question, then loads the pet food into the trunk or hatchback.
"No one should ever have to give up the cat or dog they love simply because they can't afford food," BVSPCA CEO Adam Lamb said in a statement.
"With the unprecedented spike in unemployment during this pandemic, we want to be sure that families financially impacted can keep their pets by their side during this stressful time."
"This is a difficult time for everyone," Purzycki said. "But we want to make sure that our pets don't get overlooked in the struggle to adjust to the changes we've had to make in our daily routines."
Another drive-thru pantry event will take place at the Greater Philadelphia Expo Center in Oaks, Pennsylvania, on Friday, May 15, from 10:30 a.m. until noon.
Since the start of the COVID-19 crisis, the BVSPCA has held four drive-thru pet pantries, helping nearly 1,000 families. The nonprofit has distributed more than 60,000 pounds of pet food to families in need, sending another five truckloads of pet food to other shelters for their own pantries.
The organization's standard pet food pantry is also accessible anytime the shelter is open: Tuesday to Friday, 12 p.m. to 6 p.m., and Saturday and Sunday from 11 a.m. to 5 p.m.
Anyone who has questions related to their pets or who needs assistance can contact the BVSPCA Pet Resource Center hotline in Pennsylvania (484-301-5200) and Delaware (302-516-1010).
Those interested in donating to the BVSPCA can do so here. Supplies can also be donated by purchasing items on the shelter's Amazon Wish List.
___
FURTHER INFORMATION: