Line up for the 2016 XPoNential Music Festival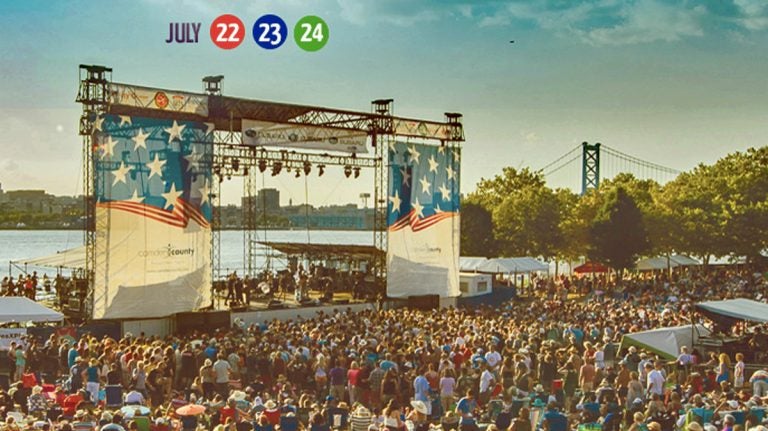 Brandi Carlile, Ryan Adams, Kurt Vile and Alabama Shakes headline the 2016 XPoNential Music Festival, July 22-24, 2016.
Camden's waterfront will be the scene for music lovers as WXPN's annual XPoNential Music Festival returns this weekend.
The three-day rain or shine outdoor event features more than 30 artists, including headliners Ryan Adams, Kurt Vile and the Violators, Alabama Shakes, case/lang/veirs, Old Crow Medicine Show and Brandi Carlile.
Performances will take place on three stages in two venues: BB&T Pavilion (the former Susquehanna Bank Center) and Wiggins Park.
Concerts for headlining acts will be at the Pavilion and this year a Friday night show has been added to the schedule.
And just announced this week, legendary soul vocalist, Mavis Staples has been added to the lineup.
Staples will join other established and emerging acts, like Shawn Colvin & Steve Earle, Preservation Hall Jazz Band and Femi Kuti on the Marina and River stages in Wiggins Park.
A three-day pass for the entire event costs $80 for WXPN members and $160 for general admission. Single-day passes cost $35 for WXPN member and $70 for general admission ($5 for kids), but do not include BB&T Pavilion performances, which must be separately purchased.
New this year is a 3-Day Kids Pass ($15 for children ages 2 to 12 years), providing lawn access at the BB&T Pavilion.
Tickets include entry into the adjacent Camden Children's Garden where a Kids Corner will be set up from 11:30 a.m. to 5 p.m. on Saturday and Sunday.
Discounted $10 parking will be available in designated lots (indicated by electronic signage) on a first-come basis. Later arrivals will need to fork over $30 for parking.
Friday, July 22, 4 p.m. to midnight; Saturday and Sunday, July 23 and July 24, noon to midnight – 2 Riverside Dr., Camden, N.J.
Complete schedule
Friday July 22
JerseyArts.com Marina Stageat Wiggins Park
4:00 pm – Rosemary Fiki4:35 pm – Queen Of Jeans5:45 pm – White Denim7:30 pm – The Suffers
River Stage at Wiggins Park
5:05 pm – Billy Hector6:30 pm – Father John Misty (solo)8:20 pm – Colvin & Earle
BB&T Pavilion (doors 7:00pm)
8:00 pm – Tommy Stinson9:00 pm – Kurt Vile & the Violators10:10 pm – Ryan Adams and The Shining
Saturday July 23
JerseyArts.com Marina Stageat Wiggins Park
12:00 pm – Kississippi1:05 pm – Esme Patterson2:35 pm – Darlingside4:10 pm – The Record Company5:50 pm – David Wax Museum
River Stage at Wiggins Park
12:30 pm – Ben Arnold1:45 pm – The Revivalists3:20 pm – The Felice Brothers4:55 pm – Preservation Hall Jazz Band6:35 pm – Josh Ritter & The Royal City Band
BB&T Pavilion (doors 6:00pm)
7:00 pm – Chicano Batman8:00 pm – Gary Clark Jr.9:45 pm – Alabama Shakes
Sunday July 24
JerseyArts.com Marina Stageat Wiggins Park
12:30 pm – Chicano Batman1:40 pm – Diane Coffee3:15 pm – Oliver John Rodgers4:50 pm – Low Cut Connie
River Stage at Wiggins Park
12:00 pm – Eliza Jones1:00 pm – The Marcus King Band2:20 pm – The Districts3:55 pm – Mavis Staples5:35 pm – Femi Kuti & The Positive Force
BB&T Pavilion (doors 5:30pm)
6:30 pm – case/lang/viers8:00 pm – Old Crow Medicine Show9:30 pm – Brandi Carlile