Book donors want Pa. prisons to stop paying for shipping with inmate funds
A change in Pennsylvania Department of Corrections policy means donated books must be processed at a secure center outside the prisons.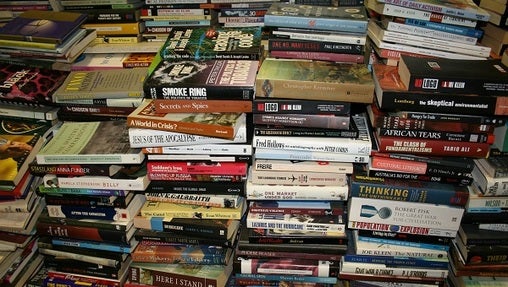 After a backlog due to a new screening process, book donations are fully up and running in Pennsylvania's state prisons.
Despite the progress, a group that donates books to inmates has said it has some gripes with the new system.
The Department of Corrections changed its policy for sending books to prisons last fall, during a security crackdown in the wake of an apparent spike in drug smuggling into the facilities.
Initially, donations were banned completely. But after outcry from inmate advocates, the DOC switched gears and created what it calls a secure processing center.
All books go there, along with magazines, calendars and similar items.
Processing books outside of prisons has added an extra shipping step, which means someone has to pay for the added cost.
That someone has turned out to be — at least in part — inmates.
Money for the additional shipping is coming out of the inmate general welfare fund, which gets cash from commissary sales, proceeds from inmate-made goods, and the fees inmates have to pay to use phones, among other things.
Keir Neuringer, with donation group Books Through Bars, said the process is counter to the organization's mission.
"The reason that we exist," he said, is "primarily for indigent inmates" — basically, poor people who wouldn't be able to buy books otherwise.
He said any new costs associated with the enhanced security shouldn't fall to inmates — even indirectly.
"Charging the inmate population as a whole is something we just think is inappropriate," he said.
Department spokeswoman Amy Worden said the inmate fund is often used to put on programs and buy equipment to help prisoners, and the agency thinks enhanced security fits there too.
"Enhancing security measures to protect inmates is certainly in their interest," Worden wrote in an email. "The use of the funds for shipping is not limiting other purchases that may benefit inmates."
The DOC is reporting that drug-related incidents have declined in its prisons since its tighter security measures took effect.
Those don't just include book-processing — the department is having most mail processed and scanned by a contractor in Florida, bought new body scanners and drone-detection equipment, and has tightened visiting room rules.
WHYY is your source for fact-based, in-depth journalism and information. As a nonprofit organization, we rely on financial support from readers like you. Please give today.