Black Power Afro pick sculpture takes root at Philadelphia museum
The piece engaged 80,000 passers-by who stopped specifically to look at the sculpture or ask about it over three months.
Listen
1:36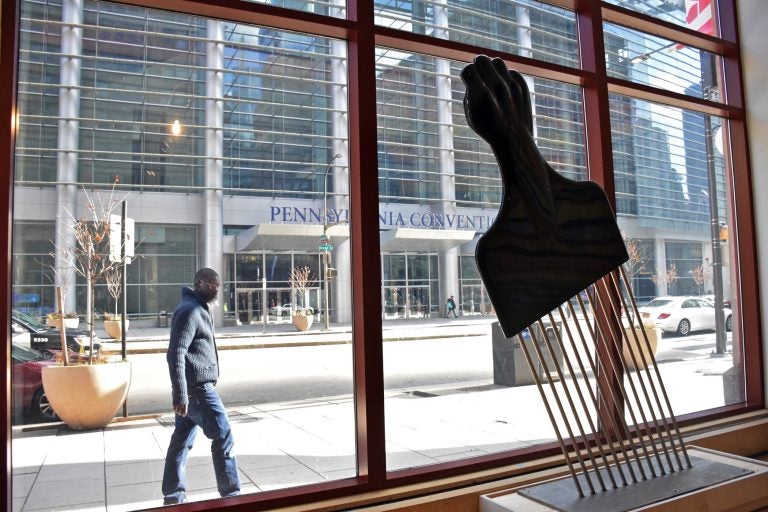 A year ago, Philadelphia hosted a citywide experiment involving public monuments as 20 pieces of art were displayed — temporarily — in parks and plazas. The project was focused on measuring the public's reaction to scattered sculptures and monuments.
The most popular proved to be "All Power to All People," a 12-foot Black Power Afro pick by artist Hank Willis Thomas, stationed on Thomas Paine Plaza, just a few yards from the controversial statue of former Mayor Frank Rizzo at the Municipal Services Building.
According to information collected by Monument Lab volunteers, the piece engaged 80,000 passers-by who stopped specifically to look at the sculpture or ask about it over three months. Although Monument Lab did not track the social media traffic about its sculptures, it's believed "All Power to All People" was one of the most photographed and shared online.
When the pick was installed in September 2017, Thomas said it was inspired by his experience growing up in the 1970s, for a time in Philadelphia. That's where he remembers seeing a Black Power Afro pick for the first time.
"It said you were cool. It was part of Adidas sneakers, and the jumpsuit," he said. "Beyond that, as I grew older, I learned it was about solidarity and pride in having kinky hair."
Thomas also said it was inspired by one of his art heroes, Claes Oldenburg, who made monumental-sized public sculptures resembling common household objects.
Rather than upstaging Rizzo — many people read the sculpture as a comment on the former mayor's historic antipathy to the African-American community — Thomas preferred his pick to be seen in proximity to Oldenburg's giant "Clothespin" a block away.
"All Power to All People," was removed from Thomas Paine Plaza in November 2017 and now will have a permanent home at the Pennsylvania Academy of the Fine Arts.
"It was one of the pieces I was most excited about," said PAFA curator Jodi Throckmorton. Thomas is "just an incredible artist. I've been looking at him for some time, and … this is the first piece by him that PAFA ever acquired. He's an important artist that I've wanted to have in the collection."
Throckmorton put the piece in the window of PAFA on Broad Street. Removed from its original spot at the Municipal Services Building, the Afro pick no longer has the feel of facing down Rizzo. It does, however, cozy up to another Oldenburg, "Paintbrush," just outside the window.
It will remain there for about a year, and then be whisked away to another institution that's already booked it for a loan.
WHYY is your source for fact-based, in-depth journalism and information. As a nonprofit organization, we rely on financial support from readers like you. Please give today.