Black marketplace moves from Camden to Glassboro, its 'vibe of the tribe' intact
Now, the Camden residents behind the popular Mask Melanin Market showcasing Black entrepreneurs have big plans to recreate their "very own Tulsa."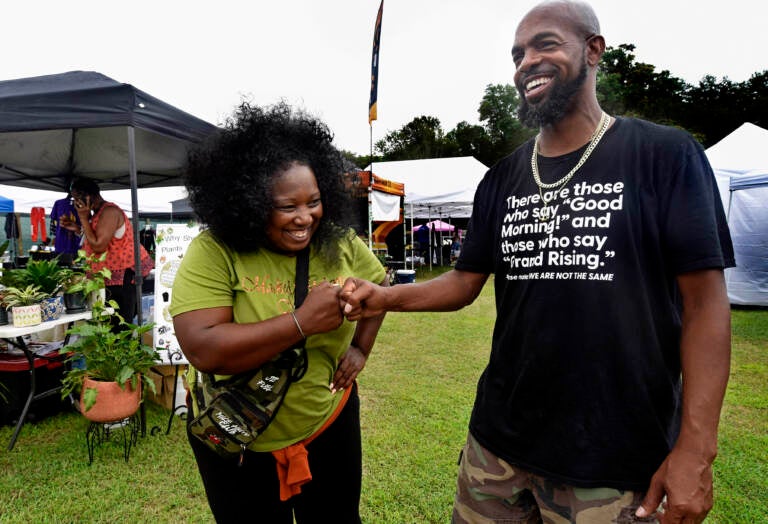 Midway through the grand opening of the Mask Melanin Market at its new location in Glassboro, Tawanda "Wawa" Jones was glowing.
She had already become emotional while addressing the crowd, thanking her partner in the venture, restaurateur Marcus Lewis; saluting the 68 vendors present for being "innovative" and "resilient;" and praising God for the opportunity.
"I couldn't ask for anything more," said Jones, founder of the market and the Camden Sophisticated Sisters drill team. "I feel replenished, rejuvenated, refreshed!"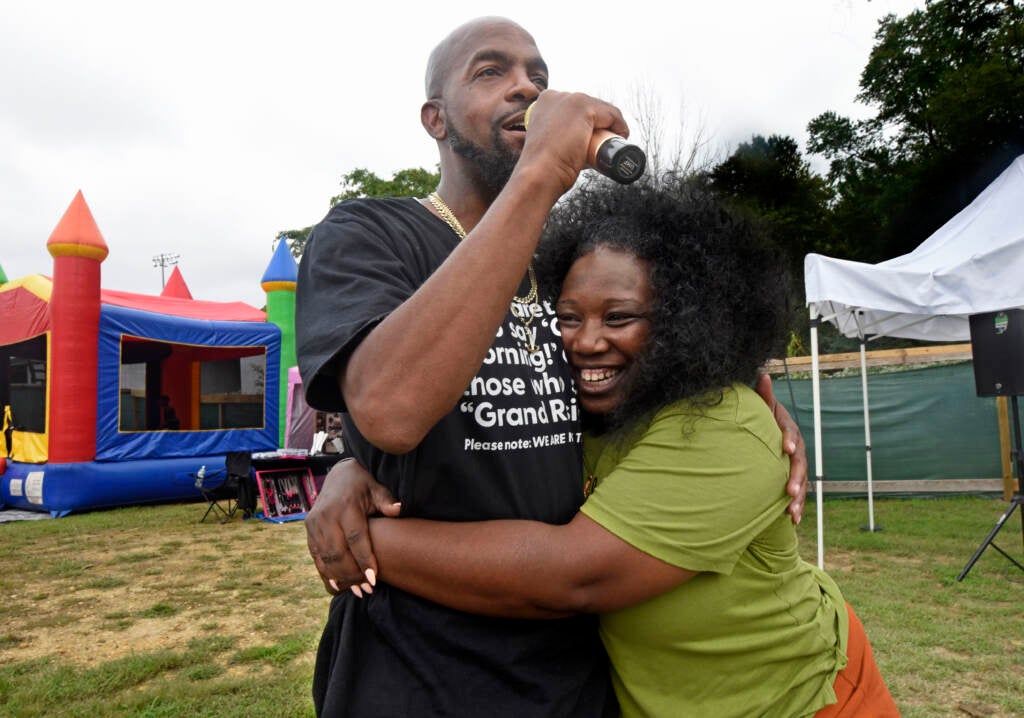 By the time the Sunday event ended at 8 p.m., several hundred shoppers had browsed the market's wares, from skin and hair care products to henna tattoos; feasted on tacos, barbecued ribs, natural fruit juices, and gourmet cupcakes; and enjoyed hours of live music.
The market closed with a joyful dance party — and with Jones and Lewis considering expanding the market's operation to two, three, or even four days a week.
"We're going to recreate our very own Tulsa," said Jones, referencing the Black Wall Street in that Oklahoma city destroyed by white supremacists a century ago.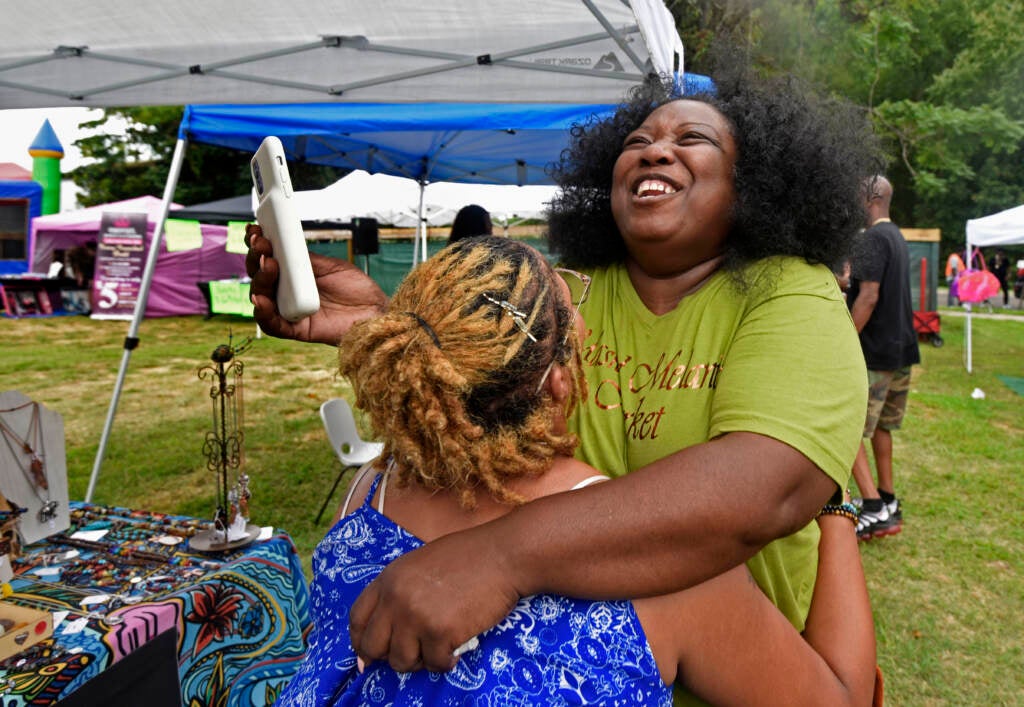 'Why so many hurdles?'
The road to Glassboro had been a bumpy one.
Jones' market, meant to showcase Black entrepreneurs, got its start on Broadway in Camden's Waterfront South neighborhood one year ago. Since then, the market has set up shop at four different locations in the city: after Broadway came Wiggins Park on the waterfront; then Cooper's Poynt Park; and finally, a North Camden location at Delaware Avenue and Elm Street.
Always, there were issues — from residents' complaints about parking on Broadway to conflicts with planned events near the waterfront. For Jones, the journey harkened back to her decades of struggle to find a place for her drill team to practice in Camden, even after it had achieved national recognition by performing on shows like "Dancing with the Stars."
When a mutual acquaintance introduced Jones to Lewis — who owns the By Land or Sea LLC restaurant on Delsea Drive that now shares its large lot with the market — it was "a perfect match," said Lewis. Originally from Camden, Lewis said he had experienced frustration in the past as one of a few Black business owners in Glassboro, and though he was happy to partner with Jones, he found it "very hurtful" that Jones couldn't keep the market in their native city.
Vendor Carla Golden, a Paulsboro resident and truck driver who joined the market to sell apparel during its stay in Wiggins Park, was excited for the new location, but  wished it could have remained in Camden, where she grew up.
"Why so many hurdles?" said Golden. "They beg for change in the community and for us all to come together and stop the fighting. But how can you if you put up a barrier to stop us? The people who want us to do the right thing aren't helping us to do the right thing."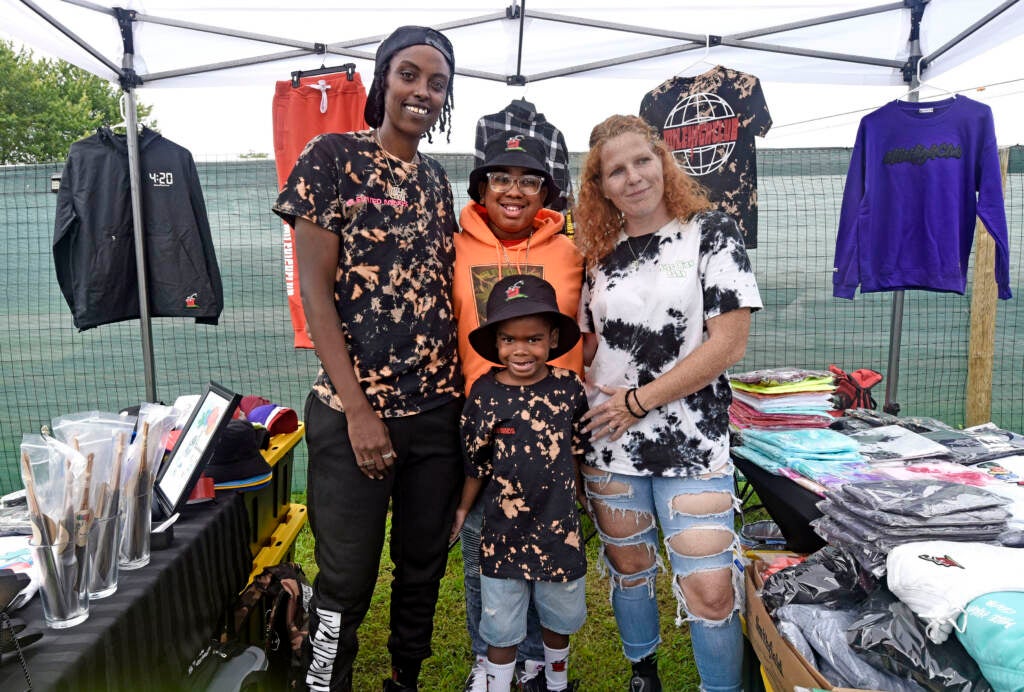 By the end of Sunday's opening, Golden — who said her clothing brand The Mile High Club is "for people with elevated minds who think outside the box" — was happy with the new location. She said she'd never ended a market day without making at least $500, and she'd reached that total during the Glassboro opening, too.
Camden resident Jevon Miles, who sells skin and hair care products under her brand SheaSoffule by AJ, said she hated to leave the Wiggins Park waterfront location.
"You would think our hometown would want to encourage it," she said. "Wawa started this for the community to showcase our business in our hometown. We never had any issues, the police were out there every Sunday with us, and would come and shop. So where did it go wrong? What happened?"
Miles said some of her regular customers from Philadelphia came to Glassboro and mentioned how much farther away it was. She said she didn't make as much money on opening day as she had in Camden, but hopes the new location will build more business over time.
A long drive didn't matter to Tamara Matthews, a nurse from Baltimore. Not only did she travel 97 miles from Maryland to come to the market on Sunday after hearing about it from a family friend, but she'd actually come down a week earlier, not realizing the market's planned opening at that time had been postponed a week because of bad weather.
Matthews told Jones, "We need you, we need this!" and the two promised to stay in touch for possible collaborations in the future. Other visitors said they found out about the market from social media posts.
Plans to expand
Jones and Lewis plan to begin running a shuttle bus from Camden to the market's location at 150 S. Delsea Drive. Once days and hours are set, they said, that information will be available on the market's website. They are still looking for vendors — especially in electronics, home goods, and shoes, as well as musicians to play at the market.
Jones and Lewis have also created burlap sacks for the market — a nod, said Jones, to their Black ancestors who carried cotton and potatoes in similar sacks.
Jones said the bags will be imprinted with "S.A.C.," which stands for "Solidarity and Consciousness," and will be introduced at the next market on Sunday, Sept. 5.
She and Lewis also plan to provide workshops in marketing and branding for vendors, a gaming lounge, a plethora of raffles, and as many lessons in Black history as they can manage.
It was Jones' vendors, she said, who convinced her to stick with the market even through the frustrations of multiple moves.
"When I discovered that some of my vendors were leaving their careers because they were doing so well with this, there was no way I was going to stop doing it. It was about them," she said.
For several of them, she said entrepreneurship was a response to the COVID-19 pandemic and she has vendors who have remained with her since she started the market on Broadway.
On Sunday, she greeted each with smiles and hugs. Three of Jones' family members are regular contributors to the market, too: her daughter LaQuicia Charnell has sold cosmetics there from her Eikon line; and on Sunday, son Robb Jones served as DJ, while husband Robert Jones worked a barbecue grill.
Even though the market is no longer located in his native city, Lewis — who credits an East Camden youth group led by Brenda Brown for keeping him from becoming "a statistic in Camden" when he was a teen — said he "learned the importance of being unified" in one of America's poorest cities.
He stressed that the market is "for all people," and white vendors are participating as well.
"This is a loving thing, a God-fearing thing, to raise people up and give them commerce at a time when people are dealing with a lot of things, economically and emotionally," Lewis said.
Jones likes to call the vendors a family or tribe.
"I feel like the whole vibe of the tribe increased today."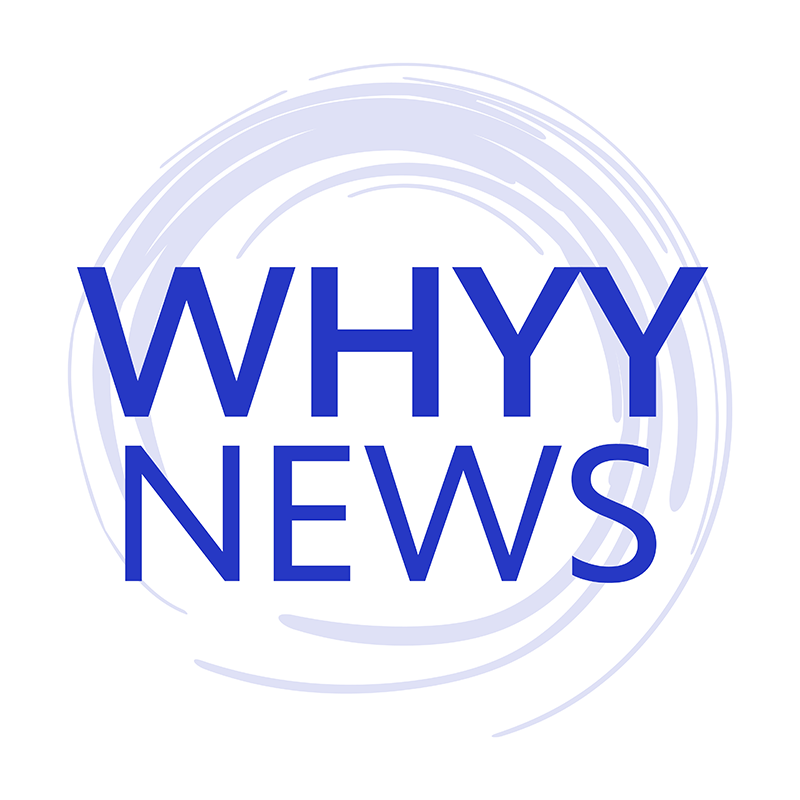 Get daily updates from WHYY News!
WHYY is your source for fact-based, in-depth journalism and information. As a nonprofit organization, we rely on financial support from readers like you. Please give today.