Black Girls Florist makes history at Philly Flower Show
This year's show, the Garden Electric, is being held at the Philadelphia Convention Center with new and recurring exhibitors from around the world.
Black Girls Florist is the first all Black women team to install an exhibit at the Philadelphia Flower Show. Their exhibit, "United Through Our Pour," displays flowers cascading down barrels and connecting with one another to signify unity, togetherness, and beauty.
"Our installation is truly a reflection of what our organization stands for," said group founder Valerie Crisostomo.
Black Girls Florist started in the fall of 2020 after there was a lot of civic and racial unrest around the country following the death of George Floyd at the hands of Minneapolis police. Crisostomo decided to bring Black women together to share resources, experiences, and eventually ideas.
It started with a list of Black florists, and it grew to encompass much more, Crisostomo said. The women who became connected through this list wanted more support, and the Black Girls Florist organization was born.
There were twelve different women who participated in this colorful design — four of them are from the Greater Philadelphia area, the other eight are from all around the nation. Together, they received the Pennsylvania Horticultural Society's Gardening for the Greater Good Award, as well a silver medal for their overall design.
"We had 600 square feet of space to work with," Crisostomo said. "On the far left side, we erected three barrel structures, and they are all at different heights. They are representative of the length of time that the florists have been in the industry."
On the right side of the exhibit a large flower wall combines all the different flowers. The vibrancy of the flowers is meant to reflect the colorful backgrounds these women "possess as former engineers, school teachers, insurance agents," Crisostomo said.
"The right side illustrates the atmosphere of openness and camaraderie that we create when we share with one another. This is the place where ideas spring up, where relationships bloom, and where our talent flourishes," Black Girls Florist's design brief states.
Black Girls Florist is just one of the many exhibits visitors can see and experience, some with light features, fog machines, and even felt creatures.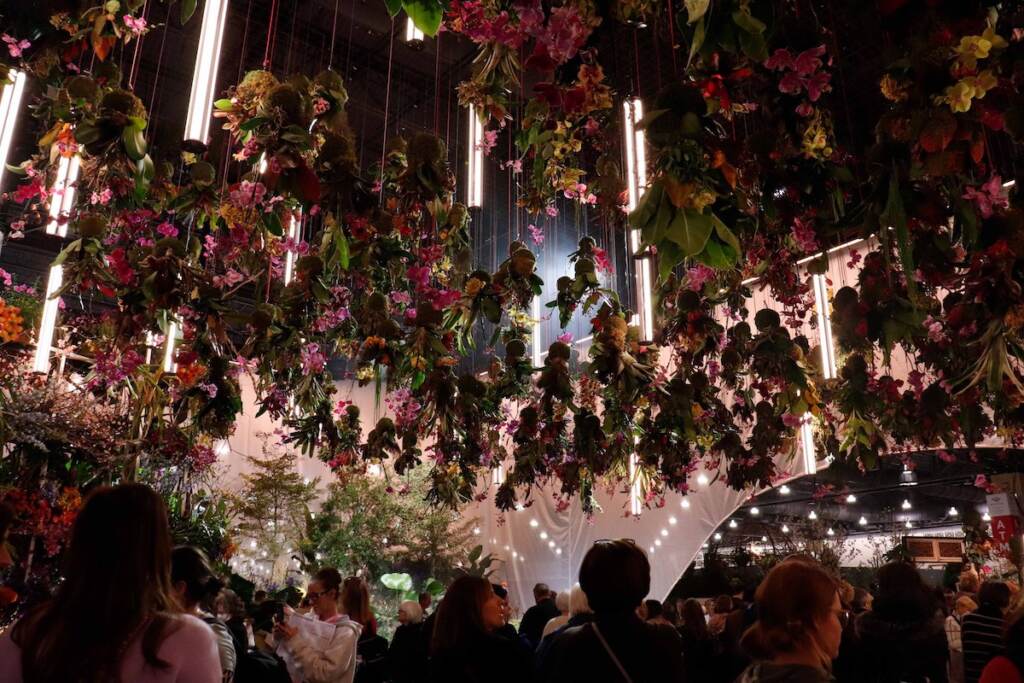 "There is this massive chandelier covered in beautiful florals, ribbon, and all different types of materials," said Rebecca Schuchart, director of experiences and engagement at PHS. "We hope all our guests come to the Flower Show, and experience an amazing time and get 'Florastruck.'"
This year's Garden Electric theme is jam packed with activities, exhibitors, and vendors even through its final days this weekend. The show looks a bit different from last year. After two years of hosting the show in FDR Park, the show moved back to the Philadelphia Convention Center, with some new additions.
"Bloom City is completely new to the show," Schuchart said. Located in the Grand Hall, Bloom City offers live music and a curated collection of Philadelphia-area vendors.
"There's a bar close by, nice seating and awesome bands curated by Snacktime. And if you feel creative and want to take something home with you, that's the spot to go, you can make a fresh floral crown."
The Kids Cocoon returns again this year, offering kid-friendly programming.
"Kids Cocoon is a space where kids can go to blow off some steam, and connected to Kids Cocoon is Butterflies Live. This is a place where you can be immersed in the plants and the butterflies, and I swear this year's butterflies are the biggest we have ever seen," said Schuchart.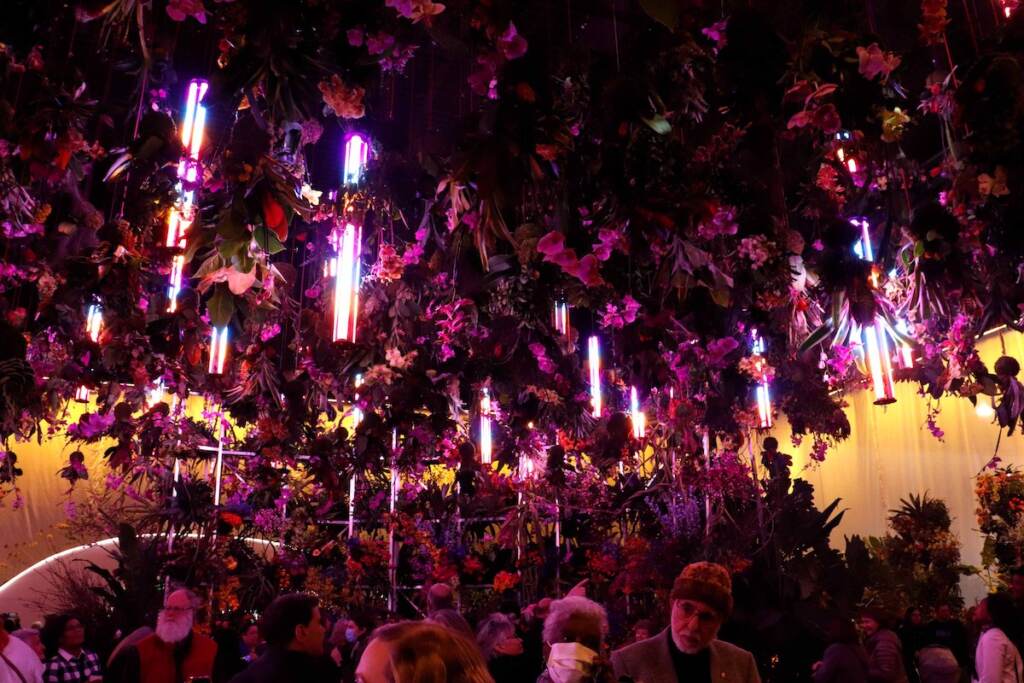 Saturday night is for those who love to dance the night away. "Flowers After Hours," a moody Garden Noir themed 21+ dance party, offers tastings, live music, and other treats. This event is ticketed separately and begins at 8:30 p.m.
Sunday is a day for the whole family, with live music, face painting, and crafts. "Family Frolic," held from 10 a.m. to 3 p.m. will feature performances by students from the School District of Philadelphia.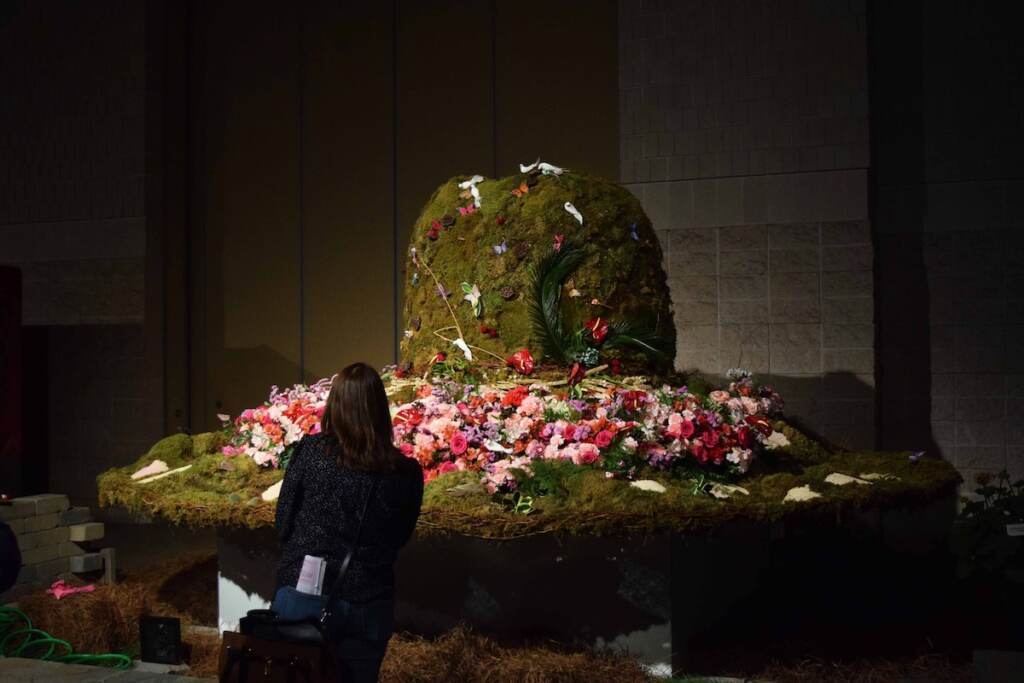 "It feels to me like we're entering Flower Show 2.0 with new themes, fresher ways of thinking, and lots of new exhibitors from around the world," said Seth Pearsoll, PHS creative director.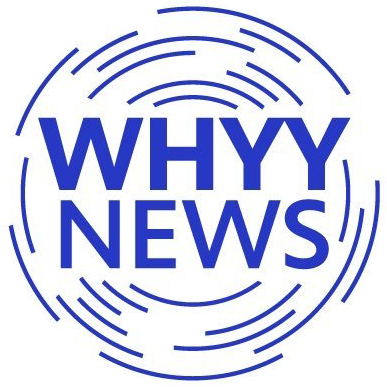 Get daily updates from WHYY News!
WHYY is your source for fact-based, in-depth journalism and information. As a nonprofit organization, we rely on financial support from readers like you. Please give today.