Delaware marijuana legalization fails by four votes in House
Recreational marijuana advocates could not attract the 25 votes needed for passage. The tally was 21-15 in favor of legalization, but five House Democrats abstained.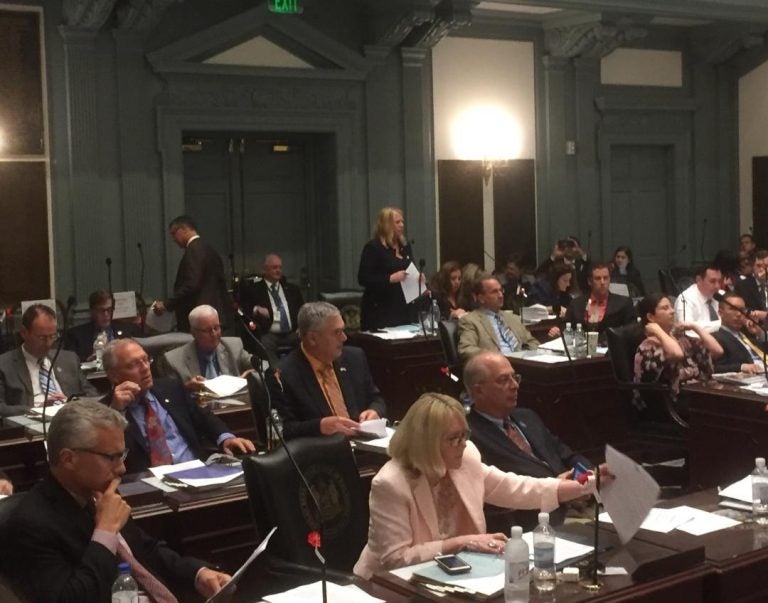 A bill to legalize marijuana fell four votes short in the Delaware House on Wednesday, a year after legislators began debating the measure aiming to tax and regulate the drug.
Last year, a legislative committee advanced the proposal, but it never went to the floor for a vote. The bill's sponsor, state Rep. Helene Keeley, D-Wilmington, created a task force to discuss key concerns about the bill, and recently amended the legislation to address issues such as impaired driving and distribution.
Still, Keeley struggled to assemble enough support Wednesday night, as five fellow Democrats abstained from voting. The bill needed 25 votes but only garnered 21. Fifteen lawmakers voted no.
Of the 25 Democrats, 20 voted yes. Abstaining were House Speaker Pete Schwartzkopf of Rehoboth Beach, Earl Jacques of Glasgow, Melanie George Smith of Bear-Newark, Stephanie Bolden of Wilmington and William Carson of Smyrna.
Of the 16 Republicans in the House, all voted no except Jeff Spiegelman of Clayton, who voted yes.
If the bill had passed the House, it would have moved to the Senate for its consideration.
Keeley, who is not seeking re-election, fought back tears after the vote. She said she still believes the measure will pass in the future.
"I wanted to be able to go out on a good note. I'm just a little sad I couldn't get it over the goal line," Keeley said. "To take it on and try to listen and accept other peoples' point of view and trying to make everybody happy —sometimes you just can't make everyone happy.
"I couldn't let the advocates down tonight. I wanted them to have the vote."
Keeley added that "somebody will pick up the torch next year, and it will be presented again and hopefully next year it will pass."
Earlier this month, Keeley and Senate sponsor Margaret Rose Henry, D-Wilmington, amended the legislation to address concerns about safety and regulation outlined in the Adult Use Cannabis Task Force final report.
The amendment directed 10 percent of tax proceeds to the Department of Safety and Homeland Security to fund drug recognition training, purchase devices that measure THC levels as the machines become available, and implement pilot programs to better identify and deter drugged driving.
The amendment also laid out packaging requirements, prohibited products that resemble candy or cartoon characters, and laid out certain labeling requirements.
Among several other stipulations, the amendment makes clear employers would not be obligated to allow marijuana activities, and spelled out licensing requirements for selling marijuana, including a training process for licensees.
Individuals would have been prohibited from operating a vehicle under the influence, carrying it across state borders, and growing or creating products on their own. Companies would still be allowed to drug test employees.
Proponents say marijuana has medical benefits, creates jobs and boosts the economy. Advocates say legalization in Delaware would bring in an estimated $22 million in taxable revenue. The bill that was defeated Wednesday would have taxed marijuana at $50 an ounce.
Those in favor of legalization argue criminalizing marijuana creates a dangerous illicit market and causes unnecessary arrests of nonviolent offenders, often with a racial bias.
While the bill has several supporters, many lawmakers believe too many safety and regulatory issues surround legalization.
Throughout his campaign, Gov. John Carney, D-Delaware, also said he wasn't on board with legalization. Last year, he met with advocates to hear their point of view. Carney hasn't said if he would veto a bill if it landed on his desk. However, in February he told WHYY he's still opposed.
"I just don't think we ought to be a leader there," Carney said then. "Again, as we're trying to strengthen our workforce, create an environment where companies can be successful to make Delaware stronger, I don't think that will do it."
On Wednesday night, Republicans against the bill pointed to concerns about driver safety, adolescent consumption, cannabis use among pregnant women, and addiction.
Keeley and supporters of the legislation say they believe the legislation's amendments addressed those concerns, however.
"I don't think there's any difference between someone going home and having a glass of wine or beer and someone going home and enjoying using cannabis," Keeley said. "Are there people out there who will not use it appropriately? Yes. There are people out there who use Ambien incorrectly, and use alcohol incorrectly, but I do believe the majority of people would use it appropriately."
On the House floor, state Rep. Trey Paradee, D-Dover, said the eventual legalization of marijuana is "inevitable."
"If we had a referendum in this state this bill would have passed at least two years ago," he said. "Once you understand that, the only logical conclusion is this bill should be passed tonight. If you're against this bill or on the fence, keep in mind you're going against your constituents."
Delawareans and local organizations against the legislation, such as Attack Addiction's Bill Lynch, praised the outcome. He said it would lead to poor health consequences, and believes in some cases cannabis can be addictive.
"Any time there's a substance made more readily available, alcohol and tobacco in particular, if they're more readily available more people use them," Lynch said. "The concern now is with that leniency with the view to the product and its availability, that's what ends up leading to these health consequences."
Cathy Rossi of AAA Mid-Atlantic, another organization that has been vocal in its opposition, released this statement: "As legislators in Illinois, Vermont, New Hampshire, and Connecticut decided in recent months, recreational marijuana is a complex issue that deserves significant scrutiny.  From a road safety perspective, we want Delaware drivers, passengers, bicyclists, and pedestrians spared the increased risk of marijuana-impaired drivers that states like Colorado and Washington are now facing."
But for advocates like Zoë Patchell of the Cannabis Bureau of Delaware, the defeat was gut-wrenching. She said her group will continue to advocate for legalization.
Patchell said she believes her group was "outspent and outlobbied" by well-funded opponents.
"We're devastated the Delaware House of Representatives would vote against a citizen-led movement supported by 61 percent of Delaware voters and vote in favor to continue the criminal market control of the most lucrative cash crop in Delaware," Patchell said.
Nine other states and Washington, D.C., have legalized recreational marijuana use.
Delaware's General Assembly approved medical marijuana in 2011, and the first dispensary opened in 2015.
WHYY is your source for fact-based, in-depth journalism and information. As a nonprofit organization, we rely on financial support from readers like you. Please give today.