Beer Week begins in the Northeast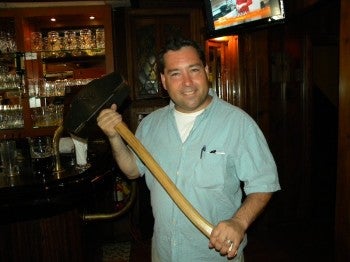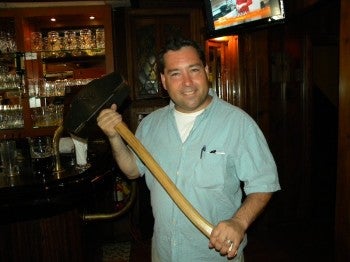 The Hammer of Glory, what many Philadelphians refer to as the "HOG," left Fox Chase's Hop Angel Brauhaus early Friday morning to kick off Philly Beer Week 2011.
Philly Beer Week is a 10-day celebration of what is arguably considered "America's Best Beer Drinking City." Mike "Scoats" Scotese is one of the masterminds behind this celebration. Scoats helped start Beer Week four years ago and calls himself one of the "founding fathers" of the Hammer of Glory tour.
Now in its third year, the giant hammer made its way to 21 establishments throughout Philadelphia in what Scoats described as the "most unconventional ways possible." At the end of its journey, the hammer was used to tap the first keg, signaling the official start of Philly Beer Week 2011.
"Hopefully this puts us more on the map and lets people know that we've got a lot of people up here who appreciate good beer," Scoats said of the Northeast. "People tend to have a preconception about the Northeast that may not be right. It's a much more diverse place than people give us credit for."
Many argue the Northeast is where all the true beer drinkers reside. Barry "Chez" Chezik from Rhawnhurst has been a regular at the Grey Lodge Pub (Scoat's Frankford Avenue bar) for 15 years and frequents the Hop Angel.
"Just having the Lodge made the Northeast Philly bar scene," Chesik said. "These two places are Northeast Philadelphia."
Northeast Beer Week
6/7 Lew Bryson at Hop Angel
6/8 Sierra Nevada at Grey Lodge Pub
6/9 Pilsner heaven at Grey Lodge Pub
6/11 Angels & Demons at Hop Angel
Chris Daguanno from Fishtown was one of the carriers of the Hammer of Glory. Daguanno strapped the hammer to his backpack, hopped on a bike and began the trek from the Grey Lodge to the Philadelphia Brewing Company located on Amber Street in Kensington.
"Philly is the greatest beer city in the country, period, and the Grey Lodge is one of the best beer bars in Philadelphia," Daguanno said. "Scoats has done a great job getting the word out and creating the best beer city."
Scoats ended the tour by handing off the Hammer of Glory to Mayor Michael Nutter on the stage of the Independence Visitor Center later that evening.
For more information on upcoming Philly Beer Week 2011 events, visit http://www.phillybeerweek.org/.