Asian-Americans must speak up in fight toward racial progress for all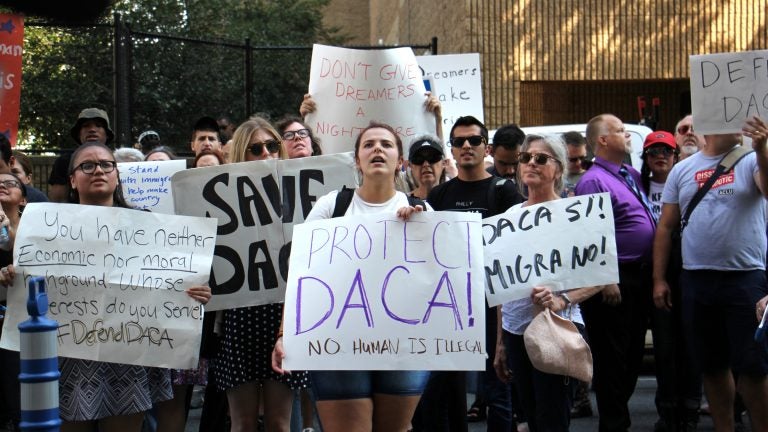 As Congress approaches the deadline to agree on year-end funding, chances are slim that Democrats will be able to protect "dreamers" and the Deferred Action for Childhood Arrivals (DACA) program this year. Important voices have been missing from the debate. Those same voices are missing here in Philadelphia, as a new district attorney prepares to assume office promising progressive reforms in America's poorest major city. I am speaking of the voices of Asian-Americans.
True, the elected leaders and organizations representing our communities go as far as providing a statement every now and then. Yet the people at large have been silent, due to a failure of mobilization from above and within. As our country faces one of the most uncertain periods of transition it has ever seen, balancing between advancement and decline, that failure can no longer be tolerated. It can no longer be excused.
Let me be blunt. Asian-Americans need to relearn the lesson that African-Americans have long understood: Never, in a million years, will we be "white." Looking in a mirror should be enough of a reminder that, just by existing, we risk being "the other." We must push back against the subtle and overt attempts to conflate "whiteness" with citizenship.
Part of the reason the "model minority" myth persists is that far too many recent Asian immigrants, arriving after the passage of landmark civil rights and immigration reforms, believe that, just by working hard and keeping their heads down, they'll become "American." They came too late to appreciate that the history of Asian-Americans is the history of how national faith in the Constitution was twisted against immigrants. Trump's executive orders find precedent in the internment camps of Japanese-Americans and immigration bans on the Chinese. If the controversy over the casting of a movie animates you more than the systemic caging and murder of other people of color: congratulations. You're "American," alright — or at least to the extent a culture of privileged whites will grant you a place beneath them.
There have been other recent calls for Asian-Americans to become more involved in today's struggles for racial justice, mainly due to our own past. Consider my fellow Chinese-Americans through American history: banned from owning property, banned from citizenship, banned from interracial marriage, victims of mass lynchings. Sound familiar? Yet it is not enough to say we must act to prevent a repeat of that history. It is not enough to say this must be done out of self-interest, out of fear of becoming another line in Niemoller's "First they came …" poem. We must speak out against racial injustice against other communities for a far more fundamental reason: because they are our fellow human beings.
There is a strong Christian element in many Asian-American communities in the United States, so let me remind you of Proverbs 31:8. "Speak up for those who cannot speak for themselves, for the rights of all who are destitute." The "model minority" is particularly pernicious, because many Asian-Americans of different national origins are not doing "just fine." In fact, even within those groups that are portrayed as success stories, many families and individuals are struggling.
One issue I take with the DACA debate is that often the "dreamers" who get talked about are high school valedictorians, educated professionals, talented artists, etc. What about the kids failing classes due to lack of language access and support; who get in trouble while their parents work multiple jobs and long hours to subsist; who grow up to toil in obscurity and hardship? They are just as deserving of America's grace. Not just the ones who got an M.D. and moved out to the suburbs.
Perhaps it was fate that I was born and raised in Pittsburgh, where black and yellow are united on helmets and uniforms. But we sure as hell aren't united in neighborhoods, schools, or other communities. We need to be united in our hearts and minds, our hopes and dreams. The triumph of racism over morality and justice has long been interwoven into the American fabric. But so has the long battle for progress, the joining of the fight on behalf of others as well.
Despite what I may hear from some immigrants, including those in my own family, capitalism and materialism are not what uniquely mark us as Americans. It is the Constitution, the Bill of Rights, and 17 other amendments. More importantly, it is the long march to extend the promises contained therein to all who claim their protection.
As America figures out how to define itself in the 21st century, as Asian-Americans seek to find our place in that definition, our political activism needs to embrace more than just voter-registration drives. We need to ensure our people actually vote and participate in public life in the myriad of ways possible before Election Day. We need to encourage them to be authors and speakers in public forums, campaign volunteers, or candidates themselves; and yes, at times, demonstrators and protestors. As we find our own voices, we must be careful not to drown out our allies, who often struggle to tell their stories as well. But it is a chorus we must join, if we are to be worthy of the hyphenated "American."
—
Christopher Lin is minority outreach coordinator for the Pennsylvania Young Democrats, president of the Temple Law Democrats, and Chinese-American.