Army plans to exhume remains of four Carlisle Indian School students
The Carlisle Indian School tried to assimilate Native American children into mainstream American culture, but hundreds died from harsh conditions in the early 1900s.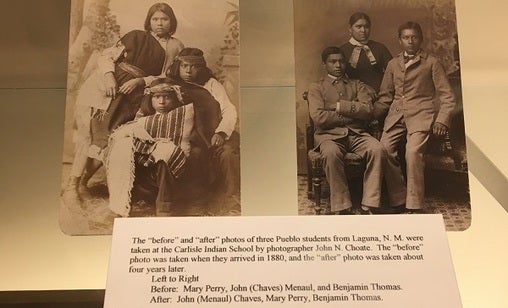 The U.S. Army is planning to return the remains of four students who died while attending the former Carlisle Indian Industrial School to their families.
This is the second year the military is working to honor requests from next-of-kin to have the remains returned for private burial.
The Carlisle Indian School was meant to assimilate Native American children into mainstream American culture, but hundreds died due to disease and harsh conditions before the school closed in 1918.
Army National Military Cemeteries, the agency overseeing the exhumation, announced it plans to recover the remains of Little Plume (aka Hayes Vanderbilt Friday), George Ell (aka George Eli), Herbert Little Hawk (aka Herbert J. Littlehawk), and Her Pipe Woman (aka Dora Brave Bull). The students died in the 1880s and 1890s while attending the school.
Carol Kerr, a spokesperson for U.S. Army's Carlisle Barracks, the steward of the cemetery where the students are buried, said dealing with more than 100-year-old records can make family reunification difficult.
"There was an unhappy surprise last year, when we were hoping to reunite the Northern Arapaho families with the remains of three of their relatives, but one of them turned out to be inaccurately marked," Kerr said. "We have done additional research and have expectations of a better, more satisfying outcome this time."
Kerr says much of the research is done by the families. Archives at Dickinson College and the Cumberland County Historical Society have assisted in proving a connection between students and living family members, as well as locating remains.
Army experts plan to begin disinterring the remains on June 14th.
Kerr said they will work with one family at a time until the process is complete.
WHYY is your source for fact-based, in-depth journalism and information. As a nonprofit organization, we rely on financial support from readers like you. Please give today.