Are American kids too coddled?
There's something opulent about easing your way into a summer vacation day.
There's something opulent about easing your way into a summer vacation day.
While your natural inclination may be to rise and shine, to get 'up and at 'em' and to squeeze in the seeing of every last sight in that special place to which you may never return, the alternative is oh so tempting. Picture it now: sleeping in with the shades pulled down, lazily munching on pastries in bed, then taking a swim in the hotel pool before wandering out into the sticky summer air.
That family vacation scenario has the potential to be every bit as luxurious as any 800-thread Egyptian flat sheet in any 5-star resort and it's exactly how my family started our final full day in Boston last month.
We were at the Aloft Boston Seaport hotel and the hot chocolate and cinnamon swirls were simply too inviting. Same goes for the heated indoor pool. After walking eight miles the day before, we all just wanted to sink into the pool and slide into the new day very slowly.
While my family was drying off, I watched a handsome young dad with an impeccably trimmed beard rinse off with his approximately 7-month-old son. They stood beneath the shower that not nearly enough people actually use as instructed before submerging themselves into a hotel pool then proceeded to swim together — a dad and his baby — with no floaty arm bubbles, no life vest, no infant inner tube, nothing but a doting father and his boy. The pair went under the water repeatedly, floated together, and at one point dad pushed off from the edge like a torpedo with his baby riding atop his back.
Every time the tot emerged from the decadent 82 degree pool water, he was all smiles, unfazed by the synchronized swimming routines he was partaking in with his dad. I'd never seen anything like it and stood amazed, probably staring with mouth agape a bit too much and for too long.
I mean, my 11-year won't go underwater without holding her nose and wearing goggles, and even with those protections in place she'll still come up gasping for air, rubbing her eyes, and complaining that some chlorinated water went up her nostrils.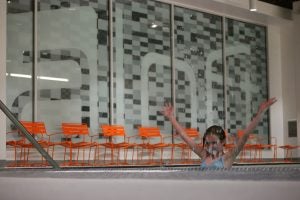 Yet here was this little baby having no issues at all swimming with his dad like a pint-sized Katie Ledecky.
Because my brain is always at least 50% tuned to soccer, my thoughts went straight to why American kids aren't historically as gifted, skilled, flamboyant or simply put, as good as young footballers from Argentina, Spain, Croatia, Ghana, France, and so on. I know it's weird to go from dads and kids in a Boston hotel pool to gaggles of children on soccer pitches across the country, but I think the reason might be the same as to why my tween and teen both still struggle going underwater.
They were never simply tossed into the deep end, never immersed in it from a very young age. I didn't swim with them like that dad and his baby. Not once.
Instead, they were eased, coxed, coddled, and taught at every step of the way. Same goes with the vast majority of our little soccer players. As a result, there always seems to be that slight hesitation, that look over to us on the sideline or in the poolside lounge chair. Call it fear or trepidation, but there's certainly a speed bump in their daring nature and I think that's because we've coddled them a bit too much and for too long.
Nearly every intersection of kids and soccer is adult-led, instructed-based, fundamentals-oriented. Don't get me wrong, learning soccer skills isn't a bad thing in a vacuum but there isn't that desperation or inherent joy. There is nary a moment where a ball is simply rolled out onto a bumpy green pitch for a gaggle of excited kids to sort it all out for themselves — to try, to dare, to invent and to find their own way forward.
Most of the time, in American middle class suburban enclaves anyway, there's no dad swimming underwater with their happy little kid. There are however, plenty of dads and moms shouting instructions, constantly checking if everything is okay, asking if their son or daughter need a drink or an orange slice, checking their iWatch to see if their kiddo will be late for their next tutorial, and then badgering the coach with questions about whether he or she is good enough to make the team, to progress to the next adult-led level of instruction, to shine a brighter light onto the parent themselves.
Back at the hotel, as we left the pool area, I looked over my shoulder as a means of imprinting one final image of that dad and baby. I wanted a mental postcard of sorts, and a reminder to encourage my kids and me to leap into the deep end of the next opportunity life gives us to learn, to do, to dare, and to figure it out for ourselves as we go.
WHYY is your source for fact-based, in-depth journalism and information. As a nonprofit organization, we rely on financial support from readers like you. Please give today.