April 15: Janette Sadik-Khan at WHYY | Lincoln Square's pedestrian street | The buildings we deserve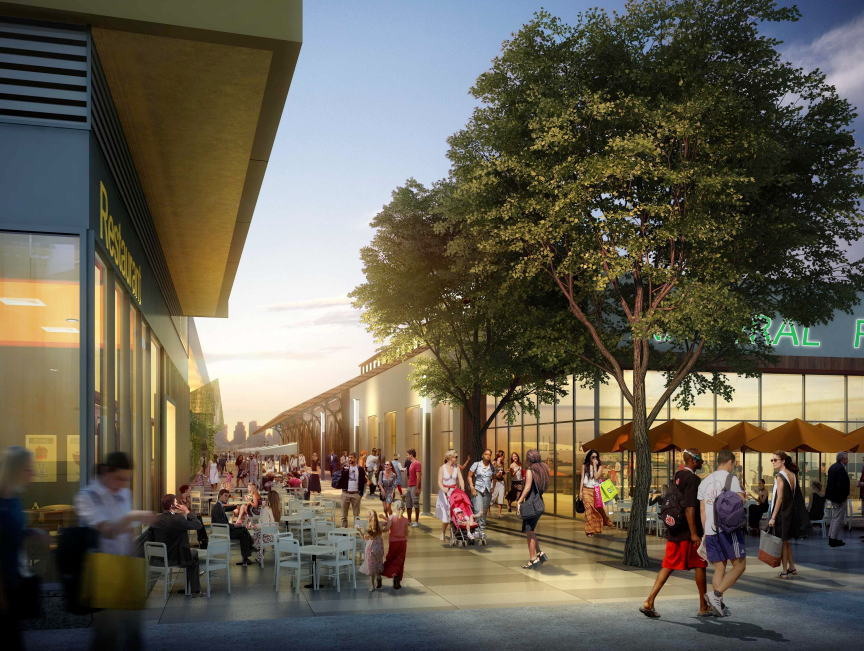 PlanPhilly is excited to announce that Janette Sadik-Khan, the former NYC DOT commissioner who revolutionized New York street planning, is coming to WHYY on May 4th for a reception and discussion of her new book 'Street Fight: Handbook for an Urban Revolution.' Tickets are on sale now, but space is limited.
Density isn't what's wrong with Bart Blatstein's Broad and Washington plan, Inga Saffron argues, but rather how the density is arranged on the site—an arrangement resulting directly from Blatstein's insistence on including so much above-ground parking, she says.
Taylor Farnsworth points out that Alterra Property Group's Lincoln Square development on the northwest corner of Broad and Washington, which Jared Brey wrote about yesterday, will have a midblock pedestrian street, like the one that some neighbors and Design Advocacy Group suggested Bart Blatstein include in his project across the street. Blatstein argued this would create a "dark alley" through the development.
Nathaniel Popkin's interview with John Gallery on the fourth edition of Philadelphia Architecture: A Guide to the City is worth reading in full. Here is one especially insightful observation on what kinds of buildings Philadelphia deserves. "[W]e deserve buildings that respect the high quality of existing environment and accept their place within that as distinctive background buildings, not ones that are primarily confrontational, which is what I think we are getting for the most part right now."
SEPTA is reserving two regional rail cars just for bikes for a Bike the Hill event in Chestnut Hill on Sunday. This is a test for allowing bikes on regional rail.
A National Neighborhood Indicators Partnership study from Pittsburgh found that the condition that best explained student absenteeism was whether a student had changed schools during the past school year. The finding points to the importance of stable housing for education outcomes, and the under-discussed role of housing policy in the local education conversation.
Los Angeles is the latest city to explore creating Parking Benefit Districts, where a portion of the revenue generated by parking meters is returned to the neighborhood for local improvements.