Antony Gormley's iron sculptures loom over Rocky steps at Art Museum
People running up the Rocky steps at the Philadelphia Museum of Art now face something new at the top – a wall of 10 cast-iron figures planted on the top step.
People running up the Rocky steps at the Philadelphia Museum of Art now face something new at the top – a wall of 10 cast-iron figures, each about 10 feet tall, spaced about 12 feet apart, planted on the top step.
The figures are abstractions of the human form, created with what appears like precariously stacked blocks. The British artist Antony Gormley calls them Blockworks; altogether, the installation is called STAND.
From a distance, they appear to be sentries or totems. As you approach, you see each is holding a different pose. Some are slumped, some are proud, some are reserved. Like Santa's reindeer or Disney's dwarves, they have names: Hope, Assuage, Lull, Switch, Daze, Prop, Powder, Rate, Reserve, and Assay.
Each cast-iron figure, covered in natural rust, weighs almost three tons. They are embedded with steel I-beams sunk into the museum's plaza. Taken together, they appear monumental. Taken individually, they appear human-scaled, meant to be circled and inspected. Gormley designed them to resemble something between a police lineup and Stonehenge.
"That idea of looking another human being in the face, eyeball to eyeball, and sharing a personal truth, it's not something we do very often," he said. "This is the invitation of this work."
Gormley was invited to install STAND as temporary work. It will be on display for six months, until June 16. As one of the most celebrated artists in England – he has been knighted by  Queen Elizabeth – Gormley is interested in sculpture as civic engagement.
During a torrential rainstorm, he visited Philadelphia to introduce his work. He said he was attracted to the pop culture resonance of the Rocky steps with the artistic resonance of the museum. His sculptures occupy the physical space between the two.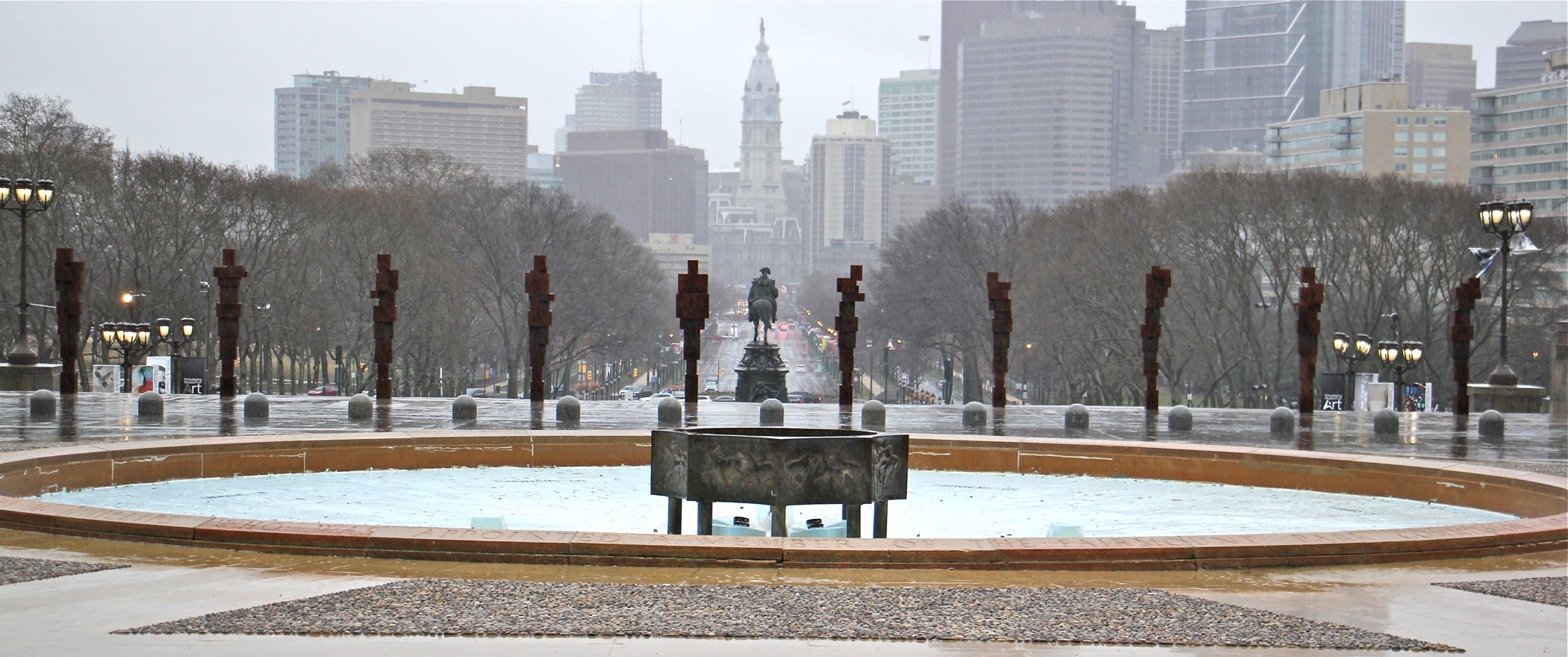 "This faces the street," Gormley said. "It belongs to the street. But at the same time, it is a zone of engendering sensibility. This is a good test site for that."
Intentionally or not, Gormley has come across the Atlantic to install a work that adds to the local conversation now swirling around the Benjamin Franklin Parkway. The historic thoroughfare is often choked with 10 lanes of traffic, decorated with sculptures of aggrandized historic figures (George Washington ringed by wild animals, Joan of Arc on an 8-foot pedestal), and often used for mass demonstrations or celebrations.
Just as the city is considering ways to make the Parkway more pedestrian-friendly, Gormley has brought a note of cast-iron intimacy. His Blockworks are seamlessly installed into the flagstones – there is no dais, pedestal, or base of any kind to impede approach. The shapes vaguely resemble bodies, but without the weight of history.
"Without the presence of living, moving bodies at human scale, it wouldn't work," Gormley said. "It needs the time and attention and emotional engagement."
The model for the 10 pieces is Gormley's own lanky frame. He had his studio team digitally scan his body in various poses, and then he restructured the figure as stacked blocks.
He is wary of the suggestion that he, himself, is the subject of his own work. But, in order to make sculpture that invites people to subjectively connect with the work, Gormley's artistic process needs to start with something equally intimate: the body itself.
WHYY is your source for fact-based, in-depth journalism and information. As a nonprofit organization, we rely on financial support from readers like you. Please give today.