AG Sessions bashes Philadelphia, defends new border policies in Scranton visit
Listen
1:31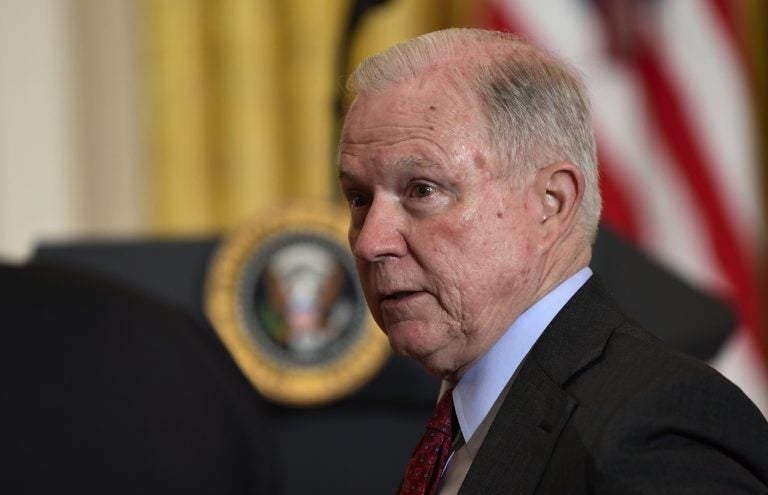 U.S. Attorney General Jeff Sessions spoke in Scranton on Friday, but much of his half-hour speech to about 150 local, state and federal law enforcement officials was directed at another city, about 120 miles south.
"It cannot be that someone who illegally crosses the border in El Paso, Texas, and two days later arrives in … Philadelphia is home free," he said. "Philadelphia is not giving sanctuary to Americans, they're giving sanctuary to foreign criminals."
Sessions spoke at Lackawanna College, one of a handful of engagements in which he's defended controversial federal immigration enforcement policies — including separating children from their parents at the U.S. border — implemented by the Trump administration.
In Scranton, Sessions largely avoided directly mentioning these policies, instead referring generally to "restoring integrity" to the immigration process. 
"We need to tell the world, 'Please don't come unlawfully. Make your application. Wait your turn," he told the gathering, alluding to the assertion that family separation will deter unauthorized border crossings. 
The meeting was not open to the public, and the attorney general did not take questions.
Sessions also criticized Philadelphia Mayor Jim Kenney over a video circulated on social media in which Kenney dances and high-fives a staffer after the city won a case against the Department of Justice over its attempt to withhold federal grant money in order to force changes to local law enforcement policies. In Philadelphia, unauthorized immigrants who come into police custody are turned over to U.S. Immigration and Customs Enforcement only if ICE provides a judge's warrant or in the case of a felony conviction.
"This is the elected mayor of a major city in America celebrating lawlessness," said Sessions. The attorney general connected "sanctuary cities" to higher crime and the opioid epidemic, claims that have been refuted by some police forces themselves.
Outside the college, dozens of people held up signs and sang "America the Beautiful" to protest Sessions' visit.
"Historically, when you've had the government ripping children away from their families, that's true evil. You cannot defend that with a Bible verse," said protester Katia Perez, a member of immigrant advocacy group Make the Road Pennsylvania. On Thursday in Fort Wayne, Indiana, Sessions quoted Romans 13 in response to religious groups criticizing the new policy of family separation.
Sessions said U.S. citizens should follow that verse when it said to "obey the laws of the government because God has ordained them for the purpose of order."
WHYY is your source for fact-based, in-depth journalism and information. As a nonprofit organization, we rely on financial support from readers like you. Please give today.