Advocates hope Gov. Wolf uses decisive election victory to seek large school funding boost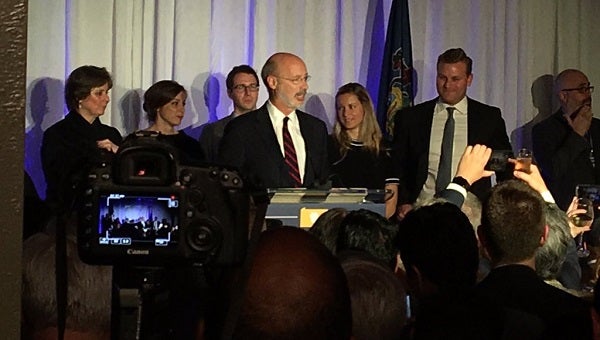 Last week, Gov. Tom Wolf won a second term by defeating Republican challenger Scott Wagner.
A Wagner victory would have paved the way for more school choice-friendly policies such as education savings accounts — which would divert some existing public school dollars to help parents pay for private school tuition.
Wolf's victory makes such proposals highly unlikely to come to fruition over the next four years.
In his first term, Wolf's focus was on investing more money into public education, but on the campaign trail this year he was tight-lipped about his specific plans moving forward.
So the big questions now are: How much of a boost will he seek? And how will he pay for it?
Advocates for a large boost to school spending say Wolf's 17-point win over Wagner shows evidence of a mandate for a large ask.
"He has to create a narrative and a context for a 'yes' vote for revenues. He can do it now. I think this election gives him the ability to do that," said Donna Cooper, executive director of Public Citizens for Children and Youth, and a former aide to Gov. Ed Rendell.
PCCY was a member of the Campaign for Fair Education funding — a coalition that formed in 2014 to push for annual $400 million boosts to state education funding.
In his first budget address, Wolf proposed investing an additional $2 billion into K-12 education by the end of his first term. He planned to raise revenue by increasing sales and income taxes and reducing property taxes in order to take some of the burden away from local homeowners.
He also pushed for a statewide tax on natural gas drilling to support schools.
Those tax proposals went nowhere. Each year, though, education spending rose steadily, but not near the levels Wolf or the advocates initially sought.
And now, despite Democrats gaining seats in the General Assembly, the political calculus of seeking a large sum of new revenue might be even more difficult.
Of the seats Democrats gained in Tuesday's election, most replaced moderate suburban Republicans who held some sway with GOP leadership.
"So having lost the Republicans in the Southeast, I think makes a coalition for more new revenue more complicated," said Cooper.
In an issue tied to funding, some Democrats hope to make school infrastructure upgrades a priority in Wolf's second term — specifically for aging and crumbling schools in the state's most stressed districts.
The School District of Philadelphia alone estimates that its schools need $5 billion in repairs.
Wolf's spokesman J.J. Abbott said the administration hopes for a bipartisan consensus on the need for greater support for public schools.
"Many candidates from both parties featured increased funding for education during their campaigns, and we are hopeful they will retain that commitment," said Abbott in a statement.
The issue in Harrisburg is rarely if school funding should rise — it's a matter of how dramatically.
"The House Republican majority understands that simply providing more tax dollars does not necessarily make more scholars," said Steve Miskin, spokesman for House Republicans.
At PCCY, Cooper said the success of any large-scale school funding request will come down to finding a consensus with rank-and-file Republicans.
"It's going to take a coalition of very poor rural communities that want to up their game in education and the few suburban communities that have seen heftier property tax increases — both of those constituencies need to speak to their leadership and say, 'There's something in this for us' to be able to work together with the Democrats," she said.
How Wolf decides to navigate the continued divided government in Harrisburg will make itself clear in his budget address following his second inauguration.
Correction: A previous version of this article said PCCY is currently a member of the Campaign for Fair Education Funding. PCCY and others from that campaign are now advocating as PA Schools Work.
WHYY is your source for fact-based, in-depth journalism and information. As a nonprofit organization, we rely on financial support from readers like you. Please give today.