Accused rapist stayed in Gov. Murphy's administration six months after being told to leave
The chief of staff to N.J. Gov. Murphy testified that he told an employee accused of rape to leave state government in late March, but the man did not resign until October.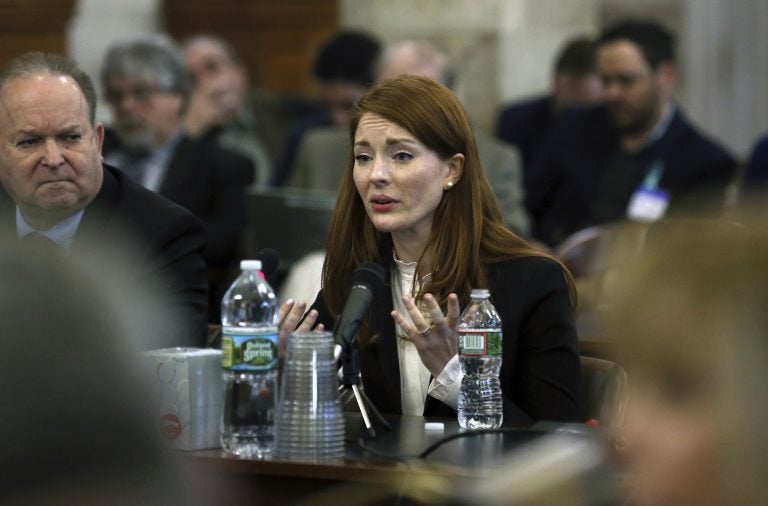 The chief of staff to New Jersey Gov. Phil Murphy testified at the State House Tuesday that he told an employee accused of rape to leave state government in late March, but the man did not resign until October.
Pete Cammarano testified that he told accused rapist Al Alvarez on March 26, 2018, that he should step down as chief of staff in the New Jersey Schools Development Authority, a post he got after Murphy took office.
But Alvarez remained on the job until October, when he quit after being called by a Wall Street Journal reporter. Alvarez denies the sexual assault.
Cammarano also testified that Murphy did not hear about the allegation until it was about to become public in a news story, telling legislators on a joint oversight committee that he was in the room on October 2, 2018, when the governor and First Lady Tammy Murphy were informed of the rape charge.
"They were both blindsided and completely shocked," Cammarano said.
Cammarano said he kept quiet about the sexual assault claim until then on the advice of two different attorneys.
The testimony came out during a public hearing in Trenton, as a bipartisan group of lawmakers tried to learn why a man accused of rape was allowed to remain employed by Murphy's transition team and then was hired by the administration.
Former campaign volunteer Katie Brennan accused colleague Al Alvarez of raping her in April of 2017, during Murphy's campaign for governor.
Testifying before the oversight committee earlier this month, Brennan said she reported Alvarez to the police but also tried to inform transition and administration officials about the sexual assault. Brennan said her pleas for help were ignored.
"I had access to people in the highest positions of power in the state of New Jersey," Brennan said. "At each turn, my pleas for help went unanswered."
During testimony on Tuesday, Cammarano said that last December he and transition counsel Raj Parikh were told by transition official Justin Braz about an allegation against Alvarez, but Braz left out Brennan's name at her request.
Parikh conducted a background check on Alvarez but it came up clean, Cammarano said. Then Parikh told Cammarano to limit Alvarez's involvement in hiring new employees so that he could not retaliate against the victim, according to the testimony.
In March Murphy's chief counsel Matt Platkin told Cammarano that Brennan had reported to him she was the one who had been sexually assaulted by Alvarez. Platkin referred the matter to the governor's chief ethics officer, Heather Taylor.
In each instance, Cammarano said, Parikh and Platkin told him not to discuss the rape allegation against Alvarez because of confidentiality rules.
Under questioning from legislators who wondered whether the administration had done enough for Brennan, Cammarano admitted that "there are times when I wish I had told the governor."
Cammarano also said he didn't know if Alvarez was allowed to make hiring decisions once he joined the administration.
Alvarez was selected as chief of staff at the NJSDA at the request of top Murphy officials, according to former NJSDA head Charlie McKenna, who became Alvarez's boss. ("I'm not going to mince words," McKenna testified. "Mine was a political hire as well.")
McKenna had previously served as chief counsel to Gov. Chris Christie and got his position on the NJSDA during the Christie administration.
In June, three months after Cammarano had told Alvarez to leave state government, Murphy's chief counsel Platkin ordered McKenna to do the same.
According to McKenna, Platkin said there was an issue with Alvarez that he could not discuss and that McKenna should tell Alvarez to resign.
McKenna delivered the message a day later. In August, McKenna himself resigned from the NJSDA. Alvarez was still there and didn't resign until October 2.
WHYY is your source for fact-based, in-depth journalism and information. As a nonprofit organization, we rely on financial support from readers like you. Please give today.