A view of Lower North planning from a Stanley Street stoop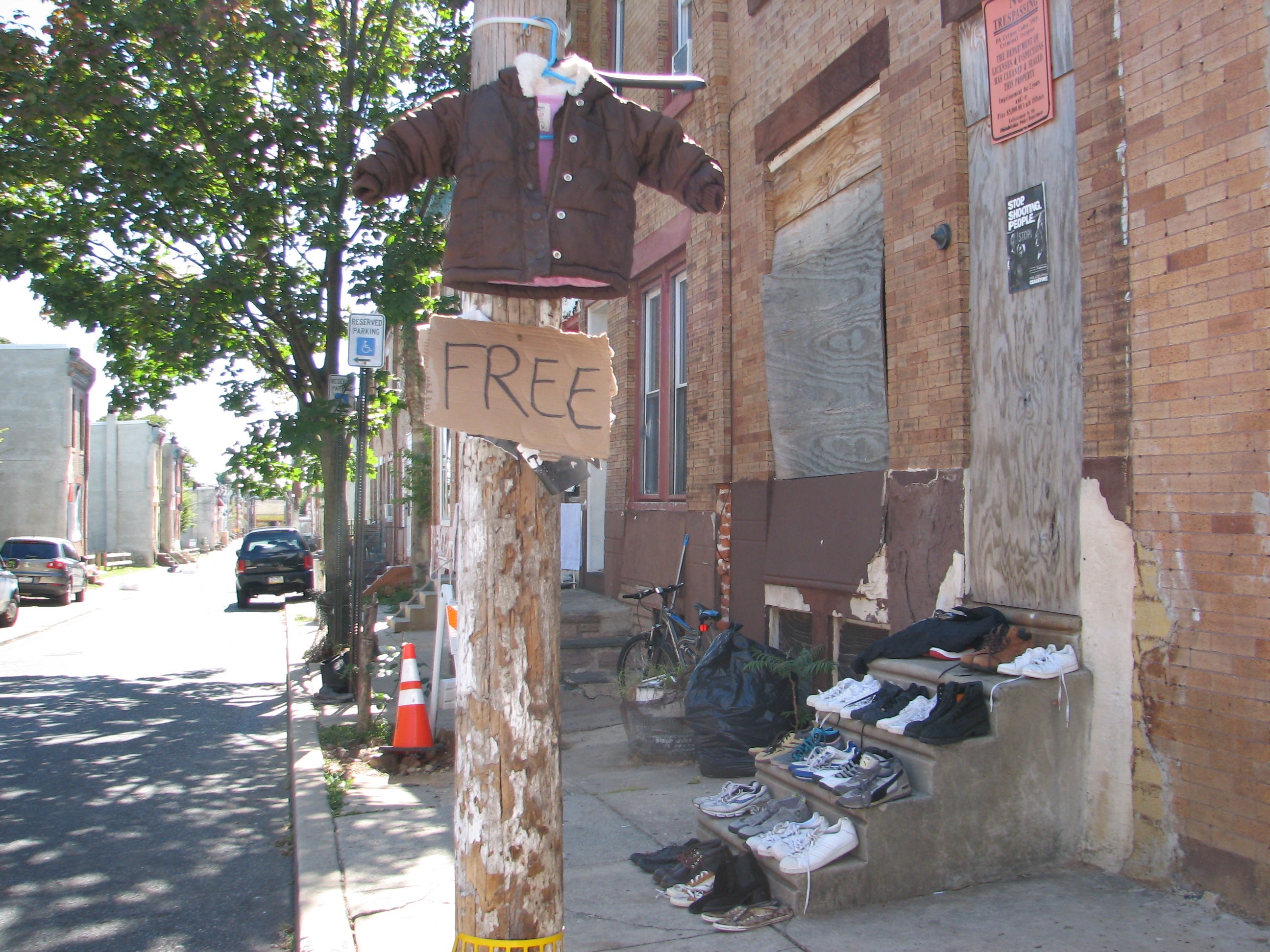 From the front stoop of the Strawberry Mansion home her mother bought in 1958, North Philadelphia community activist Judith Robinson can see the vacant ground where her neighbors' houses used to stand.
These empty lawns are evidence, she says, of the city's failed attempts to revitalize the neighborhood, and many more like them are scattered around North Philadelphia.
Robinson hopes the current effort – the Philadelphia Planning Commission's Lower North District Comprehensive Plan – has a different outcome.
But her biggest fear is not that the neighborhoods of Lower North won't recover, but that future success will primarily benefit people who don't live there now – people who are wealthier than current residents (whose median income is $16,459) and people who are white.
Robinson said gentrification is already happening in Brewerytown, and heading north.
She thinks prior urban renewal efforts have included knock-downs because vacant land would allow redevelopment from the ground up at a good location with great infrastructure.
And she thinks knock-downs and condemnations have adversely affected neighborhood conditions and decreased property values.
"If you tore down every house next to mine, then that lessens my fair market value. You lessen my value by condemning my neighborhood."
Some of her concerns echo sentiments of others from the area who have participated in on-going community outreach sessions about the Central District and Fairmount Park.
Lower North District Planner David Fecteau said he's heard the concerns that improvements won't be for the present community from some residents, and all planning can do to assure current residents the benefits are for them is continue to meet with residents and release information about the plan and its intentions to improve the community.
The next public meeting will take place at 6:30 p.m. Tuesday at the Columbia North YMCA, 1400 N. Broad Street. Planning staff will make a brief presentation, then attendees will help develop preliminary recommendations regarding the allocation of city funds and land use and zoning changes.
Fecteau said people who now live in Lower North will be able to stay – in fact, he's never seen proof that masses of people have ever been pushed out of their home neighborhoods when those communities have been improved. (If he can get funding, when this district plan is complete, Fecteau said he'd like to hire someone to determine if anyone has ever gotten pushed out, and if so, "who are they, where are they located, and what can we do to help them?")
The plan will aim for improvement over time to the neighborhoods and also will address the need to make living there affordable for long-time residents, even when housing costs go up for people moving in.
"One of the main thrusts of this plan will be supporting existing homeowners," he said. "Part of that is stabilizing a neighborhood and attracting people to live around them."
Robinson, owner of Complete Real Estate Services, agrees, and says this goes way beyond market value. New homes on formerly vacant properties improve the environment, and make neighbors feel safer coming home at night, she said.
She knows Lower North has big challenges – she speaks with sadness about the young men on corners selling drugs and shooting each other and the abandoned properties with liens against them greater than the property value.
But she believes community assets, including proximity to Fairmount Park and Center City, Temple University and Girard College, a public transit network, and families who have lived there for two or three generations – can be used to return the district to a place as wonderful as it was when she was growing up.
"This is a special place," she said. "As much as we see this open land, these raggedy houses – forget about that. Think about its proximity to all the things that are great about the city."
Free clothes

Vacant lot on York Street

A condemned house set for demolition on Arlington Street

Judith Robinson on the stoop of her childhood home

Judith Robinson on York Street, a strong business corridor in her childhood

Free sneakers below a sign that says Stop shooting people

Corner of Arlington and 33rd

An abandoned home on Arlington
It wasn't perfect, but it was great
Robinson's mother, a nurse, bought the house on Stanley Street when Robinson was 2 years old. The neighborhood was predominantely Jewish, which worked well for the Robinson family. "We were raised as Hebrew Israelites. We ate kosher. We didn't have a television," Robinson remembered.
Her mom could buy kosher at The Meat House on Fletcher Street, and that's not all. "There were stores on every corner," Robinson remembered. "We didn't have to go downtown for shoes, we could buy those on 29th Street. We could buy ribbons to fix our hair, dresses, everything was here. The big store – like a Walmart today – was at 29th and Dauphin. From foods to clothes to furniture, we didn't have to go downtown. We could stay right in our community."
In her early childhood, the neighborhood demographics began to change, with many of the Jewish families moving out and more African American families moving in. The shops changed hands, but remained vibrant, Robinson said.
On Saturdays, neighbors would sweep their steps and paint the curbs. There were a variety of faiths on Stanley Street then, but "on Sunday, we would hear gospel up and down the street, (played by radio hosts) Mary Mason or Louise Williams … we all had that in common."
Robinson walked to school, and she walked to Fairmount Park, where her family picnicked at the reservoir and she and her friends had all sorts of adventures.
She interrupts her own story: "I'm giving you 'idyllic little girl Judy,' but let me be real – there was some funky stuff, too."
The Baby Doll Bar was a neighborhood hangout, and a place to dance to Motown. But sometimes more than music spilled out. "I can remember a guy running down the street, and somebody shooting at him," she said. Stabbings were more common.
Decline
The Lower North District includes the neighborhoods of North Philadelphia, North Central, Norris Square, Olde Kensington, South Kensington, West Kensington, Yorktown, Ludlow, Brewerytown, Green Hills, Cecil B Moore, Sharswood and Strawberry Mansion. Its population peaked at 271,994 in 1950, and was 95,176 in 2010 – an uptick of 140 people from 2000. "In North Philadelphia the flight of both black and white residents really picked up in the 1960s, '70s and '80s," Fecteau said. About 100,000 people left between 1960 and 1980.
The district contains about 4,000 vacant buildings, 80 percent of which were residential, and 10,600 vacant lots, 40 percent of which are owned by the city or city-related agencies.
Robinson, now in her 50s, lived on Stanley Street until she left for college. She has lived in the Lower North District for the majority of her life, Robinson is now in the nearby North Central neighborhood, and she's always spent a lot of time in the house on Stanley Street, where her sister now lives.
In the 1970s, some of the men returning from the Vietnam War brought heroin addiction home with them, she said. "We saw it on the street," Robinson said. "We saw the junkies kind of nodding. Their hands would be swollen up where they were shooting" the drugs.
Things got worse in the 1980s, when "the gang war ran people out." But the worst was after that, when crack came, Robinson said. "That wiped out a lot of good people. People who never smoked a joint. All of a sudden you see a pretty girl, she's never smoked a joint, now she's on crack. She's selling her body for $5. That's when people really exited from the neighborhood in droves."
Many middle class African American families moved to Mt. Airy, West Oak Lane or Wynnefield, she said.
In the present
It's a warm fall afternoon on Stanley Street, and taking a walk on her old block, Robinson runs into acquaintance Nadine Sutton, returning from volunteering at her youngest child's school.
Sutton says things are a bit better now for Stanley Street residents.
She speaks matter-of-factly of having to run indoors when gunfire erupted, emotional only when she talks about the one time she had to run out into the gunfire, because one of her children was with friends at the end of the street. He wasn't hurt, but he saw a man die, she said.
In the last year, things have calmed down on Stanley Street, Sutton said. People are no longer afraid to sit outside and read a book on a nice day.
"This is not a bad neighborhood," Sutton said. "I love having everything so close by me."
When asked about city efforts to improve the neighborhood, Sutton motions to two swaths of grass where houses use to stand. "I was so upset when they tore down these houses," she said.
This happened during the last mayoral administration's Neighborhood Transformation Initiative, she said. The neighbors knew someone from the city was going to decide which houses should go. Sutton and another neighbor cleaned up lots and placed pots of flowers in front of the empty houses, trying to make them look nicer. The effort didn't work, she said.
City planners say vacant houses are depressing real estate prices in Lower North, and one of the factors that makes the Lower North plan more difficult than earlier district-level comprehensive plans is the need to shrink the neighborhood infrastructure to meet current and foreseeable future population.
Robinson said she agrees with the concept, but it needs to be done more carefully than in the past.
The district has one of the highest levels of vacant parcels in the city, she said, and that's partly due to the city knocking homes down.
Robinson said she and others from the neighborhoods "asked that blocks be stabilized. If they are mostly abandoned, it's no problem to do demolition – in the areas where developers want to be."
Knocking down homes on Stanley Street or other small streets that don't have enough traffic for commercial development, or enough draw – such as Temple University – for a new housing development, made no sense to Robinson.
"Now we are left in this mess, with a hodgepodge," she said.
The future
Because the district now has too few people spread out over too large an area, the Lower North District Plan will aim to make stable neighborhoods more dense, and concentrate investment and development in those areas, Fecteau said. But the approach will be different than NTI.
"Part of the intent of NTI was to try to get the market going in areas where it wasn't, to get it to the leading edge, where it was just starting to peak through," Fecteau said. "But I don't know if that happened as much as people would have liked. The vacant lots left over from NTI are testament to that."
Fecteau doesn't yet know if the draft plan will include any more demolition, other than demolition of abandoned properties that are dangerous. There will absolutely be no calls for tearing down vacant properties "just for clearance," he said. If any demolition is called for, it would be limited to places where "development is in sight, it's right there."
Robinson suggests the city spend money to stabilize blocks that are mostly occupied, taking steps to keep the unoccupied houses from deteriorating and directing homeowners to programs that can help them pay for major systems repairs in their homes.
Where there are just a few occupied homes in an area where the market supports redevelopment, those residents should be encouraged to move out and into the stabilized blocks.
Fecteau agrees on both points.
He said there are areas within many of the Lower North Neighborhoods – including Strawberry Mansion, Norris Square and South Kensington – with high-rates of home ownership, and the best way to protect these stable blocks is direct public investment there.
That public investment might include incentives for private developers to build on vacant lots, or housing subsidies to encourage potential new homeowners to rehab abandoned homes or build new ones on those same vacant lots.
Sometimes stabilization can mean simply officially recognizing the use that neighbors have already established on vacant, city-owned land, he said – things like side yards and gardens.
Robinson said it has been difficult for neighbors to gain control of these parcels. She often advises people to just keep using them.
She bristles at the suggestion of bringing urban farming to lots of vacant lots, though – an idea floated at earlier planning sessions.
Here again, she's concerned this is more about the needs of people who live outside the neighborhood than within it. A friend of hers who owns a roofing business tried to get a lot next to his shop under a previous administration and was unsuccessful. In recent years, it became the vegetable garden for a Center City restaurant, and that really rankled, she said.
Planners are also looking for ways to get information out to residents about existing programs that subsidize major system repairs and other home-ownership support programs, but Fecteau noted many of these have income requirements that middle class families won't meet.
Fecteau said he would like there to be incentives for people who live in one of the few homes on a mostly abandoned block to move into a home on a more stable block. "I can't say for sure if it will be in there, or what form it will take," he said. But even if it doesn't make it into this plan, those conversations are happening among city agencies.
More difficult than it sounds
Both Fecteau and Robinson know that tracking down the owners of those abandoned homes so they can be purchased by someone else can be difficult.
Sometimes, Fecteau said, a person dies and has no heirs.
Robinson said when people don't think their homes, or their families' homes, are worth anything, they sometimes think there's no point in trying to sell them, so they walk away.
This situation is exacerbated by city tax bills, she said. With homes assigned a value less than the price of a car, it sometimes doesn't seem worth the hassle – especially for an heir who lives out of town – to sell them, she said.
The numbers can get tricker if a home has been empty, she said, because a lien is placed on properties that the city cleans and seals off. Fecteau said other kinds of liens also come to bear on properties. For example, some homes have utility liens against them because someone left or died and no one had the utilities shut off. "Utility liens are the toughest to wipe off the property," he said.
The property laws are rather archaic on this point, he said. "The whole system of laws assumes there's always a responsible owner for a property. But if someone dies with no heir, or walks away, it creates an impossible situation. You might as well be tacking a violation on a grass lot, or on a door someone never opens again. This maybe indicates we need to start rethinking our property laws."
The lien problem can't be addressed by planning, but the managing director's office is working on it with the revenue and water departments.
There is a market
Robinson recently sold a house with a lien. Because it was near Temple, the seller got more than $30,000 – enough to cover the lien and make a worthwhile profit.
Robinson said that perception is important, and sometimes its people who aren't from Philadelphia and don't have negative connotations concerning North Philadelphia neighborhoods who weigh the neighborhoods problems with its benefits and affordability and decide to buy.
One house on Stanley Street is getting a lot of attention from its new owner, Chris Dawkins, 40.
Dawkins purchased it from the city earlier this year for $7,000. He purchased five others that day, too.
Dawkins is installing new drywall, new lighting, a new kitchen, and other upgrades. By the time he's done, he estimates he'll have $10,000 or $12,000 in it, and he'll rent it through Section 8.
Dawkins owns 20 houses in a variety of neighborhoods, rented to people with a variety of income levels. He left nursing at 35 to do this full time.
He grew up in North Philadelphia, near Cecil B. Moore, but now lives in Penrose.
Section 8 home rentals are in demand, he said.
Local involvement
There are still some open shops on the commercial streets near Stanley Street, including family run stores and a barber shop.
Near the corner with Huntingdon, Robinson notices a couple of men setting up tables. She walks down to investigate what's for sale, and discovers nothing is. There are dozens of pairs of shoes, t-shirts, baby clothes, pants, blouses and shirts, and it's all free for the taking.
"People donate things, or after they take something, they bring things they don't need," says one of the young men, who did not want to be identified. He grew up nearby, and said this is his way of helping out.
Many of the shoes are displayed on the stairs of a boarded-up building, and the words on a poster hanging on plywood over the door underscores one of the neighborhood's challenges: "Stop shooting people."
Robinson said the man's generous ingenuity, and Dawkin's business acumen, are part of why she believes North Philadelphia can thrive again.
WHYY is your source for fact-based, in-depth journalism and information. As a nonprofit organization, we rely on financial support from readers like you. Please give today.